Please follow government guidance on Covid-19 travel restrictions at all times and enjoy the outdoors responsibly.
The Land of song... Cymru (Wales in English) is a country steeped in myth and legend, with distinct traditions & dramatic landscapes. Often known as the 'Castle Capital of the World', Wales is bursting with historical sites, alongside it's unspoilt coastlines and mountains. Although a fairly small country, it boasts 3 national parks; Pembrokeshire Coast, Snowdonia and Brecon Beacons. With so much to experience and enjoy, it can be hard to know where to start. We've created a captivating collection of popular and lesser-known landmarks in Wales which are all made for adventure.
A Quick Guide to Exploring Britain Responsibly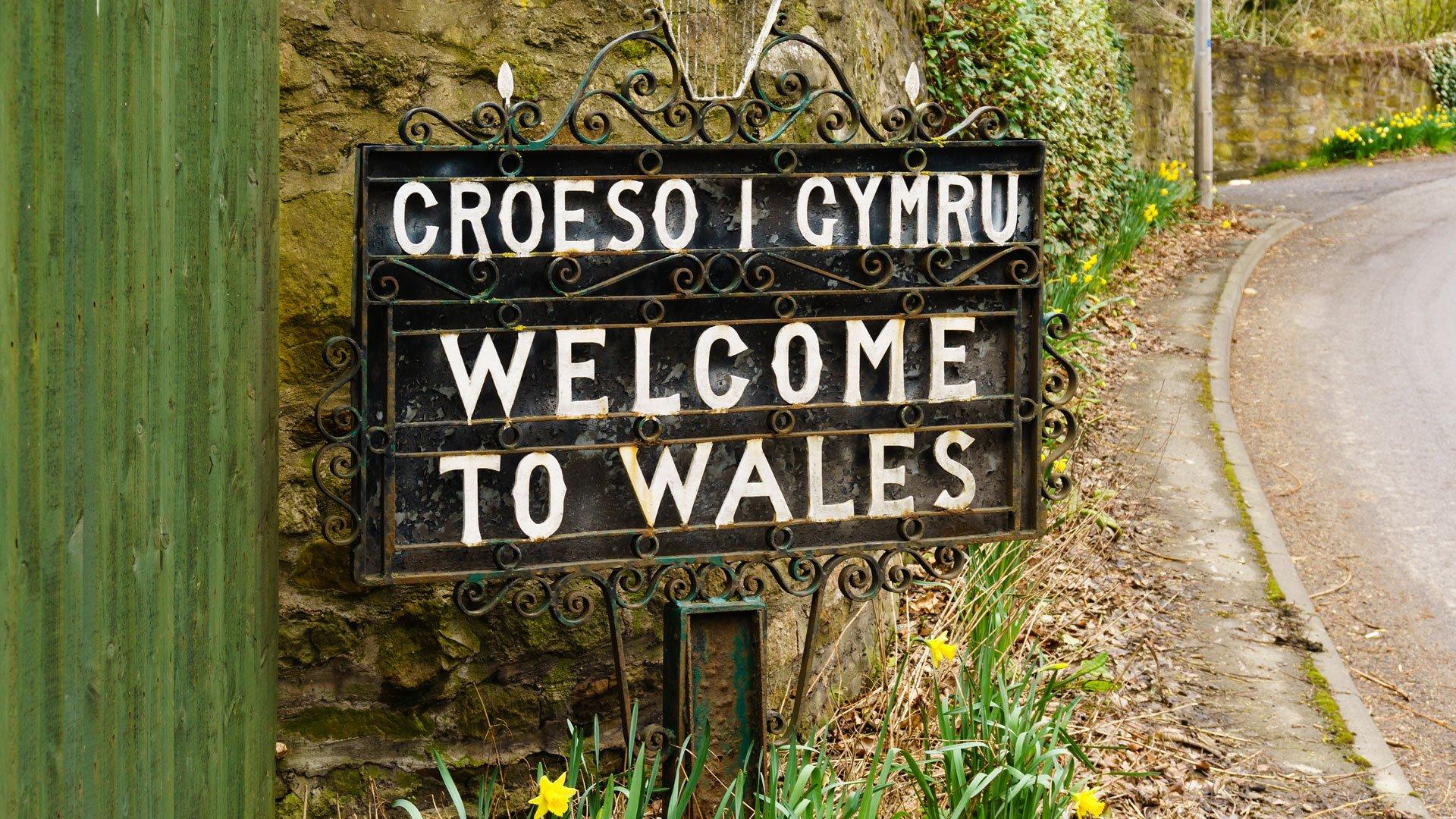 Navigating Wales
Join us as we explore the places in Wales which are Made for Adventure. From climbing Mount Snowdon to enchanting Italianate style villages on the coast, there's something for everyone.
Climbing Mount Snowdon
The highest mountain in Wales and England is for many walkers and hikers, top of their adventure wish list. Snowdon is a towering peak in the Snowdonia National Park which draws millions of visitors to the area each year. The peak dominates the skyline and has six main routes leading to the top, its most accessible being the Llamberis Path. At the path side runs the historic Snowdon Mountain Railway track, a great reference point and option for you if you don't fancy hiking the return journey. Looking to walk in the footsteps of pioneers? Did you know that Snowdon was used as a training ground for Sir Edmund Hillary and Tenzing Norgay as they prepared for the first successful ascent of Mount Everest in 1953.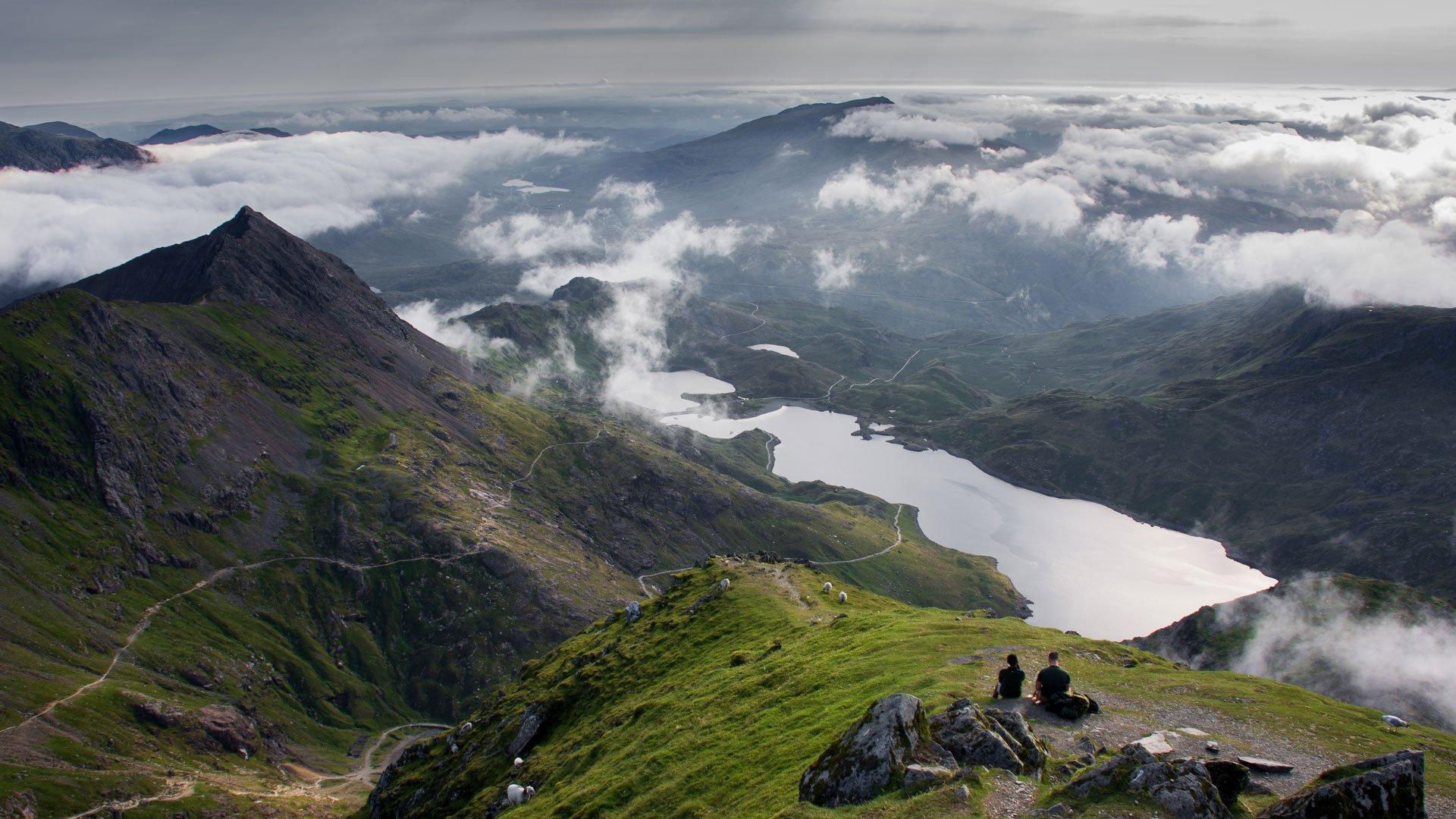 LLechwedd Caverns Trampoline Park (Bounce Below in Blaenau Ffestingiog)
If you're looking for adventures that mean you smile so much it makes your cheeks hurt, then there is no better place in Wales than Blaenau Ffestingiog. Once one of the world's most important slate mines, the landscape is now one of North Wales' most exciting activity hubs. The unique area is home to Zip World where you can zip 1890m from half the height of Snowdon; explore the subterranean caverns, or experience Bounce Below, an enormous underground trampoline playground called Bounce Below. Blaenau Ffestingiog is also a haven for riders looking to test their metal on the famous downhill mountain biking trails which weave through the area.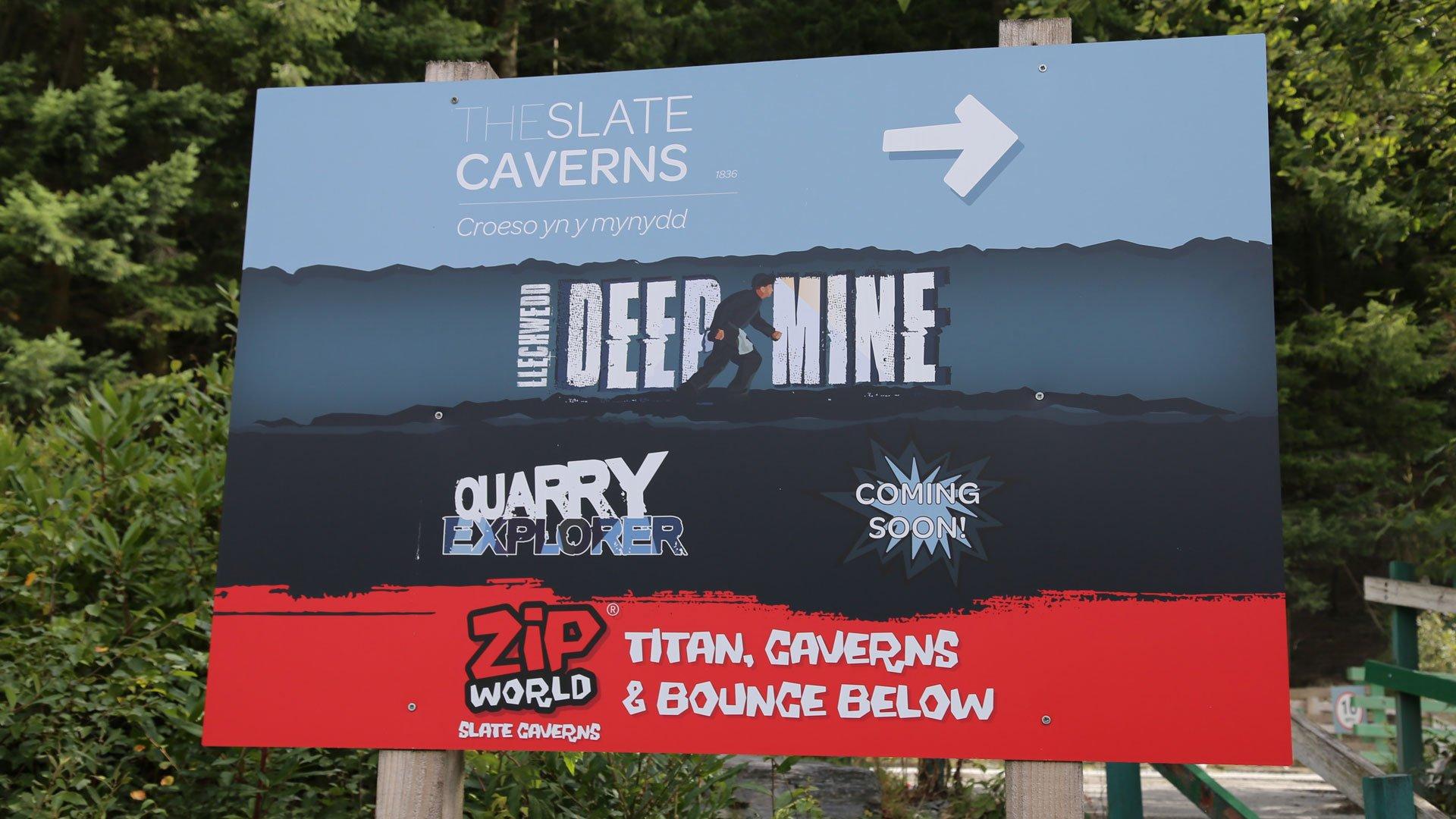 Conwy Castle
Live out your childhood dreams of great castles and kings at Conway Castle, a famous fortification located in North Wales which is classed as a World Heritage Site. Many experts believe it to be one of the great fortresses of medieval Europe and it is certainly one of the most popular attractions in Wales. Construction started on the castle and its surrounding defensible walls in 1283 and was an important part of King Edward I's plan to defend the area from rebels within Wales. The native Welsh population were opposed to English occupation and the heavy defensive position of Conway shows even today what the King felt he was up against. A great day out for all the family, Conway Castle has towers, walls and staircases to explore, transporting you back to medieval times.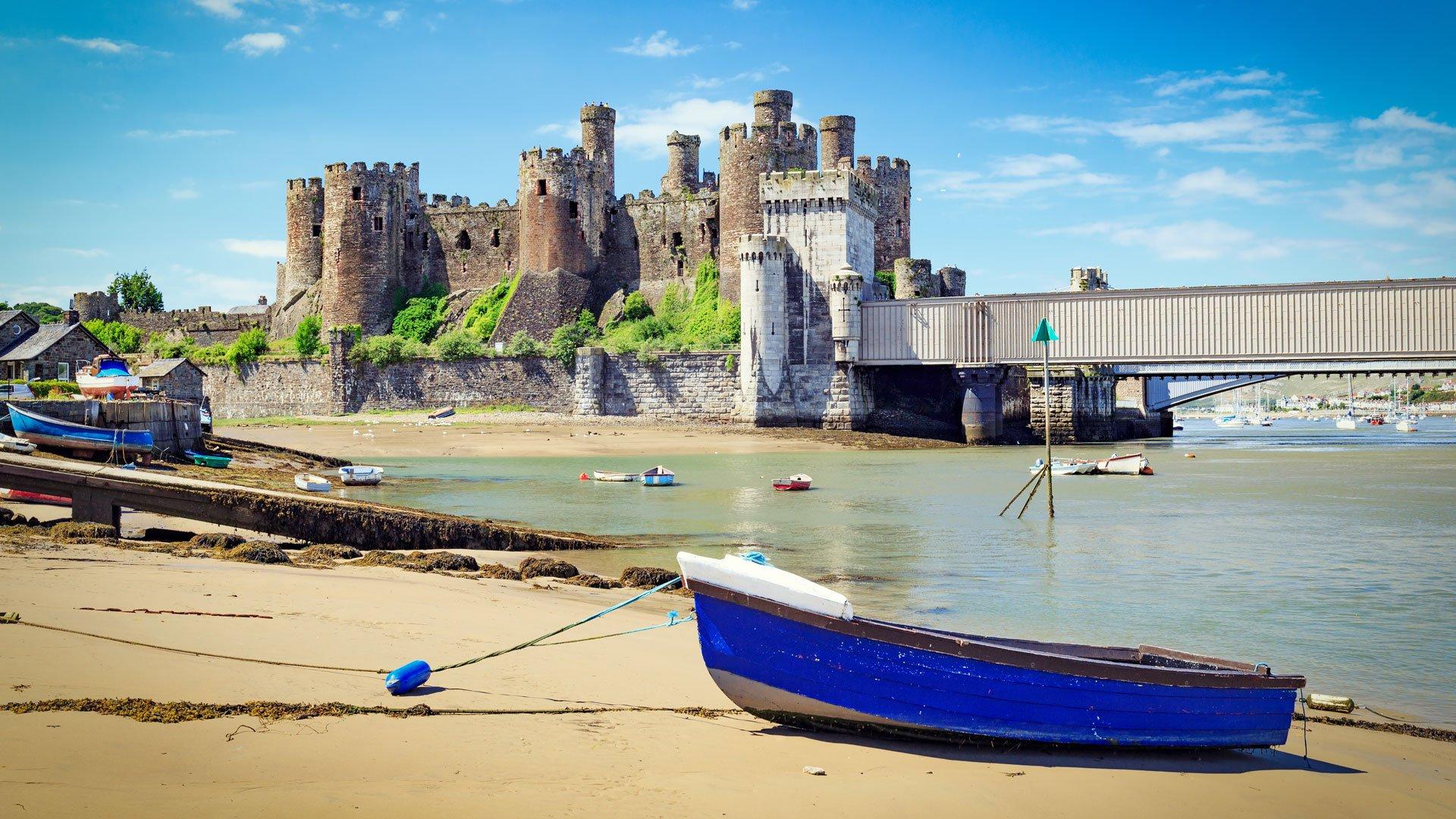 Smallest House in Great Britain
Nestled amount a row of terrace houses on Conway's quayside is a delightful gem. The smallest house in Great Britain is a bold, bright red charming house which measures just 72 inches wide and 122 inches high. But size in this case isn't everything as the house is extremely practical with room for a single bed, fireplace and coal bunker. The house was occupied up until 1900 and has become a marvel to many around the world. Now a quaint tourist attraction, the cost to enter is just £1 and is believed to have been constructed in the 16th Century. Just mind your head as you enter.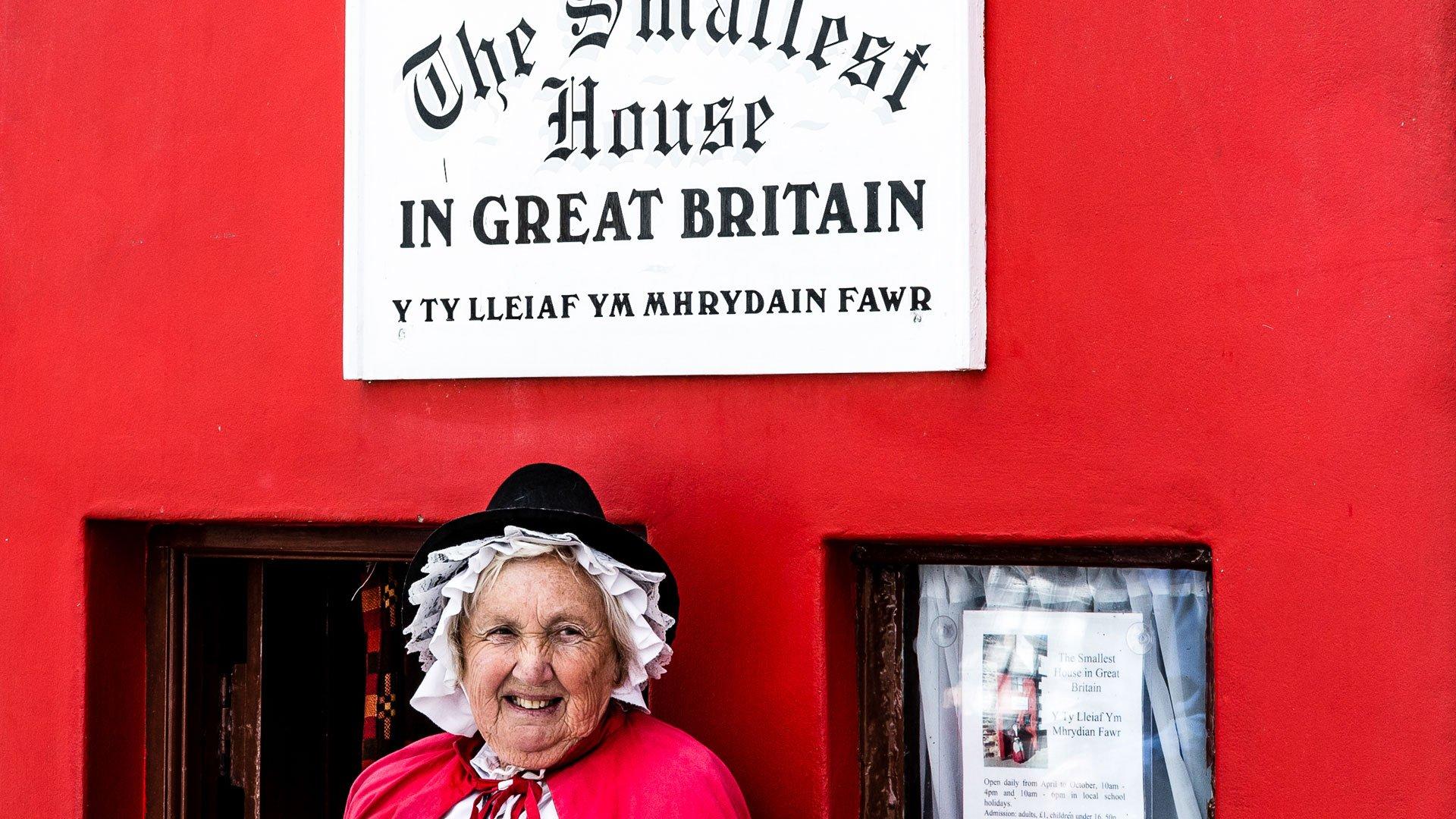 Portmeirion Village
A theme park with a difference. Portmerion was designed by Sir Clough Williams-Ellis in 1925 and built in imitation of a rustic Italian village. His aim was to create a truly unique tourist attraction in this beautiful part of Snowdonia to give visitors something wondrous to explore. The village features brightly coloured buildings, hotels, eateries and shops which transport you back to a golden age of holidays and family fun. Still to this day Portmerion remains a major tourist attraction in North Wales and has over the years inspired many books, films and art. This bold and brilliant representation of the Mediterranean in North Wales is a gem we recommend everyone should explore.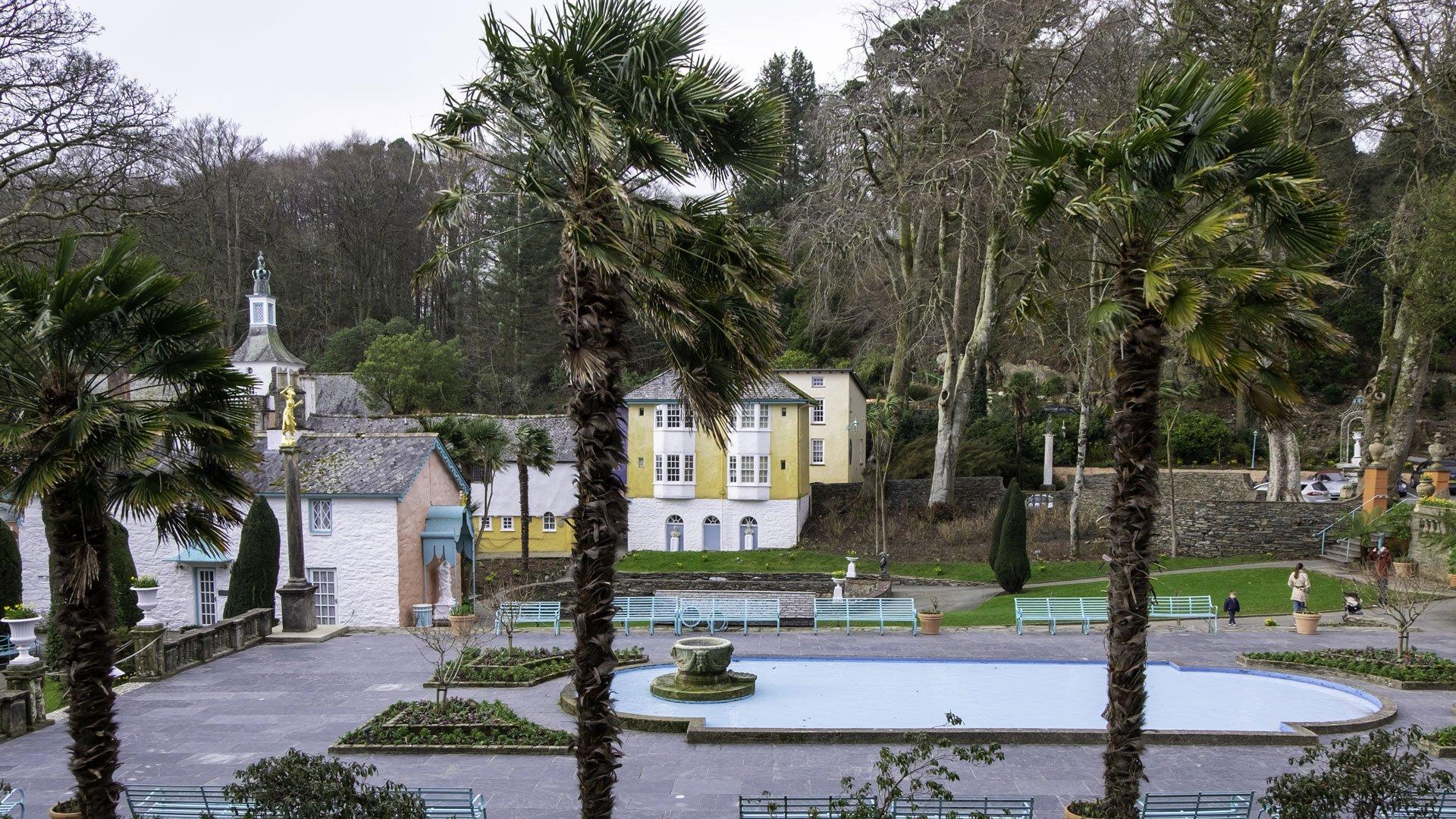 Aberdyri
Aberdyri (or Aberdovey in olde English) is a thriving small harbour village and resort set within the Snowdonia National Park. Located where the river Dyfi joins Cardigan Bay, Aberdyri is a hot spot for watersports and fun including sailing, rowing, kayaking, fishing and other beach entertainment activities. The area boasts some of Britain's finest beaches, golden sand and spectacular mountain scenery, making it the perfect base for outdoor adventurers looking to explore by foot, bike or sailing boat. Aberdyri is also a great place to spot wildlife including various bird varieties. Built out of a thriving fishing and shipbuilding industry, the area is now a charming family-friendly resort popular with visitors searching for sun, sea and mountain summits.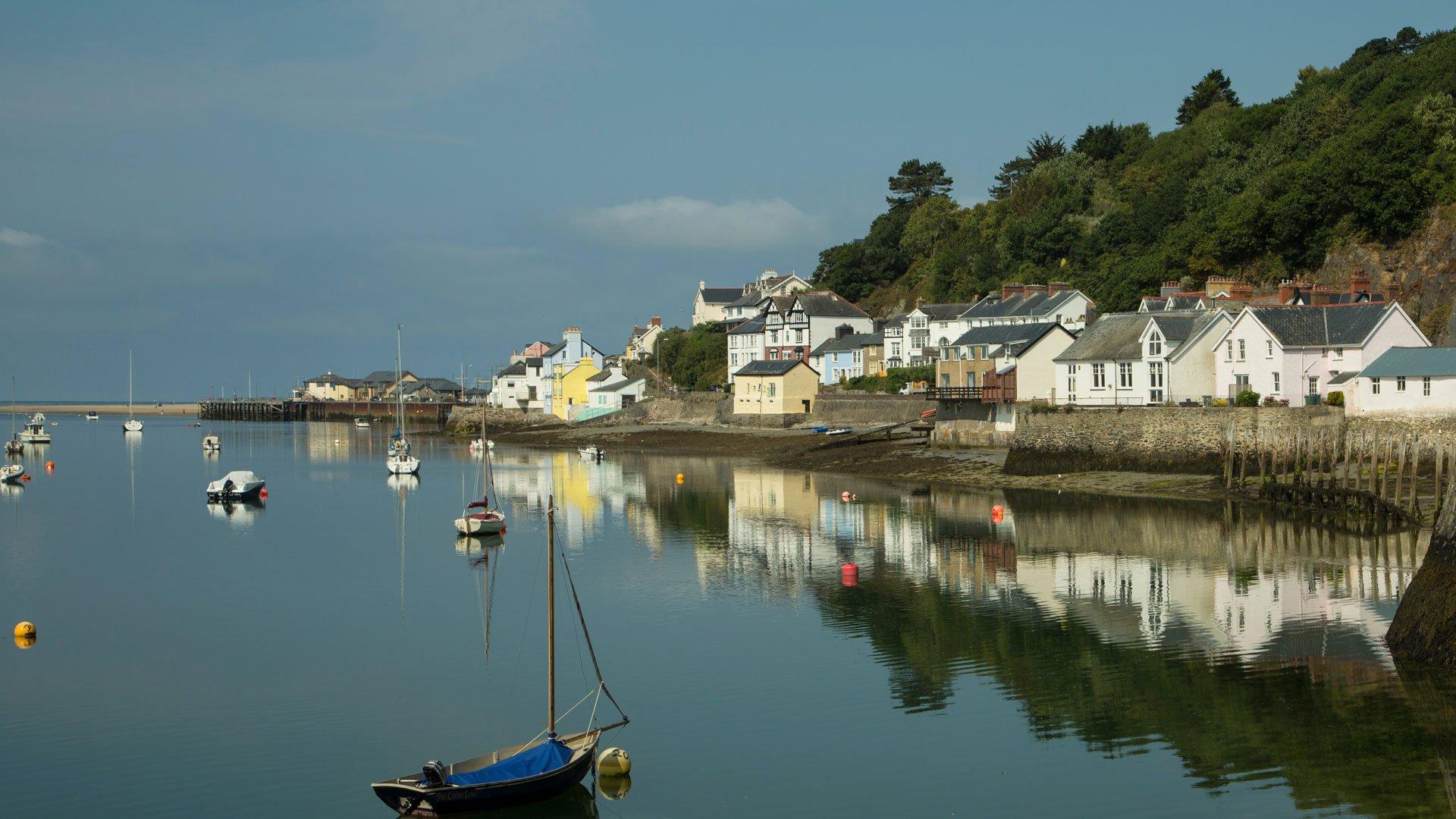 Sgwd Yr Eira (Waterfall)
An absolute must-see destination when visiting the Brecon Beacons, Sgwd Yr Eira is a spectacular waterfall. The most notable thing about this dramatic place is that you can walk behind the waterfall's curtain of water to experience the rush of the water and the power of nature from inside its belly. The name means Snow Waterfall in Welsh and is part of the Four Falls Walk. Situated between the villages of Hirwaun, Ystradfellte and Pontneddfechan, the waterfall is part of Fforest Fawr which is a hugely important ecosystem. Note the walk into the waterfall can be damp and muddy so take care and wear appropriate footwear; plus, a rain jacket. If you're searching for the surreal and spectacular, then look no further than Sgwd Yr Eira.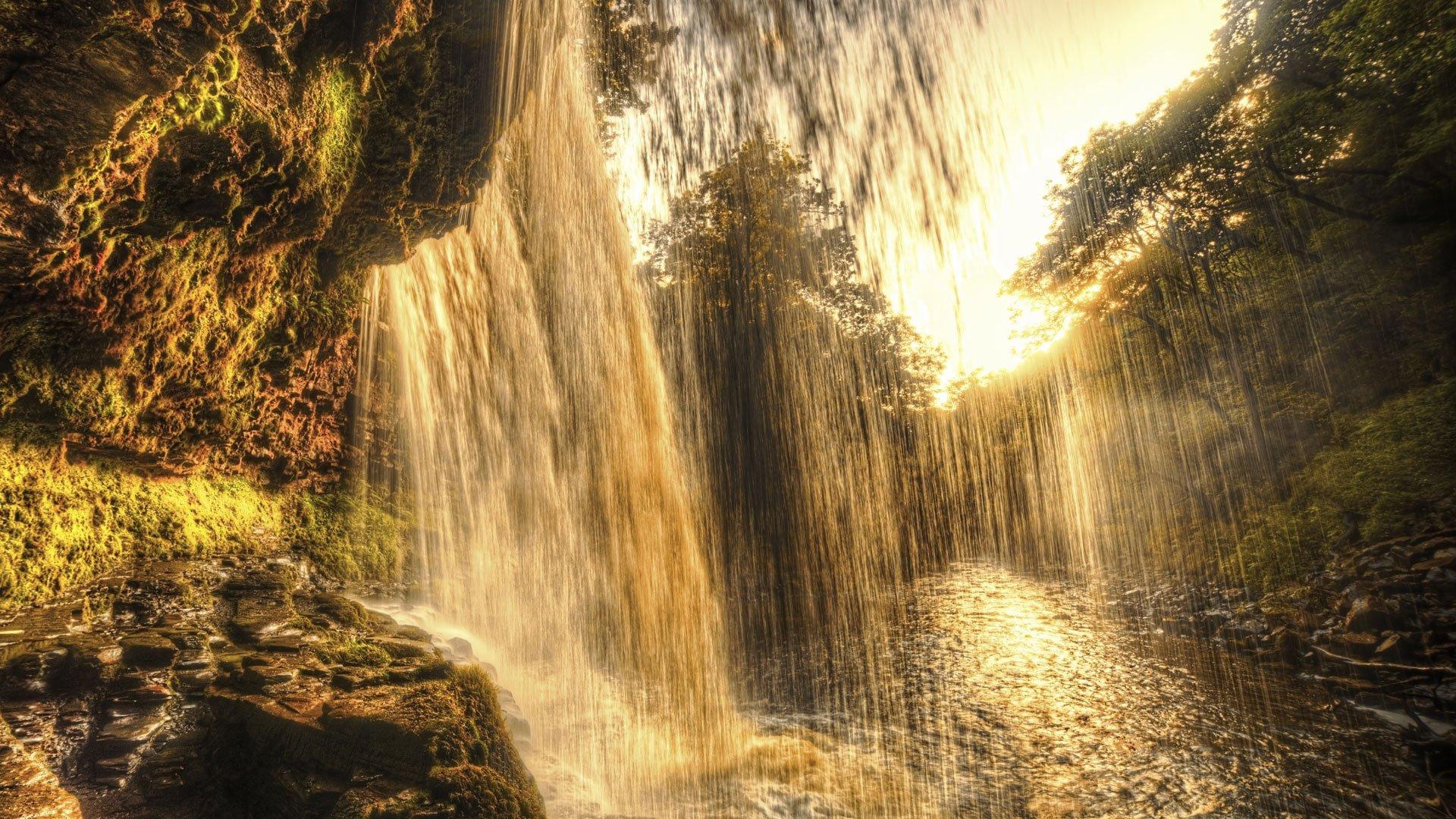 Cadair Idris
Cadair Idris is one of Wales's most iconic mountains! One of the Welsh 3 Peaks, it is about 893m in height and sits in southern Snowdonia. This Mountain is certainly a more strenuous family walk to take on and we'd recommend it as a great option if you've already bagged Mt Snowdon and are looking for the next challenge. There are many tales of intrigue and legends associated with this mountain which is what makes it so much fun for kids and adults alike! Our favourite being that the mountain has a seat atop which is guarded by a giant named Idris. A few of the nearby lakes on the way to the summit are reputed to be bottomless and it has been said that those who sleep on the mountain will awaken either as a madman, a poet!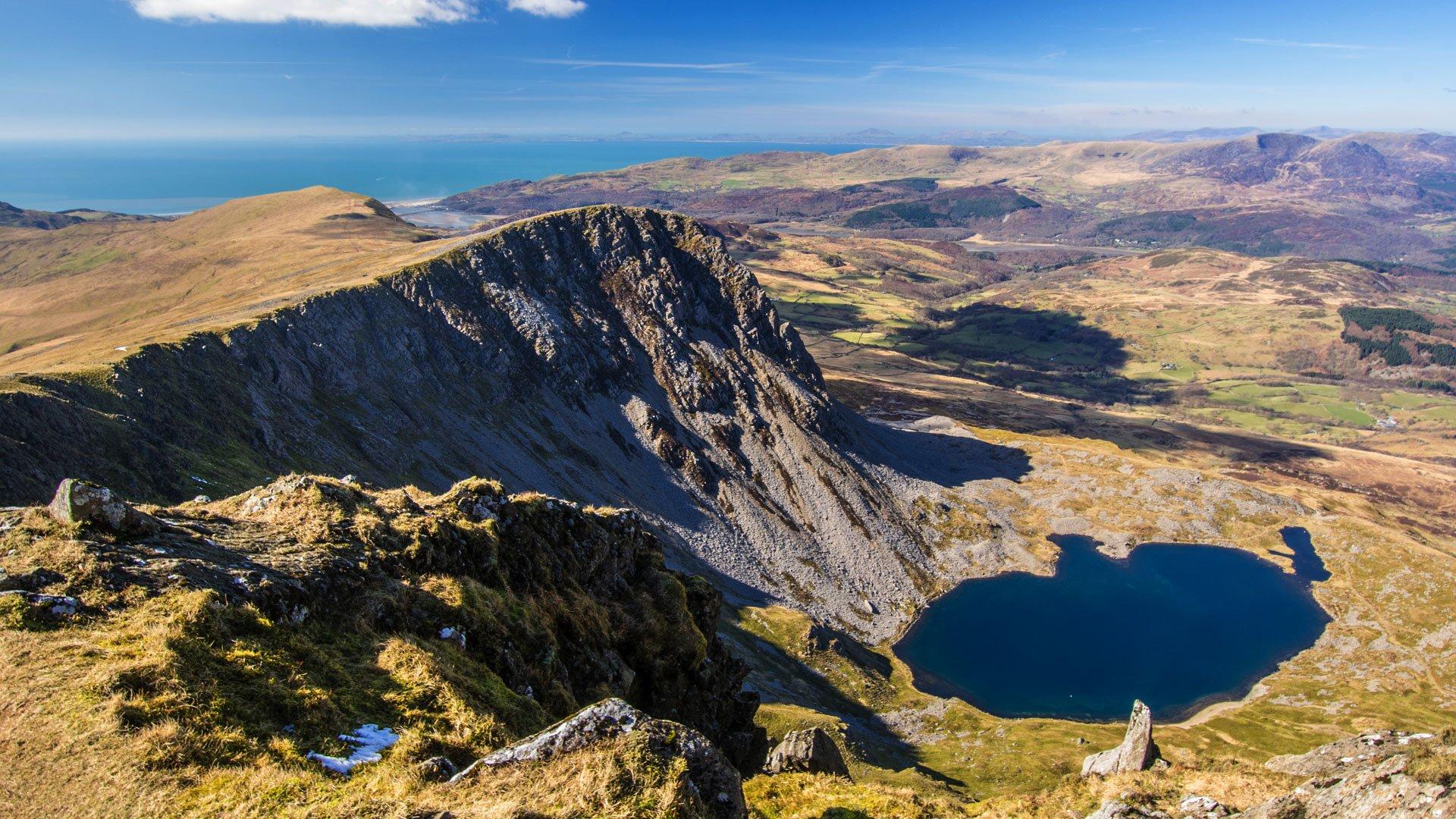 Pontcysyllte Aqueduct
Designed and built by the famous engineers Thomas Telford and William Jessop, Pontcysyllte Aqueduct is an architectural wonder which dominates the landscape in the Vale of Llangollen in North East Wales. 18 stone and cast iron arches support an 18-kilometre-long navigable aqueduct which carries narrowboats along the Llangollen Canal, high above the River Dee. Completed in 1805, this incredible engineering feat has a walkway which if you dare cross will reward you with incredible views of the valley. Arguably one of the most stunning sights in North Wales, the Aqueduct must be seen from above and below.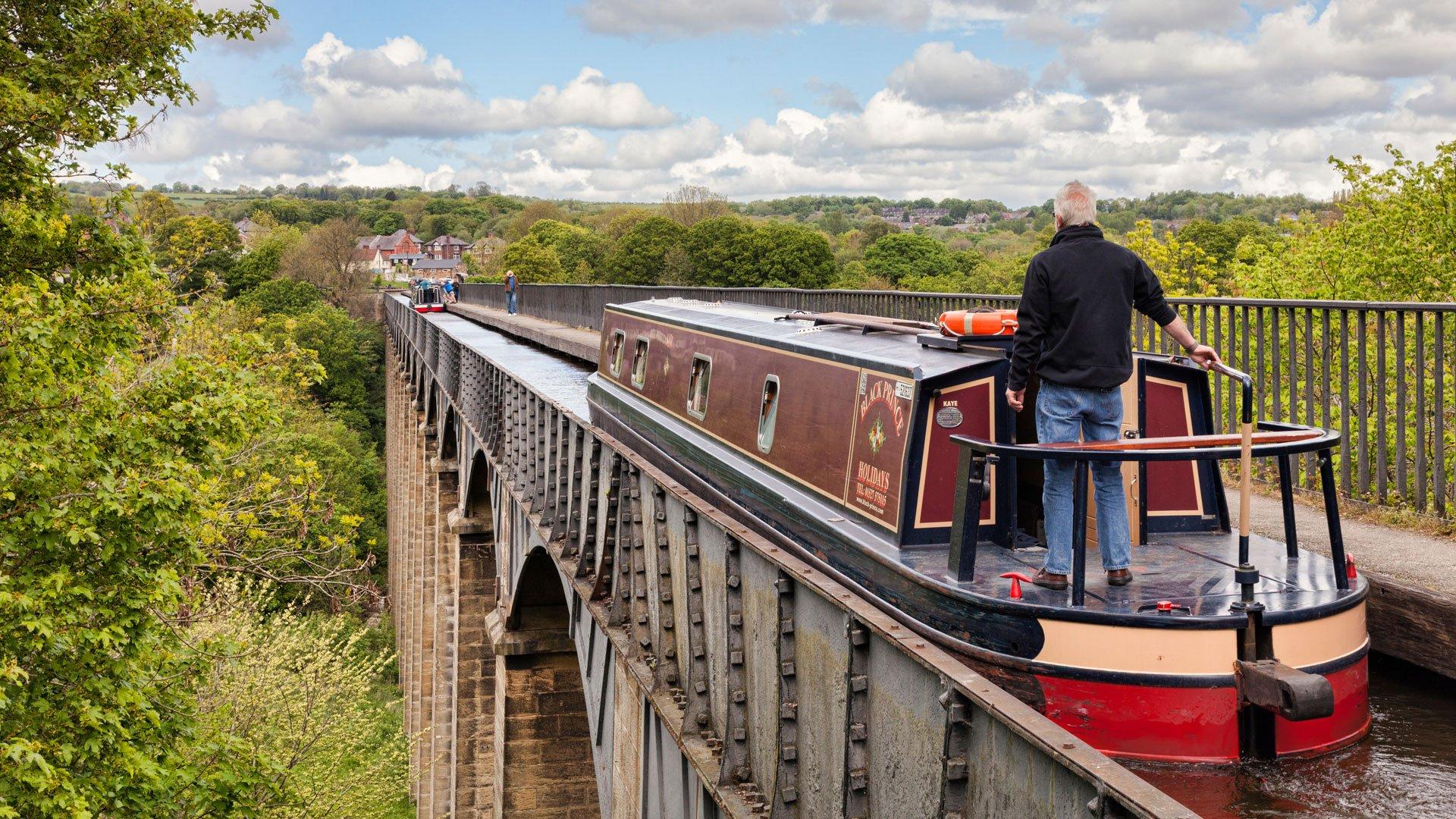 Llanfairpwllgwyngyllgogerychwyrndrobwllllantysiliogogogoch
Yes, that really is its name! This iconic village in the north-west of Wales is believed to have the longest place name in Europe, and second longest one-word place name in the world, totalling an incredible 58 letters! Unsurprisingly the Welsh language is still widely spoken in the village. The name was actually lengthened in the 1880s in a joking attempt to attract more tourists. Granted there's not much to do apart from play tourist here, but it's an easy and scenic detour from the castle town of Caernarfon and will certainly amaze the kids.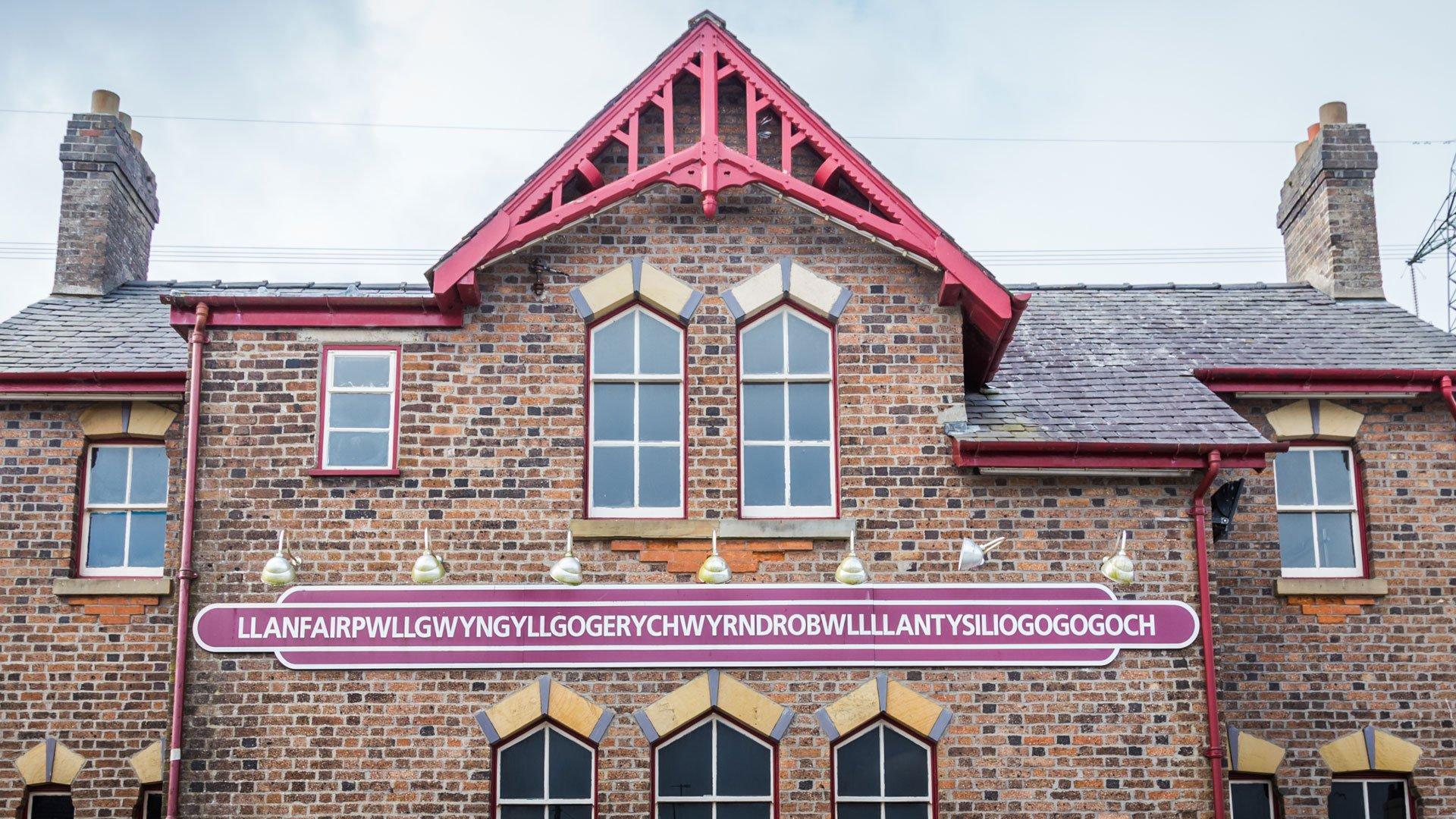 Llangernyw Yew
Estimated to be between 3,000 and 5,000 years old, Llangernyw Yew is believed to be one of the oldest tress in the world. Although difficult to date exactly, the tree still holds the title of 'oldest living thing in Wales'. You'll find this ancient Yew in the churchyard of St. Dygain's Church in Llangernyw village, Conway. The church itself is centuries old, but it is believed that the area has been used as a sacred place for thousands of years, with some experts believing the tree was planted sometime in the prehistoric Bronze Age.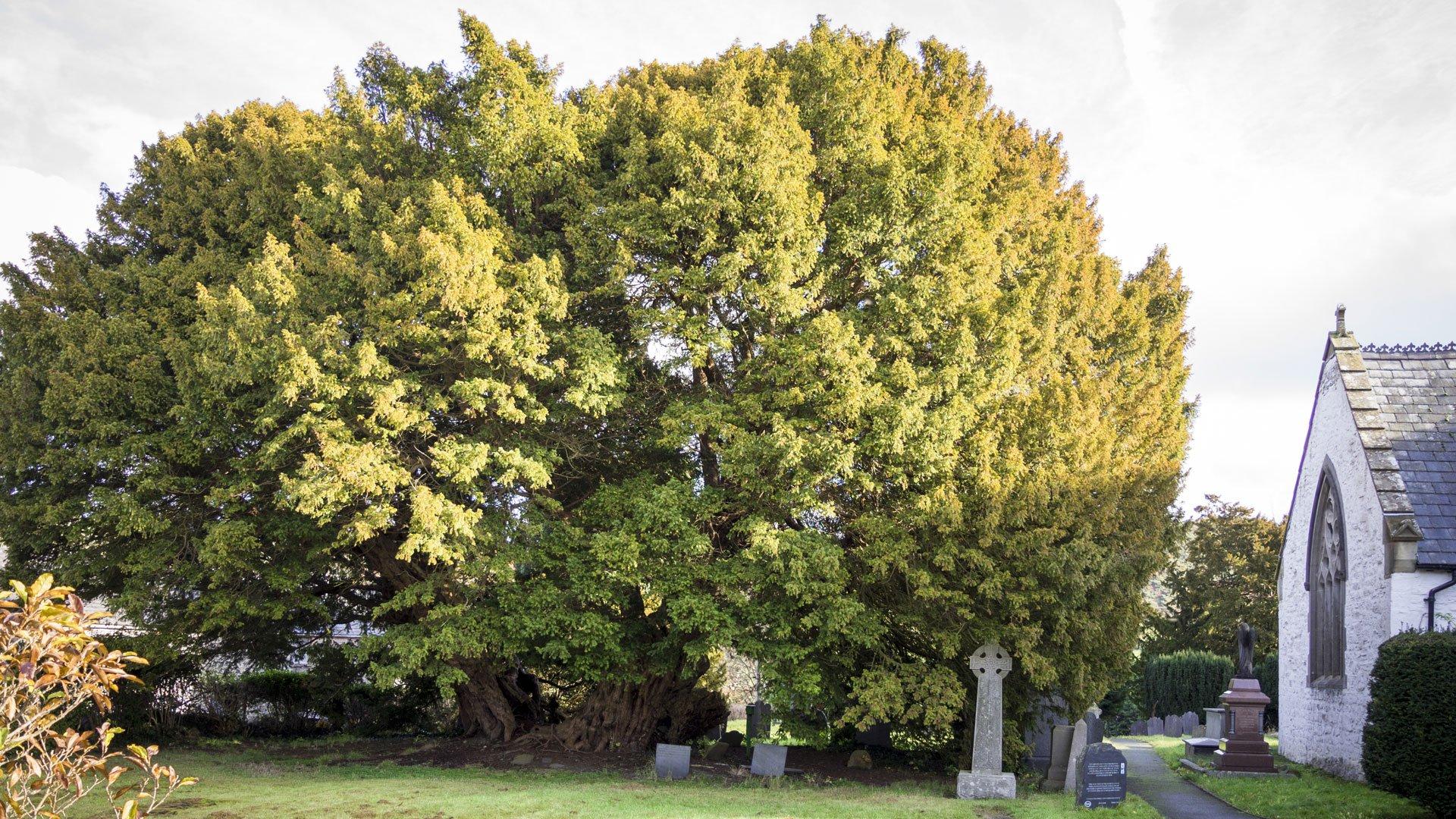 Three Cliffs Bay
Looking for that dream beach staycation? Three Cliffs Bay beach is a spectacular shoreline offering sun, sea and picnic spots in South Wales. Located on the south coast of the Gower Peninsula, this bay takes its name from three sea cliffs which can be seen jutting out into the bay. Alongside the breathtaking views and beach walks, the local area also plays host to a fantastic campsite and holiday park, refreshments and facilities. Dogs are allowed on the beach all year and there is parking approx. 400m from the beach. Nothing says staycation more than the feeling of fresh sand between your toes.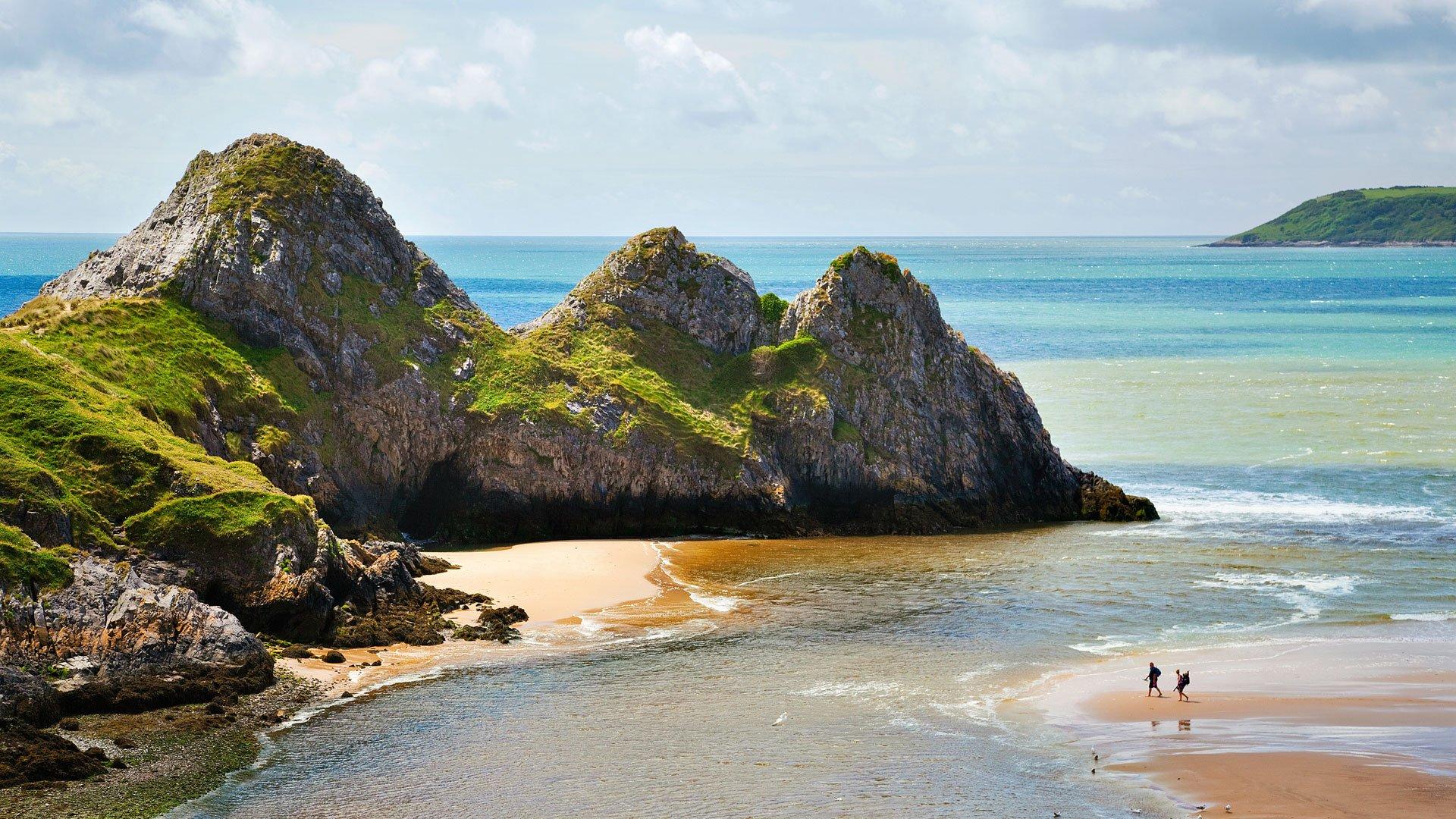 Newborough Beach (Llanddwyn Beach)
Newborough beach is part of the National Nature Reserve and Forest on Anglesey with a stunning long beach flanked by the equally dramatic Newborough Forest. From watersports to woodland walks, there is something in this area for get the whole family excited. The Nature Reserve is a hot stop for wildlife with it playing host to one of the largest dune systems in Britain. The area also is one of the most important red squirrel conservation sites in the UK. Many of the walking trails take in the best of the beach and forest scenery, ensuring you enjoy the complete Newborough experience.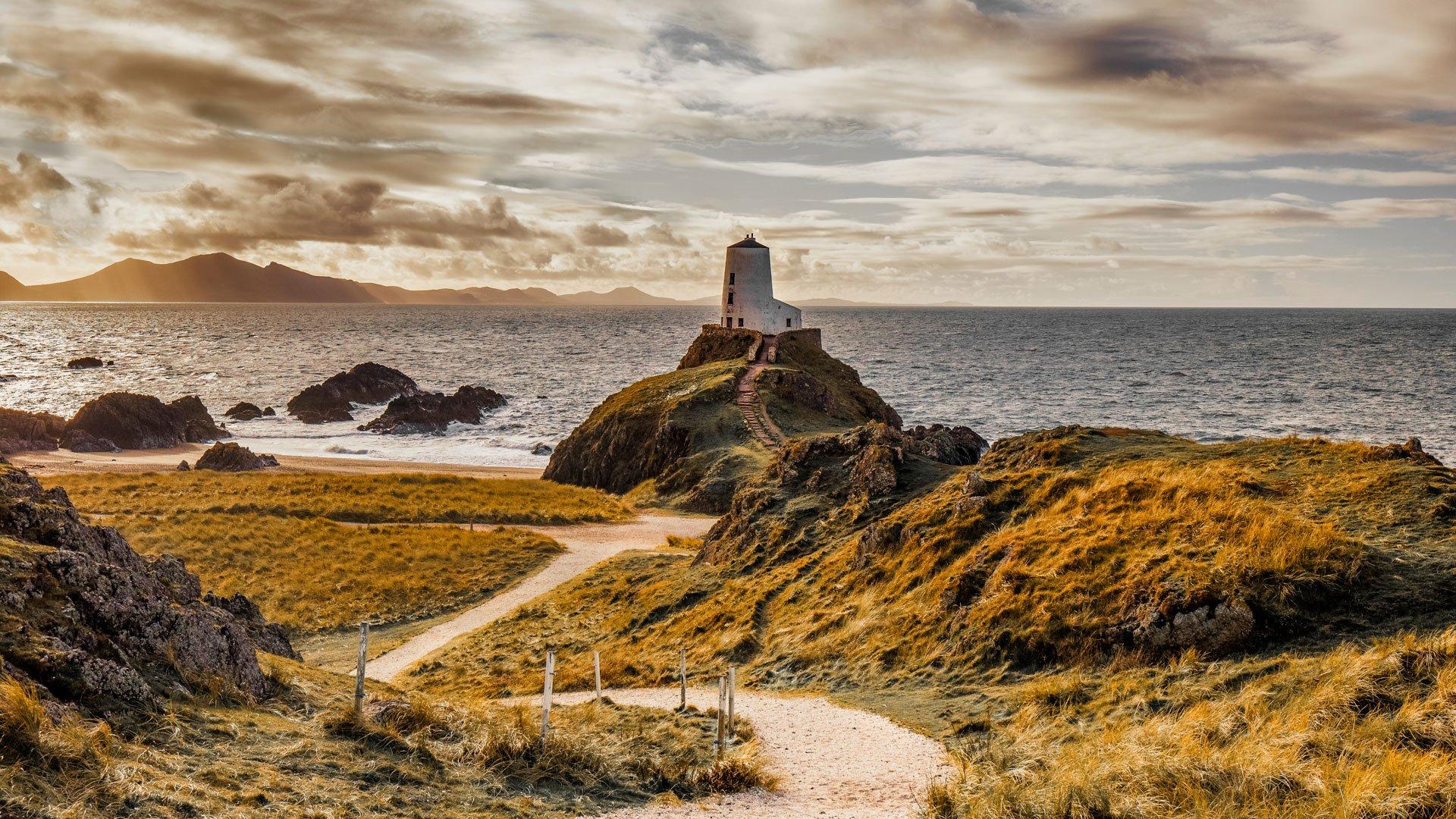 Worm's Head (Ynys Weryn)
Marking the most westerly point on Gower is Worm's Head, a dramatic headland and narrow tidal island, joined by a causeway which links the small island to the mainland. The headland compromises of three islands known as the Inner Head, Middle Head and Outer Head, in total stretching almost a mile out into the bay. Best keep your eye on the tide and do your research before exploring Worm's Head as it is only accessible on foot for a few hours either side of high tide, via the causeway. Legend tells of Viking believing the island to be a sleeping dragon within Rhossili Bay. In the middle of Worm's Head is Devil's Bridge, a large angular opening beneath a narrow strip of rock. Take care exploring this area and be sure to check the tide warning times set out on boards in the area. The large National Trust car park for Rhossili beach is approx. 20 minutes' walk away.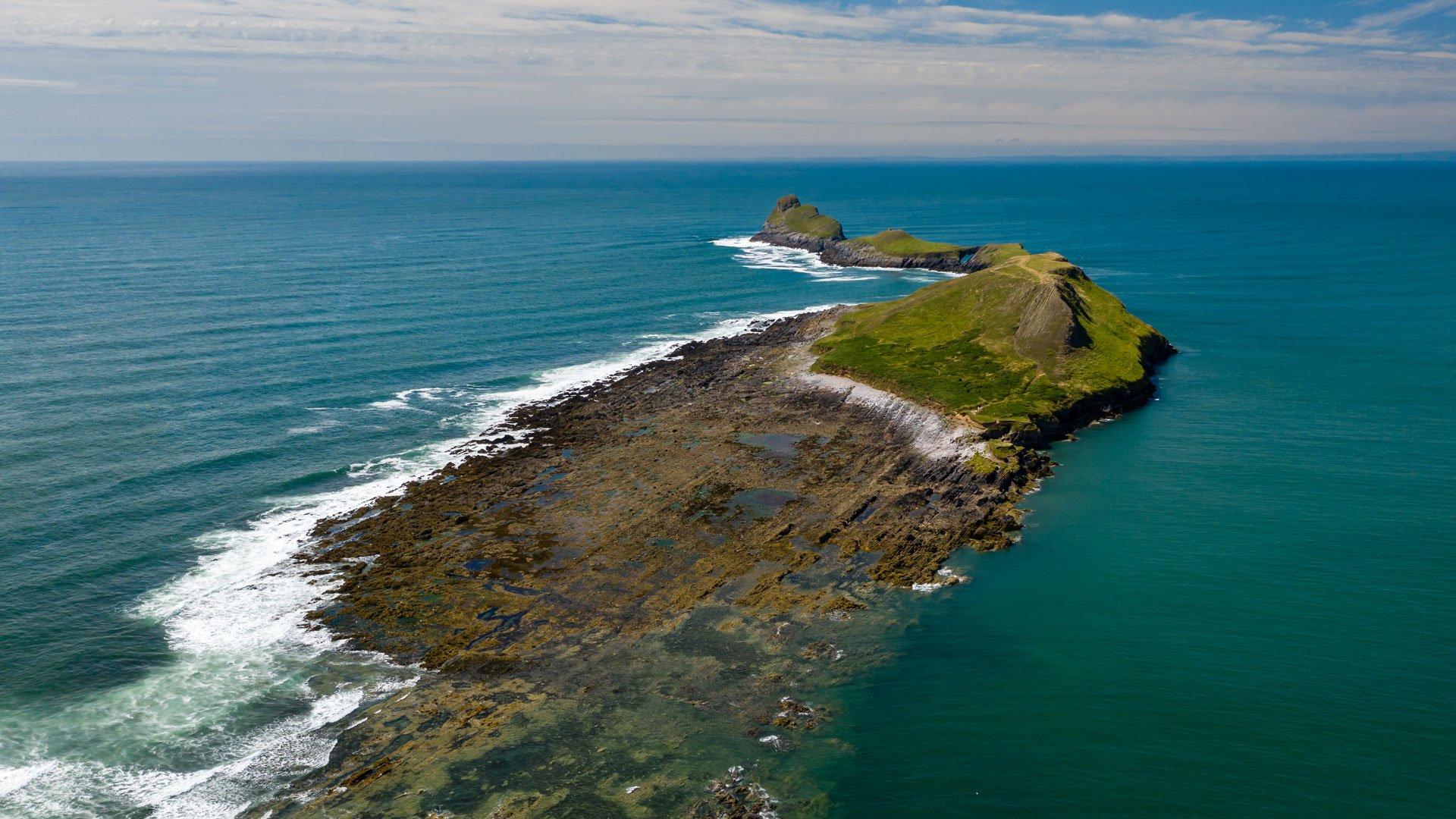 Pembrokshire Coast
Established as a National Park in 1952, the Pembrokeshire Coast in West Wales is a world famous coastline which draws walkers, families, wildlife spotters and beach lovers to the area. The National Trail hugs the coastline for 186 miles, offering up some of the most breath-taking coastal scenery in Britain. But you don't have to walk the entire route to get a sense of what Pembrokeshire is all about. The area plays host to secret coves, rock pools, dramatic cliffs and stunning views out across the Irish sea. Many explore the area on foot, by bike or by car and the Pembrokeshire Coast National Park is a great base for those looking to explore the West of Wales including Pembroke Castle, Carmarthen and Tenby.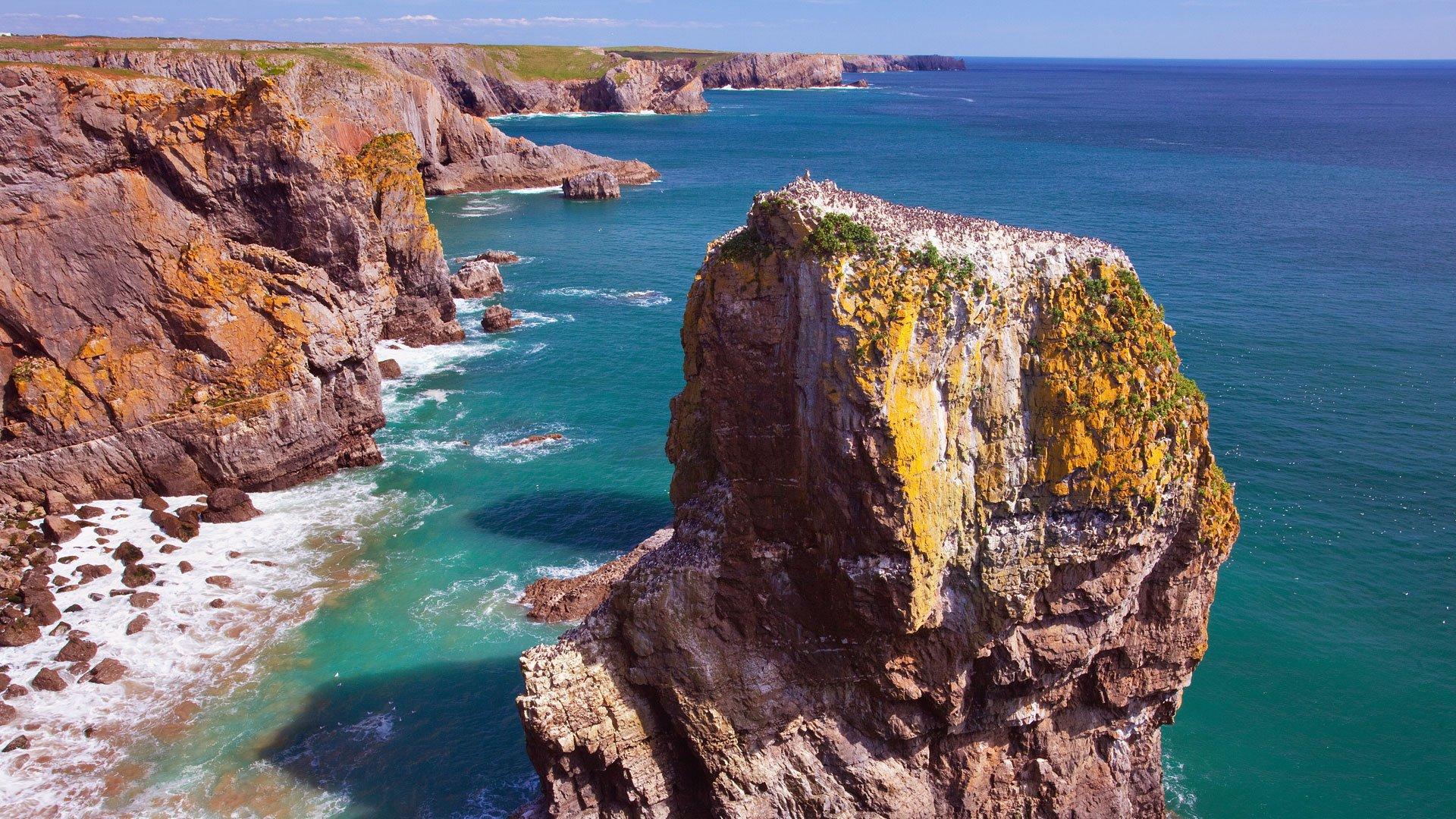 Add the paper map that covers the adventure destination to your collection with 40% off all Ordnance Survey maps.
Wales is made for adventure. So where will you explore first? Share your snaps and tag us in your adventures using #mymillets.