We believe there is no better way to explore Great Britain than on foot or bike. To prove that point, we've teamed up with Ordnance Survey, the national mapping agency, to share the best routes they recommend in Great Britain.
In this guide we set our sights on the paths and trails which take you through the stunning and diverse landscape of Wales. We've split the routes into categories i.e. lake, hill, mountain, with grade levels (Easy, Moderate, Challenging, Mountain). You'll also find the Ordnance Survey map you'll need; plus, you can explore the route virtually using the recorded 'Fly Through Videos'. Use the Navigation below to select Coast, Hill, Moorland & Mountain routes.
A Quick Guide to Exploring Britain Responsibly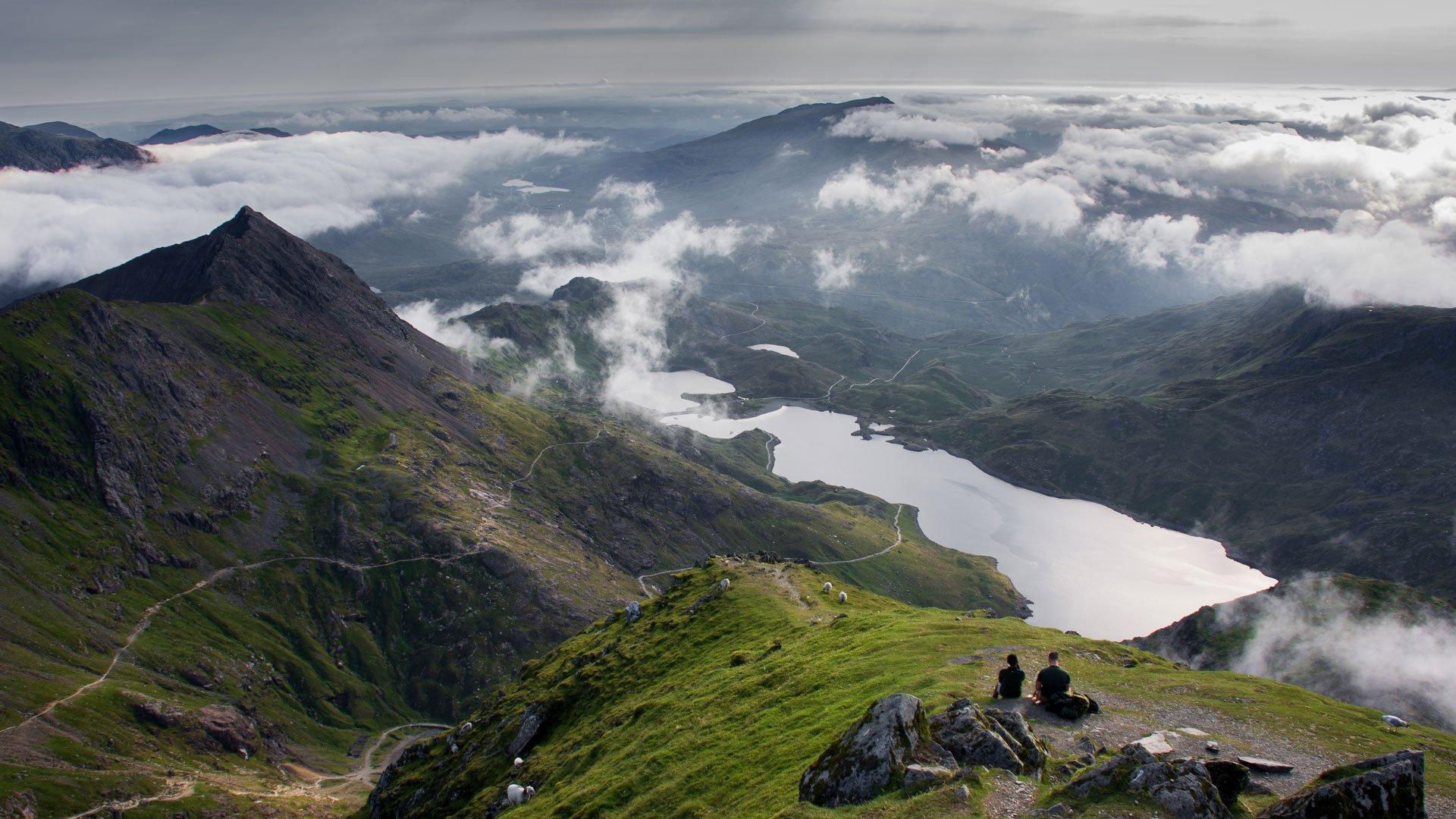 Recommended Routes in Wales
Lace up your walking boots, pack your snacks and join us as we explore the best routes for walkers, cyclists and families across North & South Wales.
Coast
Rhossili Gower, South Wales Circular Walk
Grade: Moderate
Terrain: Coast
Distance: 6.4km | Approx. Time: 2:00 – 2:30 hours
Ordnance Survey Map: Explorer 164 Gower & Llanelli
Ordnance Survey Digital Map Here.
This circular walk starts in the quaint village of Rhossili where its worth visiting not only Joe's Ice Cream, but the local church where there is a memorial to Edgar Evans and the Terra Nova expedition to the South Pole in 1912. Take in the views from The Beacon of the Gower Peninsula, Tenby on the other side of Carmarthen Bay, and even North Devon if you're lucky. Along the route there are plenty of Burial Mounds and Cairns to explore and more than enough sand on the beach to build the most amazing sandcastles. For those wishing to walk a little further why not head out to the lookout station at Kitchen Corner to the East of the village.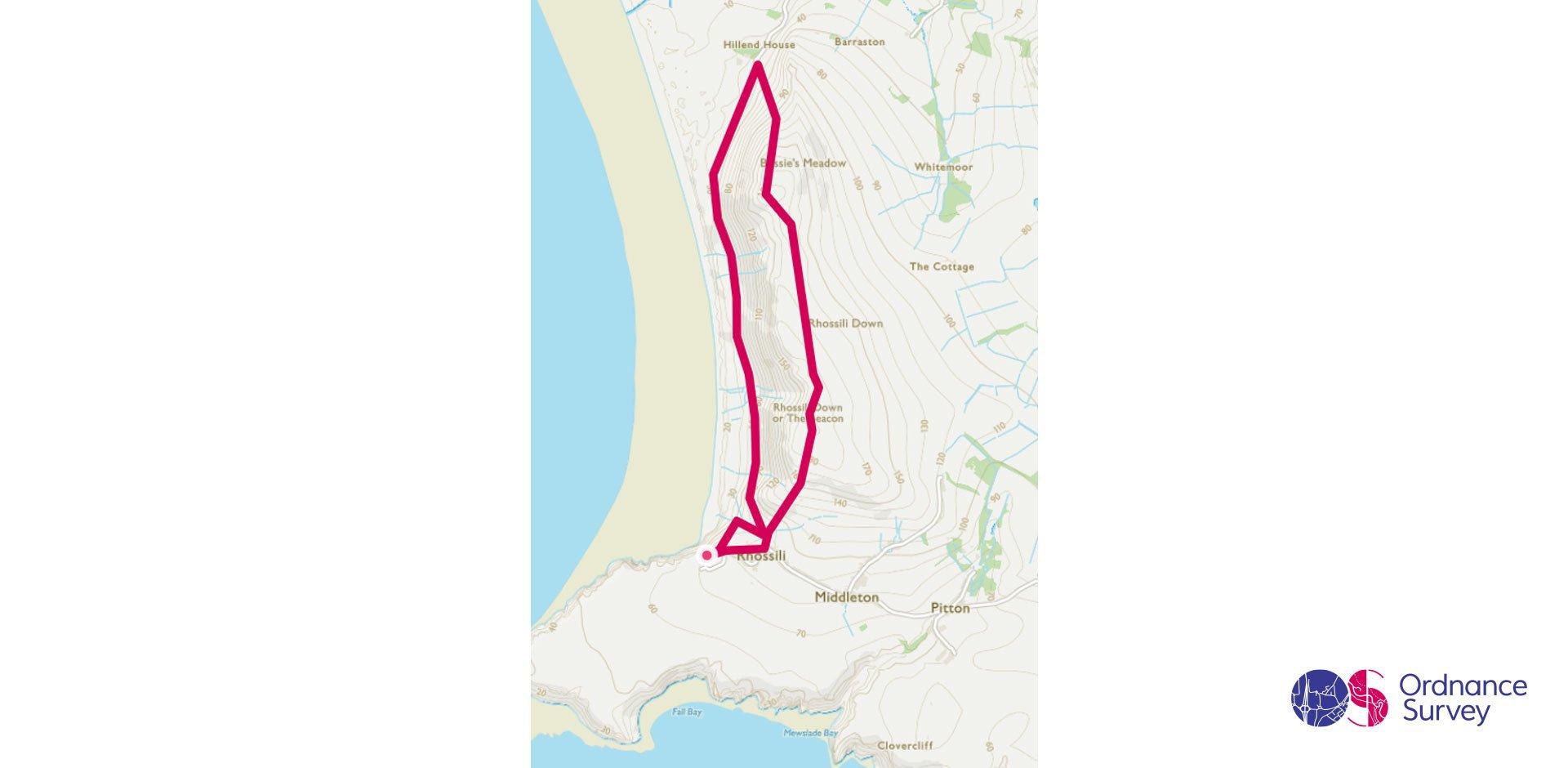 St Davids Head, Pembrokeshire Circular Coastal Walk, South Wales
Grade: Moderate
Terrain: Coast
Distance: 7.3km | Approx. Time: 2:00 – 2:30 hours
Ordnance Survey Map: Explorer OL35 North Pembrokeshire
Ordnance Survey Digital Map Here.
This beautiful coastal walk starts off at Porth Mawr just a short distance from St David's, the smallest city in Wales. Head up to Carn Llidi (181m) to see the Neolithic Burial Chambers and if the weather permits views of Ramsey Island and on really clear days the Wicklow Mountains in Ireland. From Carn Llidi you walk through the ancient field system before joining with the Welsh Coast path, along here you'll find the impressive Coetan Arthur burial chamber and a picturesque beach. For those looking to explorer the area further St Davids itself is well worth a visit along with Newgale Sands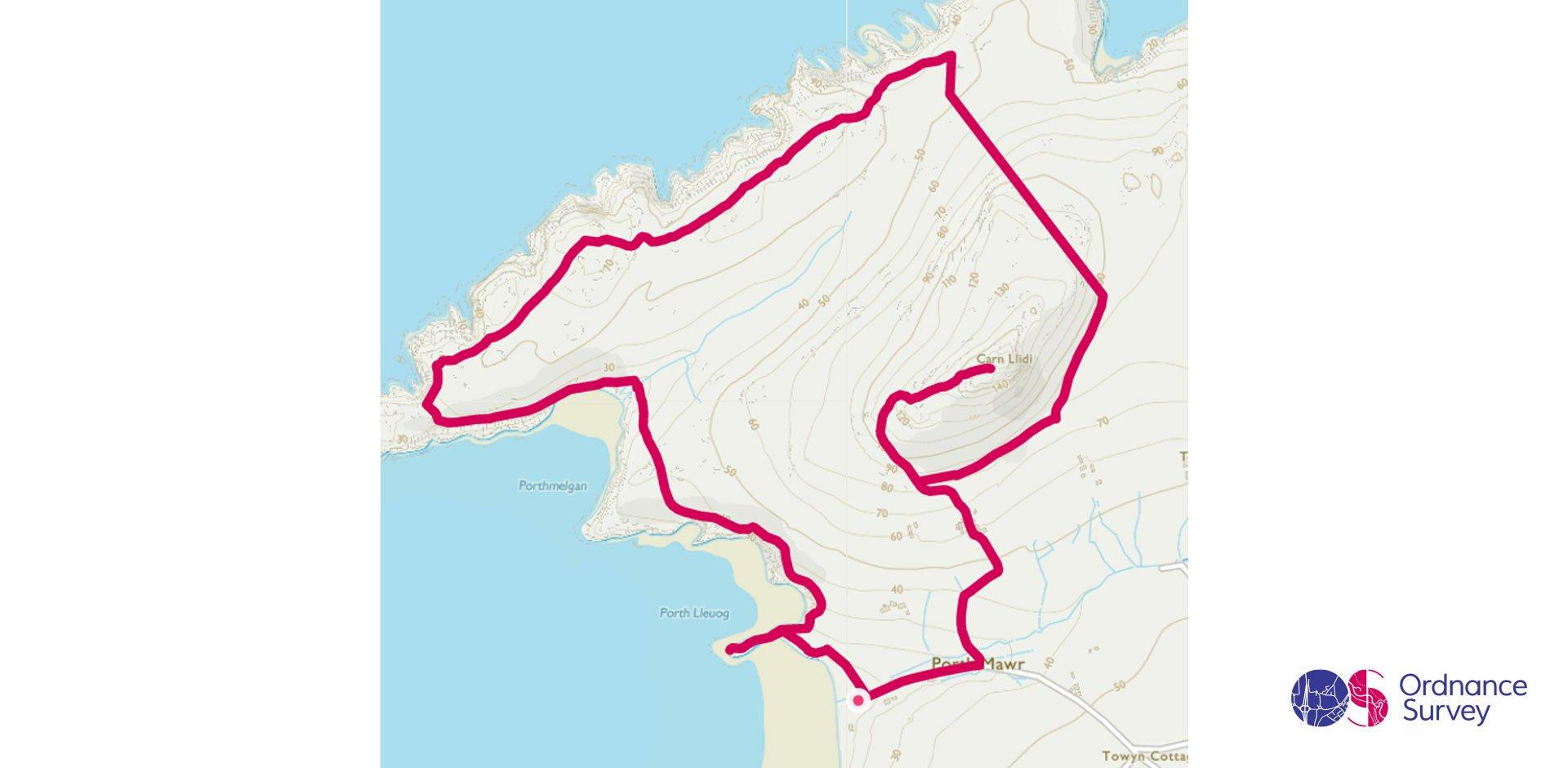 Newborough Beach Circular, North Wales
Grade: Easy
Terrain: Countryside
Distance: 10.3km | Approx. Time: 2.00 - 2:30 hours
Ordnance Survey Map: Explorer 263 Anglesey East
Ordnance Survey Digital Map Here.
Take in the fresh coastal air on this extended work around Newborough Forest and Ynys Llanddwyn, the small tidal island marking the western entrance of the Menai Straight. Setting off from the car park, you will meander through the forest before reaching Ynys Llanddwyn. Featuring 10 miles of footpaths, the island is home to Tŵr Mawr lighthouse built in 1873, and the ruins of St Dwynwen's Church. With good weather, you will also be treated to views of Snowdon and the nearby Llŷn Peninsula. Heading up the Wales Coast Path national trail you will continue your adventure through Newborough Forest. Once former sand dunes, this area was afforested in the 1970's and is now an important red squirrel conservation site for Wales, will you spot one on your walk?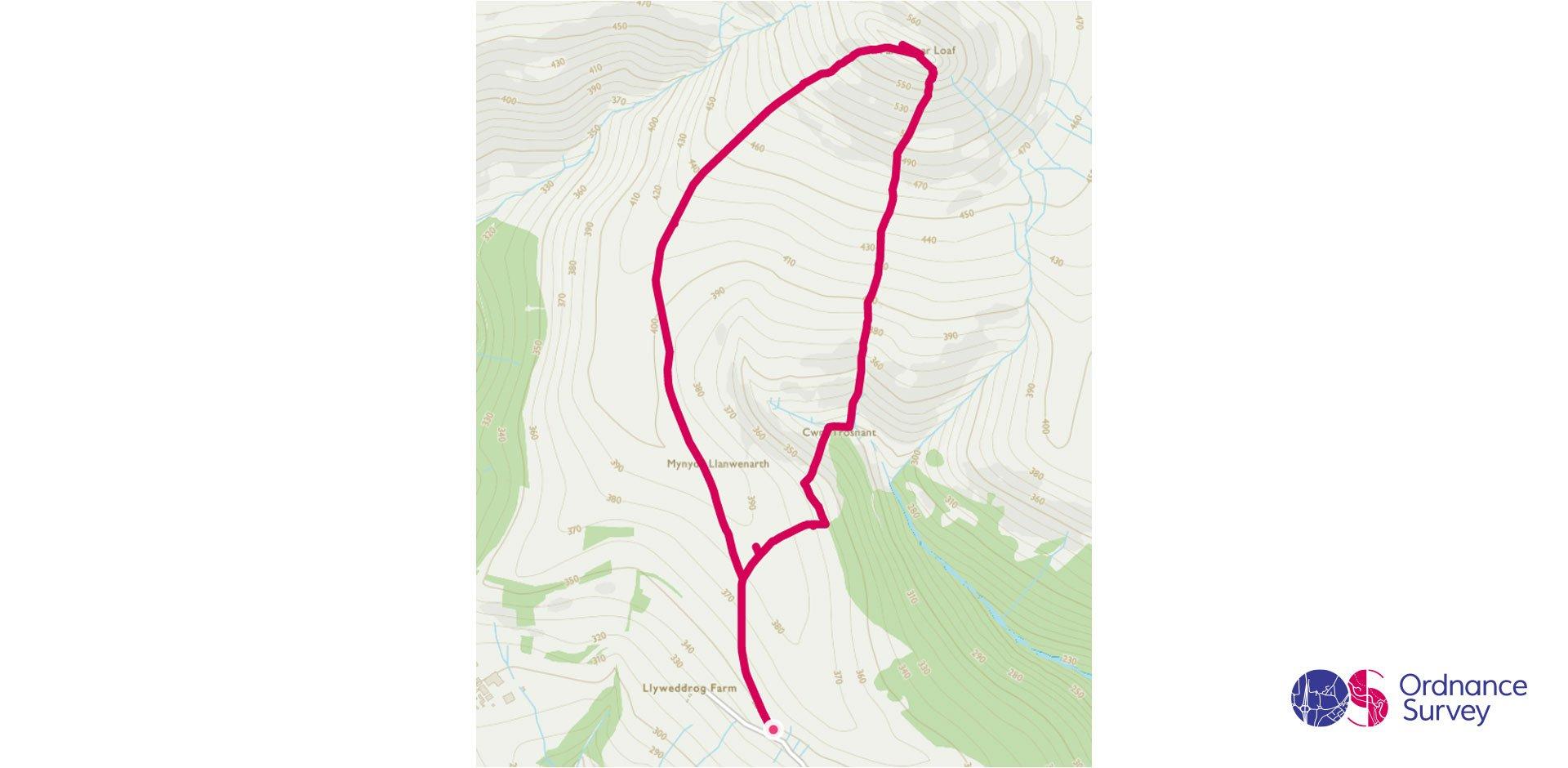 Hill
Sugar Loaf, South Wales
Grade: Moderate
Terrain: Mountain
Distance: 5.1km | Approx. Time: 1:30 – 2:00 hours
Ordnance Survey Map: Explorer OL13 Brecon Beacons
Ordnance Survey Digital Map Here.
Seemingly towering over the nearby town of Abergavenny this circular walk will give you marvellous views in all directions. With the Brecon Beacons to the West, Black Mountains to the North, Wye Valley to the East and The Welsh Valleys to the South you will be hard pressed to find a more spectacular view point in the area. For those wanting something different why not cycle or walk along the nearby Monmouthshire and Brecon canal.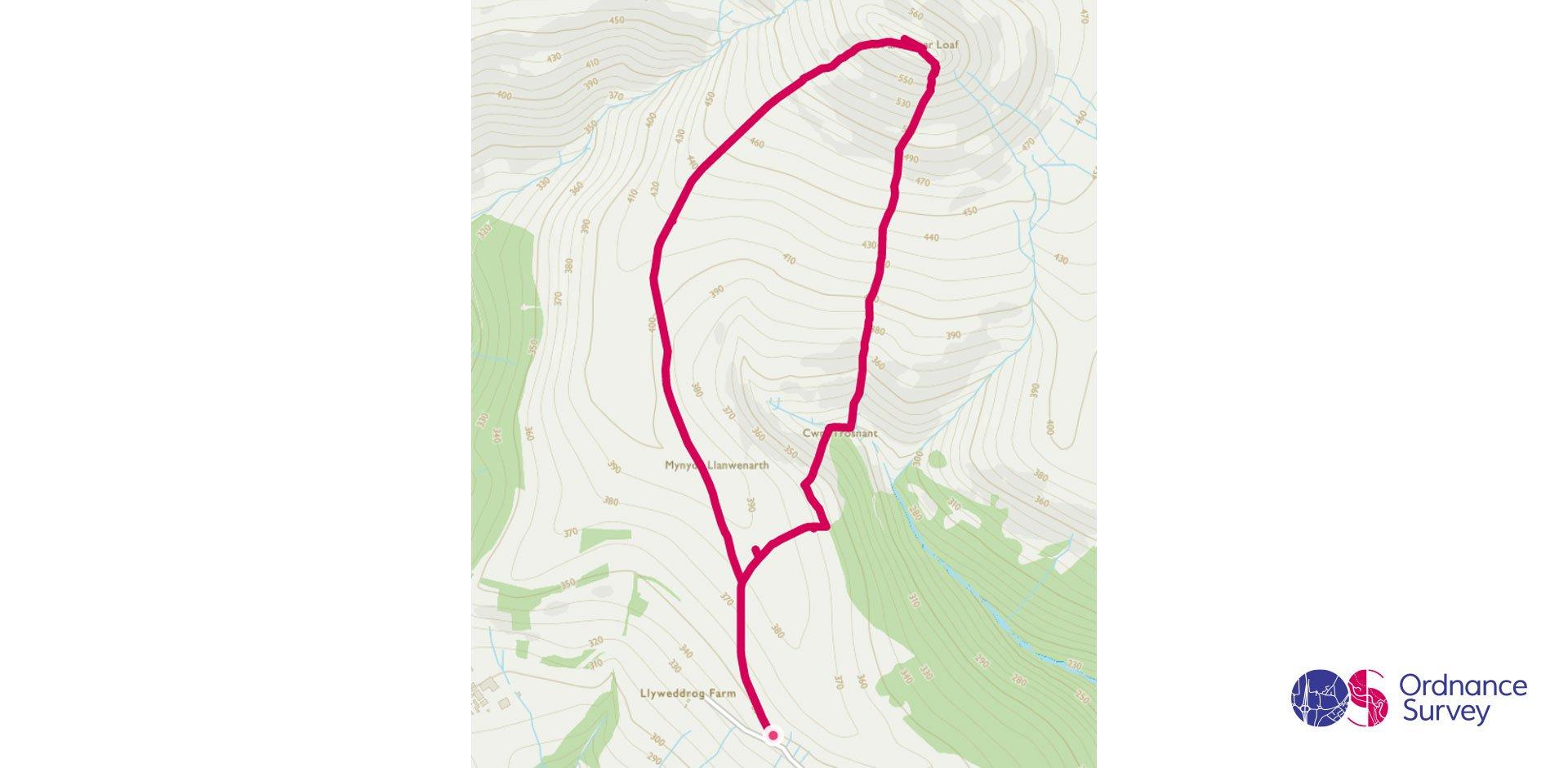 Ystradfellte Sgwd Yr Eira Circular Waterfall Walk, Brecon Beacons
Grade: Moderate
Terrain: Valley
Distance: 6.1km | Approx. Time: 1:45 – 2:15 hours
Ordnance Survey Map: Explorer OL12 Brecon Beacons
Ordnance Survey Digital Map Here.
This circular walk starting at the Cwm Porth car park follows the Afon Mellte and takes you to four beautiful waterfalls. Whilst the path is narrow and uneven, as long as you wear the right footwear the walk is well worth it. Smallest of the waterfalls is Sgwd Clun-gwyn, Fall of the White Widow, which tumbles 40ft over a sandstone slab. Sgwd Isaf Clun Gwyn, Lower Fall of the White Meadow and Sgwd y Pannwr, Fall of the Fuller, are the second and third waterfall on this walk if you go anticlockwise, leaving Sgwd yr Eira, Waterfall of Snow, as the 4th and final one to see, possibly the most spectacular sheet fall you can get close to without getting too damp.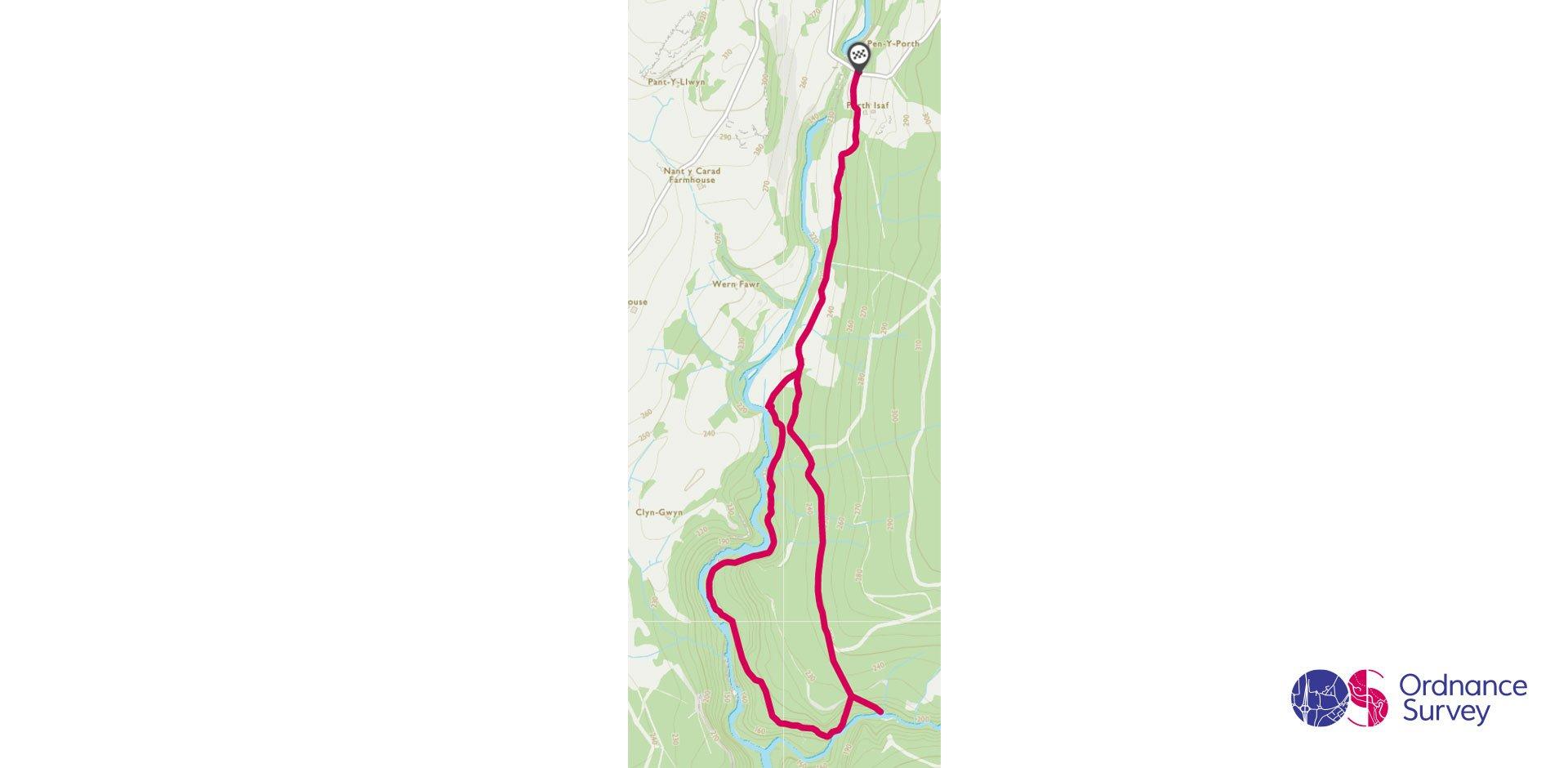 Mountain
Mount Snowdon via the Pyg Track & Return via Miners Track
Grade: Mountain
Terrain: Mountain
Distance: 11.9km | Approx. Time: 4:00 – 4:30 hours
Ordnance Survey Map: Explorer OL17 Snowdon & Conwy
Ordnance Survey Digital Map Here.
Explore dramatic valleys and breath-taking views during this ascent of Snowdon/Yr Wydffa, standing at 3506ft, the highest point in Wales. Legend has it that Yr Wydffa meaning Tomb or Monument, is the Tomb of Rhita Gawr, an ogre who was killed by King Arthur during his first ascent Snowdon. Hopefully you will come across no ogres when you ascend via the higher-level PYG track towards the summit. After reaching the top you can stop by the Summit Café for refreshments before descending via the miner's track, taking in the inspirational view of Afon Glaswyn and Llyn Llydaw.
Despite its popularity, Snowdon should not be underestimated, and all walkers need to be fully equipped and experienced in navigation to attempt such a route.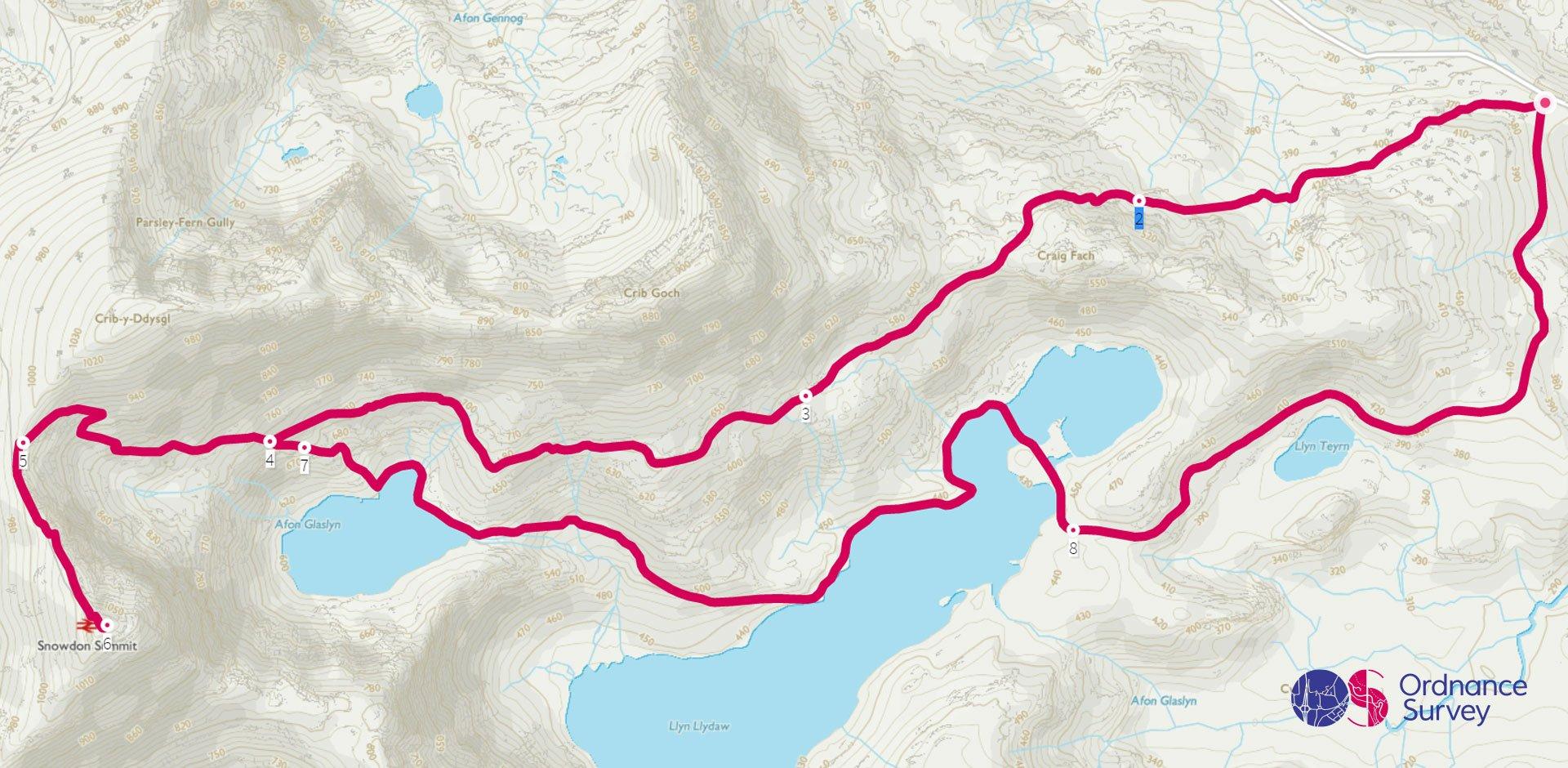 Add the paper map detailed in the route to your collection with 40% off all Ordnance Survey maps. Need help with your map reading? Read our Map Reading with Ordnance Survey guide.
Wales is made for adventure. So where will you explore first? Share your snaps and tag us in your adventures using #mymillets.