Our four-legged friends come in all shapes and sizes, but some breeds have proven more popular than others over the last decade. We've taken a look at the latest pedigree puppy registration statistics published by The Kennel Club, and can now reveal the UK's favourite dog!
Total Dog Registrations
In total, there were 250,000 dogs registered with The Kennel Club in 2020. This figure was 7.8% higher than the previous year, which saw a significant slump in registrations. As a result, total dog numbers have quickly returned to 2018 levels.
The Kennel Club processes puppy registrations for each of the 221 recognised pedigree breeds and the organisation's data accounts for approximately 30% of all dogs bred in the UK.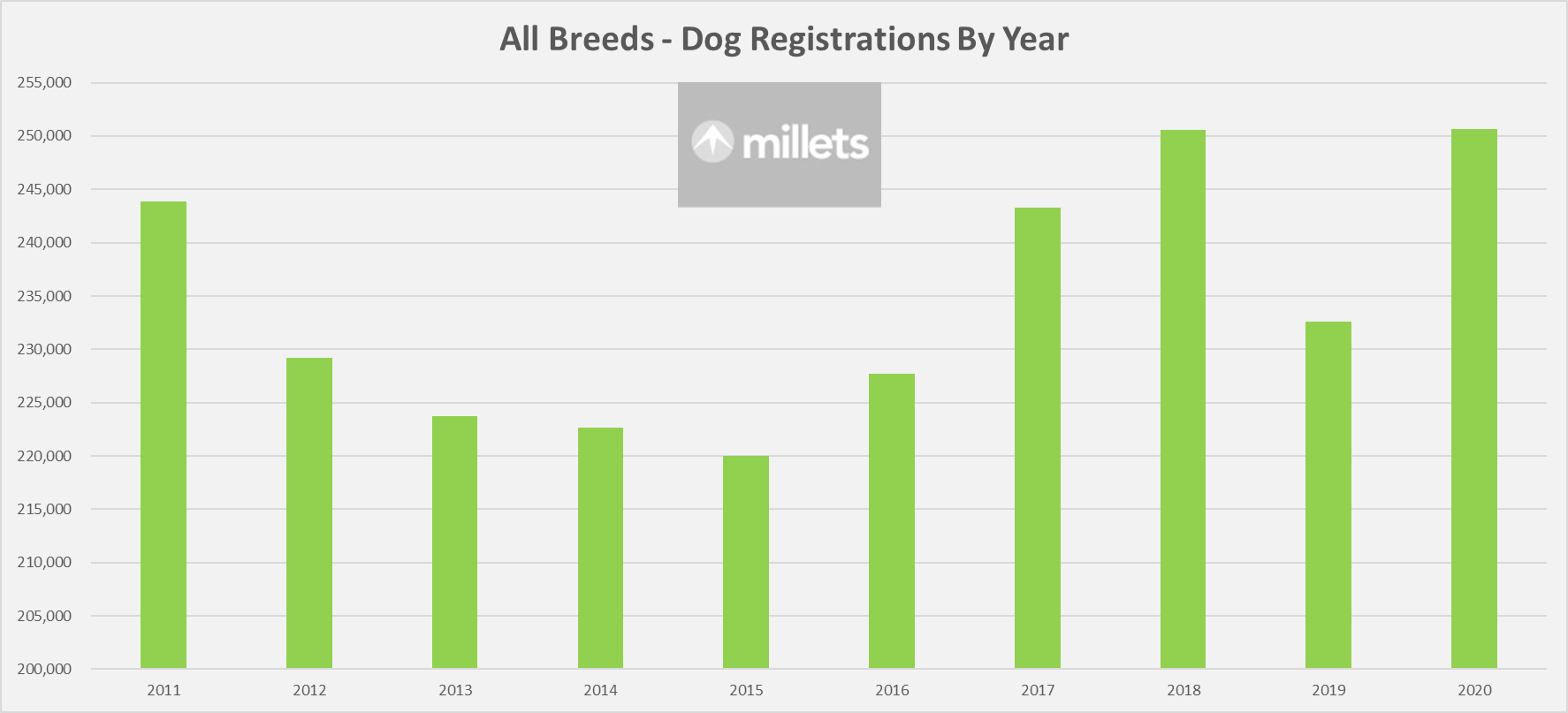 Top Dog
The Labrador Retriever has pipped the French Bulldog to reclaim the title of the UK's most popular dog breed. Labrador registrations are up 13% compared to 2019, an increase that has seen it swap places at the top with the French Bulldog, a breed that has seen its recent rise in popularity slow significantly in over the last 12 months.
Top 10 Breeds:
1. Labrador Retriever
2. French Bulldog
3. Cocker Spaniel
4. Bulldog
5. Dachshund (Miniature Smooth Haired)
6. Springer Spaniel
7. Golden Retriever
8. German Shepherd
9. Pug
10. Staffordshire Bull Terrier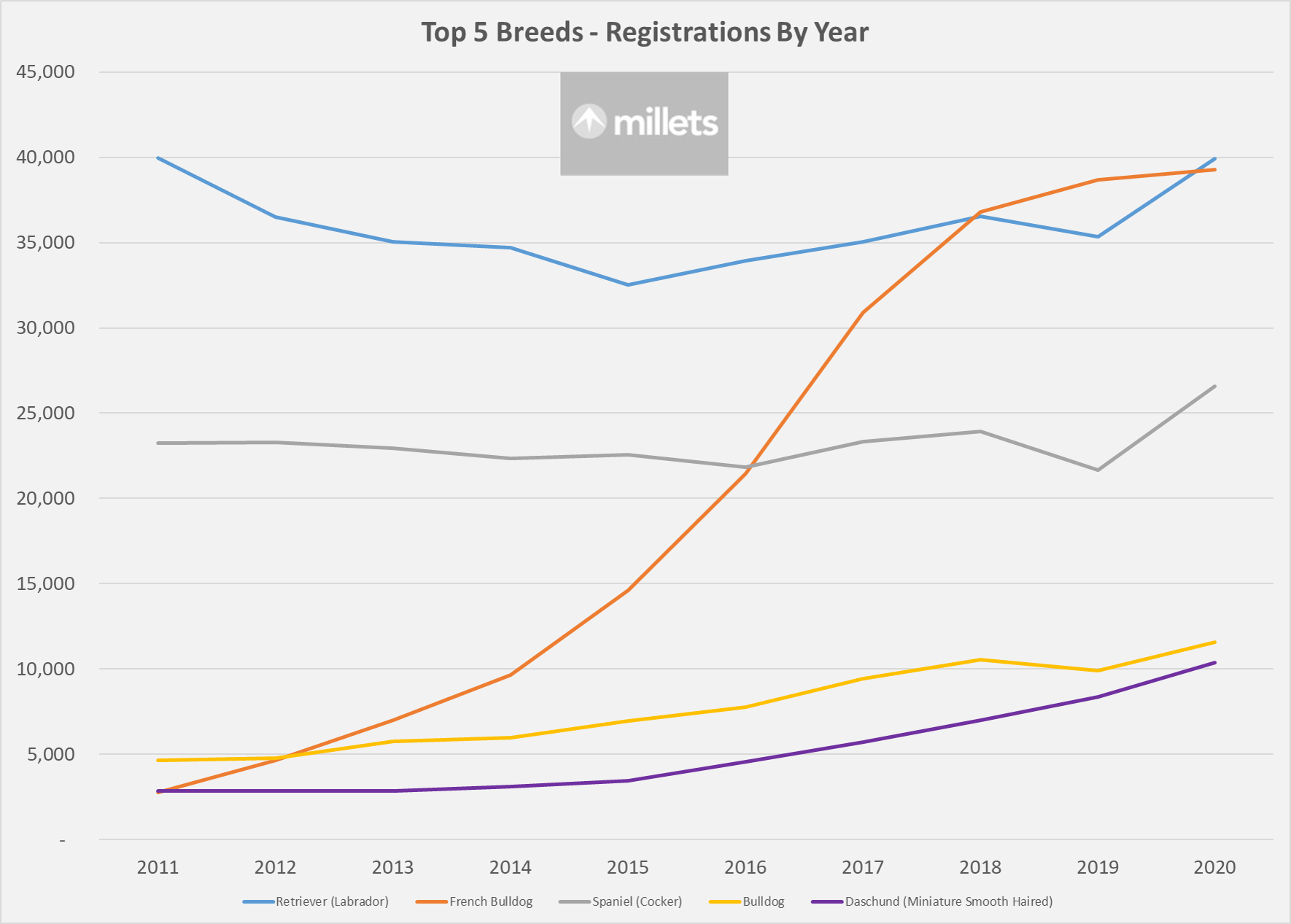 Breeds Rising In Popularity
While the number of Frenchies registered has levelled off somewhat, pedigree Bulldogs continue to rise in popularity. Over 11,000 were registered last year, an increase of 17% versus 2019. Remarkably, there are more than twice as many Bulldogs in the UK than a decade ago and the upward trend shows no signs of stopping.
It's a similar story for the Miniature Smooth Haired Dachshund. Registration numbers have risen by 24% since 2019, and 10 years of steady increases means that the UK now has five times as many Mini Sausage Dogs as it did had back in 2011.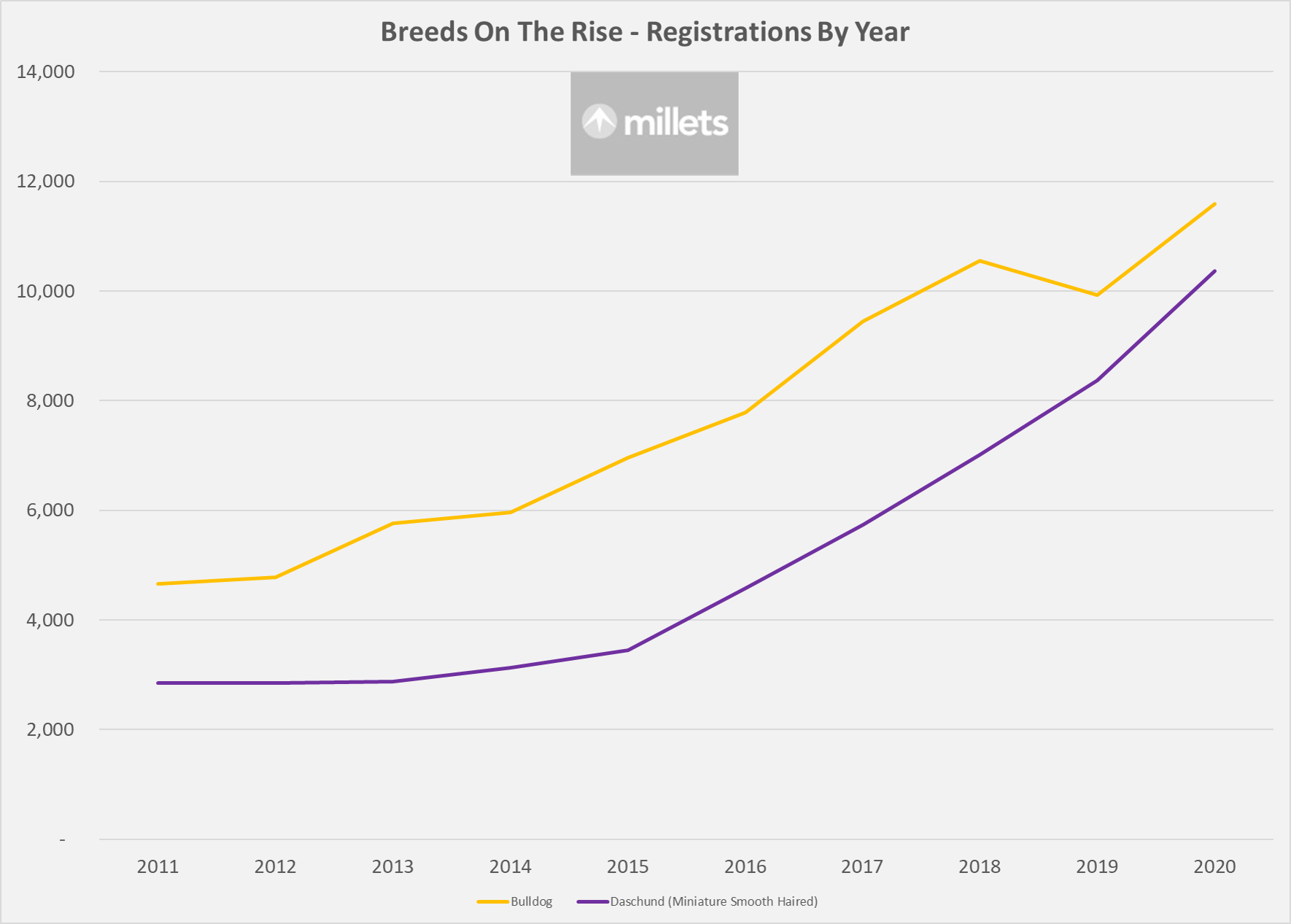 Breeds On The Decline
It would appear that Pugs aren't as fashionable as they once were, with other small dog breeds taking their spot in the limelight.
The last couple of years has seen a steep decline in Pug registrations following a period of incredible popularity. Having boasted a whopping 11,000 registrations in 2017, this breed has now returned to 2011 levels, with just 6,000 Pug puppies registered in 2020.
German Shepherds have seen a slower, more consistent decline in the last 10 years. The faithful old police dog has gone from nearly 10,000 registrations in 2011 to just 7,000 in 2020, a decline of around 30%.
Likewise, English Springer Spaniels seem to be losing out to more exotic breeds. There are 30% fewer of them compared to 10 years ago following a gradual decline over the course of the decade.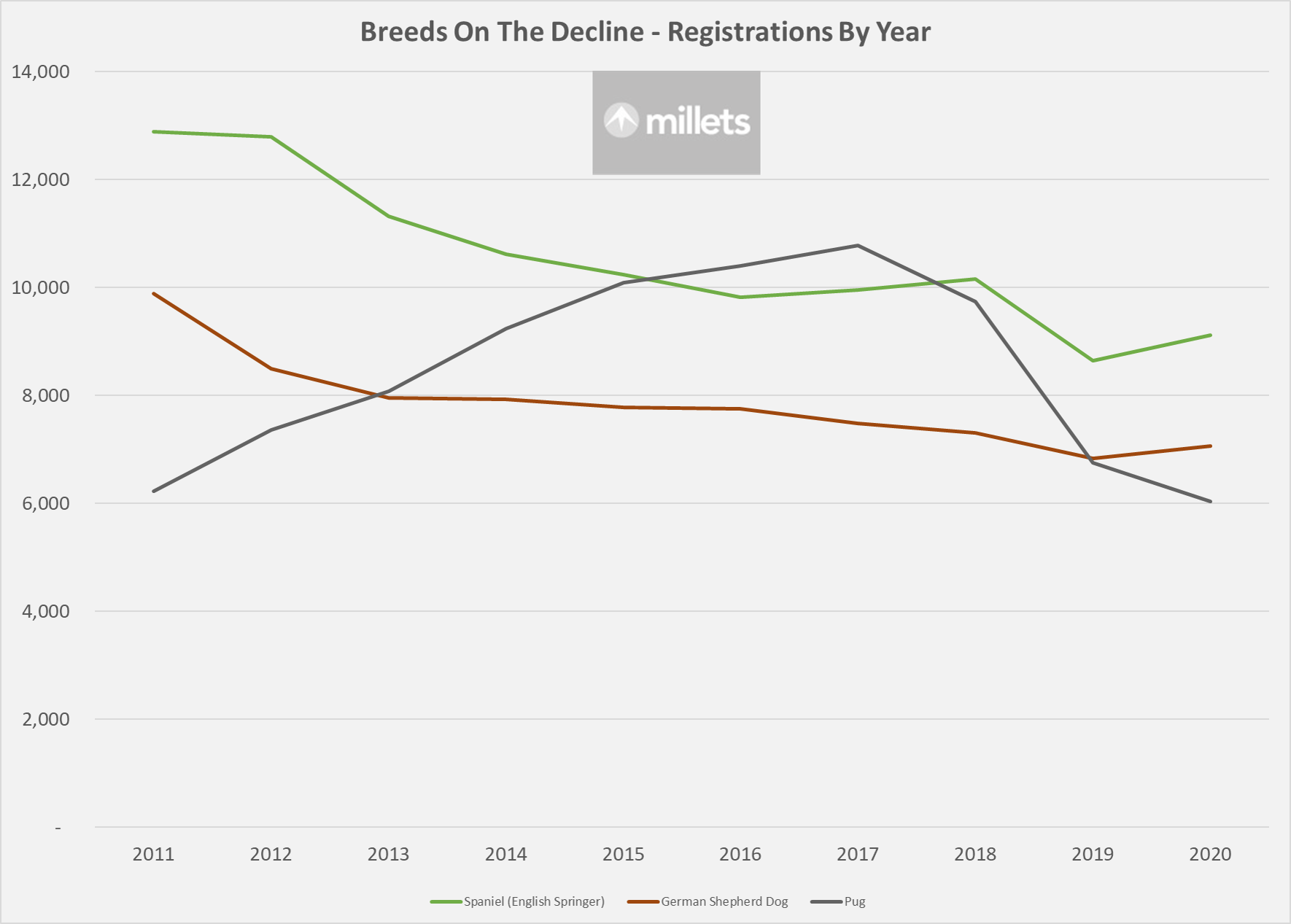 A Rare Breed
If you are on the lookout for a particularly unique dog, there are plenty of rare breeds out there. Among the rarest is the Azawakh – only one of them was registered with The Kennel Club in 2020!
Of course, there is also the potential for many established native breeds to dwindle towards extinction in the UK. The Deerhound, King Charles Spaniel and Cardigan Welsh Corgi are all now considered 'vulnerable' by The Kennel Club having fallen below 300 annual registrations in recent years.
More British breeds than ever before are at risk as their popularity declines in the face of ever-increasing demand for new breeds such as the French Bulldog.
Speaking about recent data trends, Kennel Club Secretary, Caroline Kisko said:
"We could lose even more of our most iconic and historic native dog breeds if people don't look beyond the most obvious choices and start to explore the huge diversity of breeds we're lucky enough to have in this country."
Dog Walking
The last 12 months has certainly prompted people to appreciate the outdoors more, and owning a dog can certainly offer some much needed inspiration for those countryside walks. Check out some of Ordnance Survey's Dog Walking Guides and browse our Top 50 Dog Walking Routes if you want to take 'walkies' to the next level.
Whether you're new to dog ownership or a long-time dog lover, it's important you have the right walking gear for you and your pooch. Make sure you browse our range of clothing and accessories and get kitted out before heading out on your dog walking adventures.
Shop Dog Walking Clothing & Accessories
*Data Source: The Kennel Club - Annual Dog Registration Data (2011-2020 inclusive)
For a more detailed look at the latest dog registration statistics, head over to The Kennel Club's website.