Join us this Easter
Campsites may not be open in time for the four day weekend but that doesn't mean camping is cancelled!
Over the Easter Bank Holiday weekend of Friday 2nd April - Monday 5th April 2021, Millets and TentLife are once again asking households across the UK to get out in the garden (or your front room) and get into the camping spirit. Over 200 of you took part last year and what a joy it was to see everyone having fun and sharing their snaps!
Whether this is your first time or second time, whether you camp for one, two or all three nights, or simply spend an evening roasting marshmallows with the kids, we want you to get involved!
Think garden sleepovers, sizzling BBQs, starlit skies and living room play dens. To get involved simply tag Millets and TentLife in snaps of your camping adventures and use the hashtag #StayHomeCamp. Join the Facebook event here to keep up to date!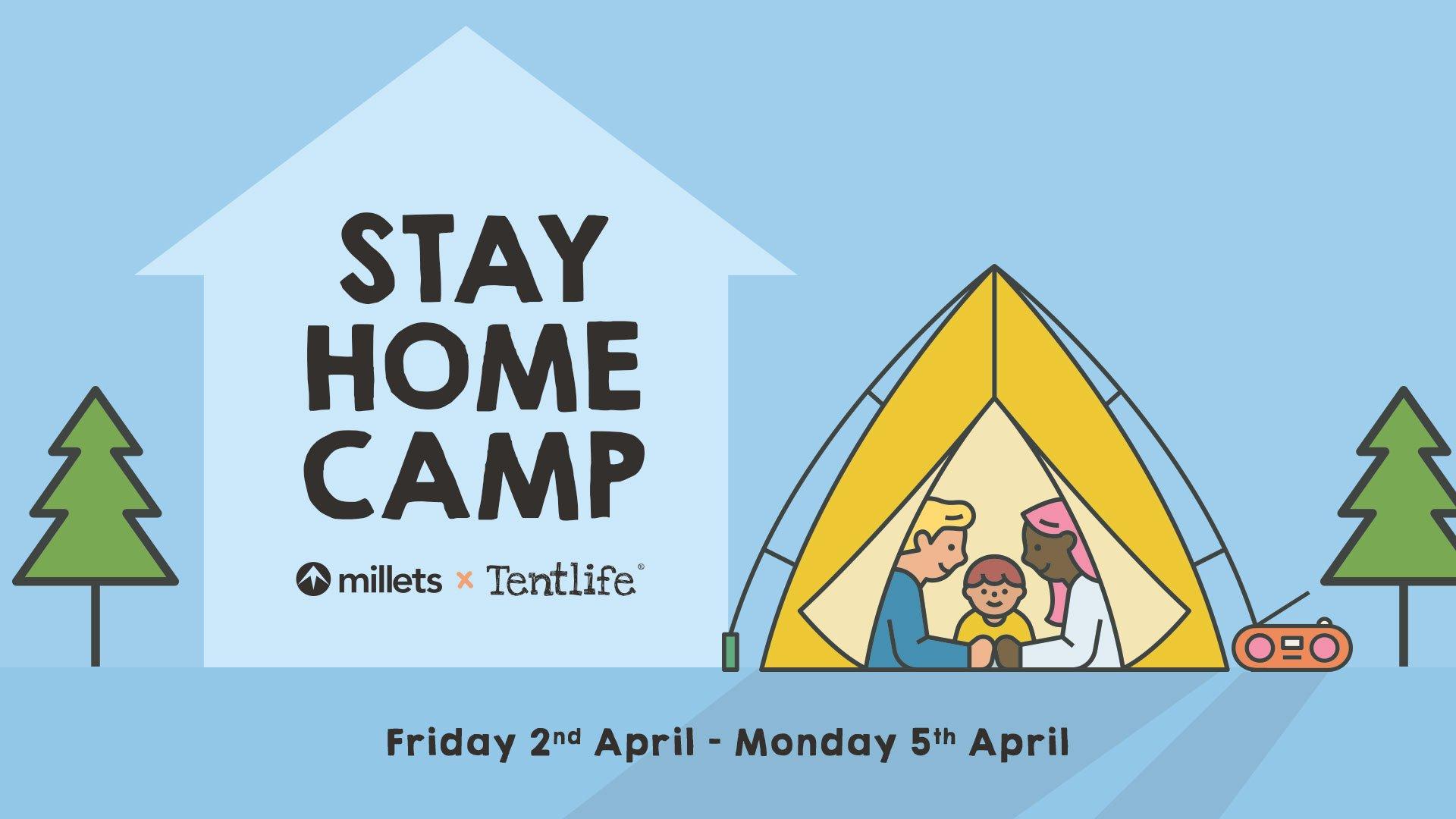 Chance to WIN
By tagging Millets and using #StayHomeCamp, you'll automatically be entered for a chance to win EITHER: a Eurohike family camping bundle OR an OEX Backpacking Bundle! You can find all the details including terms of entry by clicking here.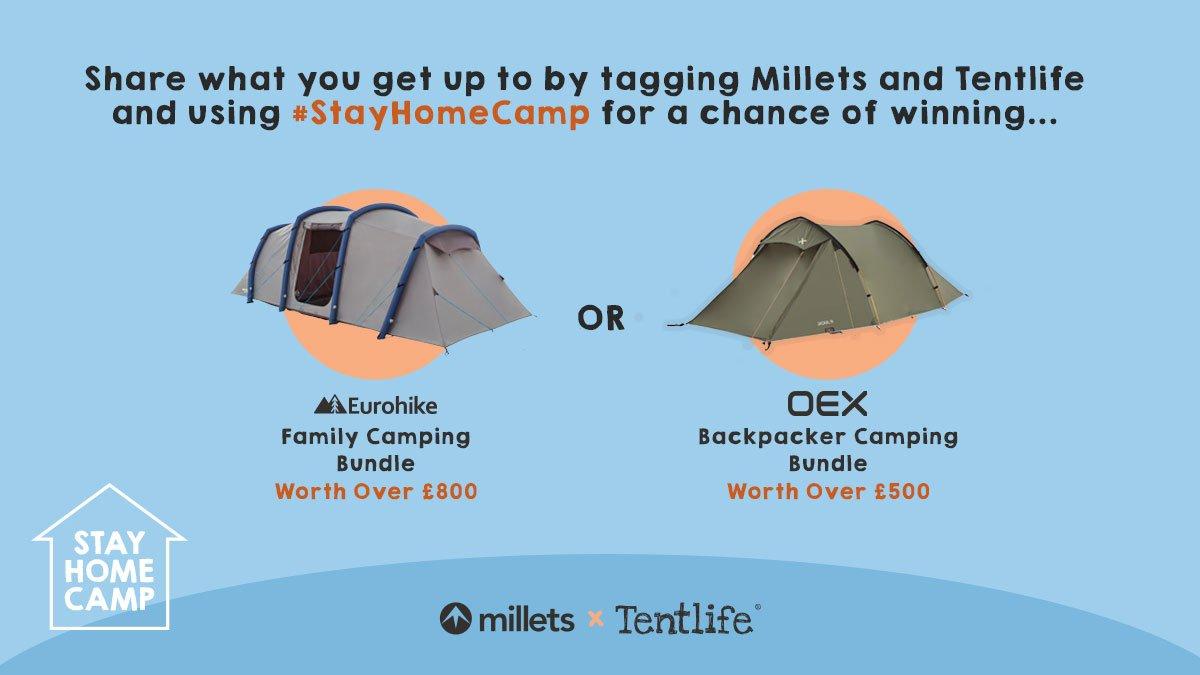 How to get involved
Joining our community of campers is so easy. Here's how to get involved. From now till Good Friday start planning how you want to camp in your garden or home and for how long. There's no rules on whether you do one, two or all three of the nights, or simply build a play den in the living room. Before and during the Easter weekend post your pictures. Remember to tag Millets at @milletsonline and use the #StayHomeCamp for a chance to WIN our competition.
Home Camping Inspiration | How to Bring the Outdoors In
Planning your own garden or home campsite is easy; below are some great ways you can get involved. Whatever size your garden is, we're confident you can still have fun outdoors. Not got a garden? Why not build a living room den, hike the height of your favourite mountain on the stairs or even cook a meal that reminds you of past adventures outdoors. Don't forget to share your adventures and ideas using #StayHomeCamp to inspire others.
Mini Festival
Festivals may or may not be going ahead this year. Why not create your own at your very own home? Dress your tent with bunting and fairy lights, break out the party food and transform your garden into your private festival field. We've got more tips on how you can turn your garden into the main stage here.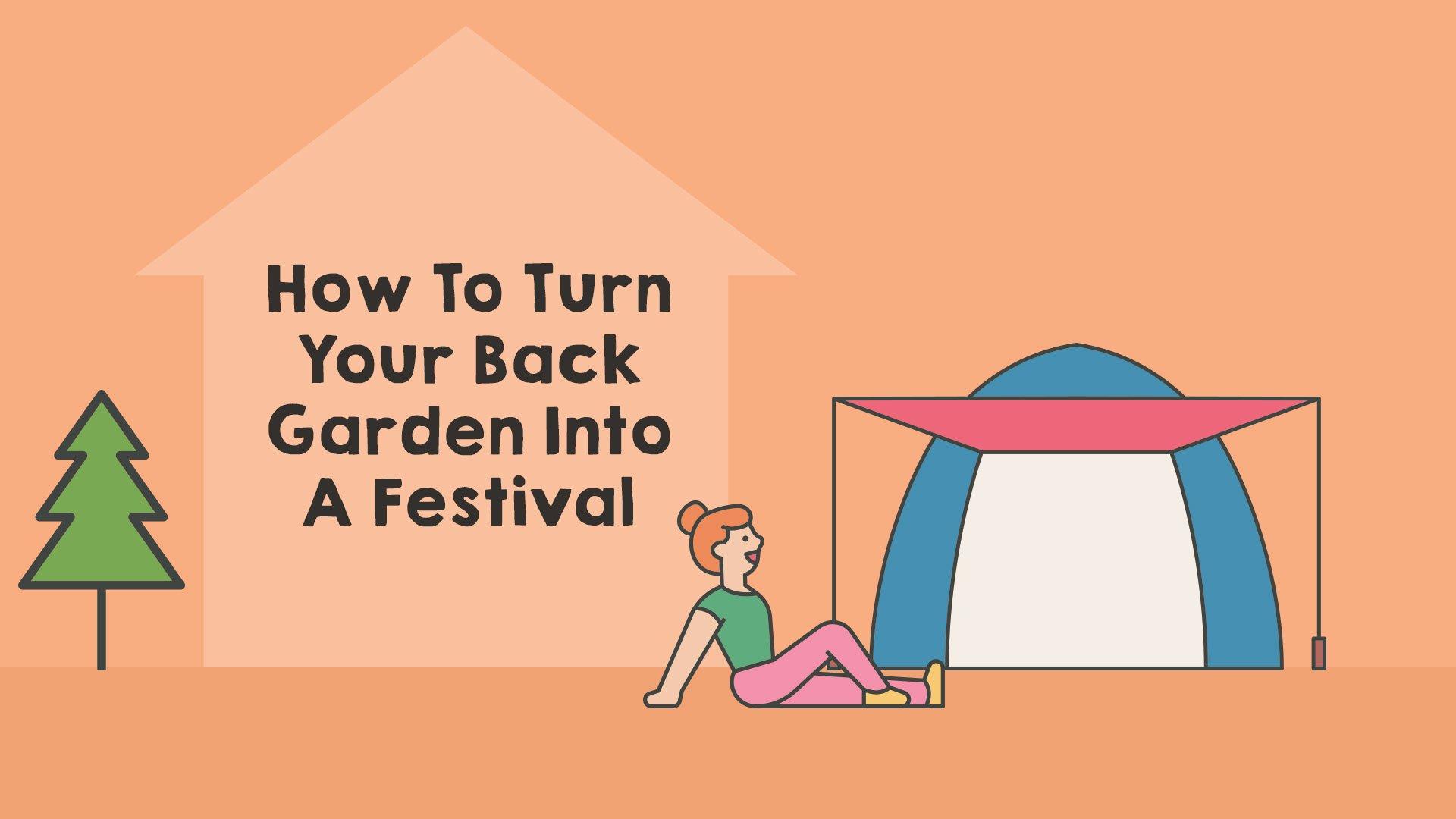 Stargazing
Wrap up warm and step outside to look up and enjoy the clear night sky. Find a countryside spot close to home where light pollution is low, and you'll experience an interstellar sightseeing adventure like no other. Click here to read about Britain's top stargazing spots.
Garden Sleepover
A great one for young families, pitching a pop up tent in your back garden is an easy and fun way to introduce kids to the outdoors close to home. Snacks, cosy sleeping bags and a night light are all you need. Check out this great post from our friends at Dear Mummy Blog who spent a night in their garden last year: click here.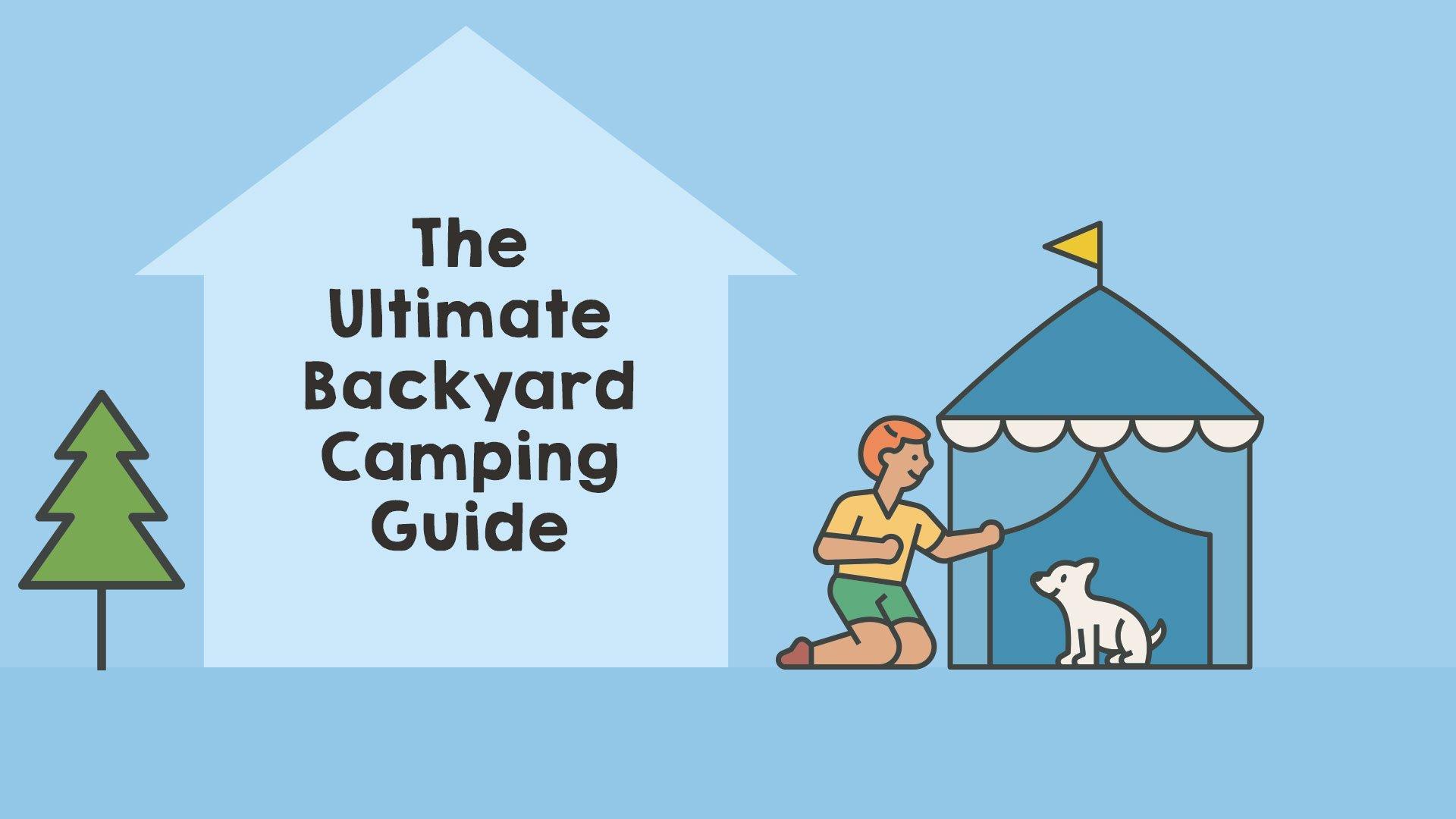 Backpacker Base
Hardened backpackers used to getting out into the hills will be finding isolation tough. If that sounds like you then why not pitch your tent at home and make new experiences on your own doorstep. Going off-grid in your own backyard is surely an adventure that will keep your inner outdoor fire burning brightly.
Campfire Fun
There's no greater pleasure than cooking marshmallows and other treats over a campfire. Firepits and portable grills are safe, simple and fun ways to enjoy a campfire. Our friends at Scrapbook Blog enjoy toasting treats over a fire last year; take a look here.
About TentLife
TentLife is a positive online community set up by Carl and Tina who provide product reviews, advice and inspiration for outdoor enthusiasts, no matter what their skill level is. They work with people across the outdoor community to bring an authentic and unique take on life spent in the great outdoors. Pop on over and say hello here.