Please follow government guidance on Covid-19 travel restrictions at all times and enjoy the outdoors responsibly.
The best thing about Britain's three biggest peaks is they can be climbed by anyone with some hill-walking experience on a hill, basic navigation skills and an understanding of the most accessible routes. At Millets, we're committed to offering inspiration and sound advice to help you explore Britain safely and responsibly while having fun along the way. Before we talk a stroll through a brief history of the biggest peaks and our recommend routes up them, here's some top tips for attempting any hill.
Top Tips for Your First Peak
Here's a few quick tips to help you walk safely outdoors:
- DO your research. Each peak has challenging routes and easier routes. The easier 'tourist' routes are well-defined and walked more regularly, meaning you'll feel comfortable and pass many friendly hikers.
- DO a few practice hikes on smaller hills and peaks first to build your confidence.
- DO go with a friend and DO tell someone where you're going – safety really is in numbers and it will be more fun.
- DO learn some basic navigation skills: check out these simple guides from Ordnance Survey to Understanding a Map and Knowing Your Compass
- DO check the weather. Trying a new mountain for the first time should not be underestimated so we recommend timing your trip with good spring/summer weather. Just watch out for the heat.
- DON'T exceed your ability or comfort zone. If the weather changes or you're not confident turn around. You can always try again another day.
- DON'T forget plenty of water, food, sun cream and snacks.
- DON'T attempt your first peak in winter or poor weather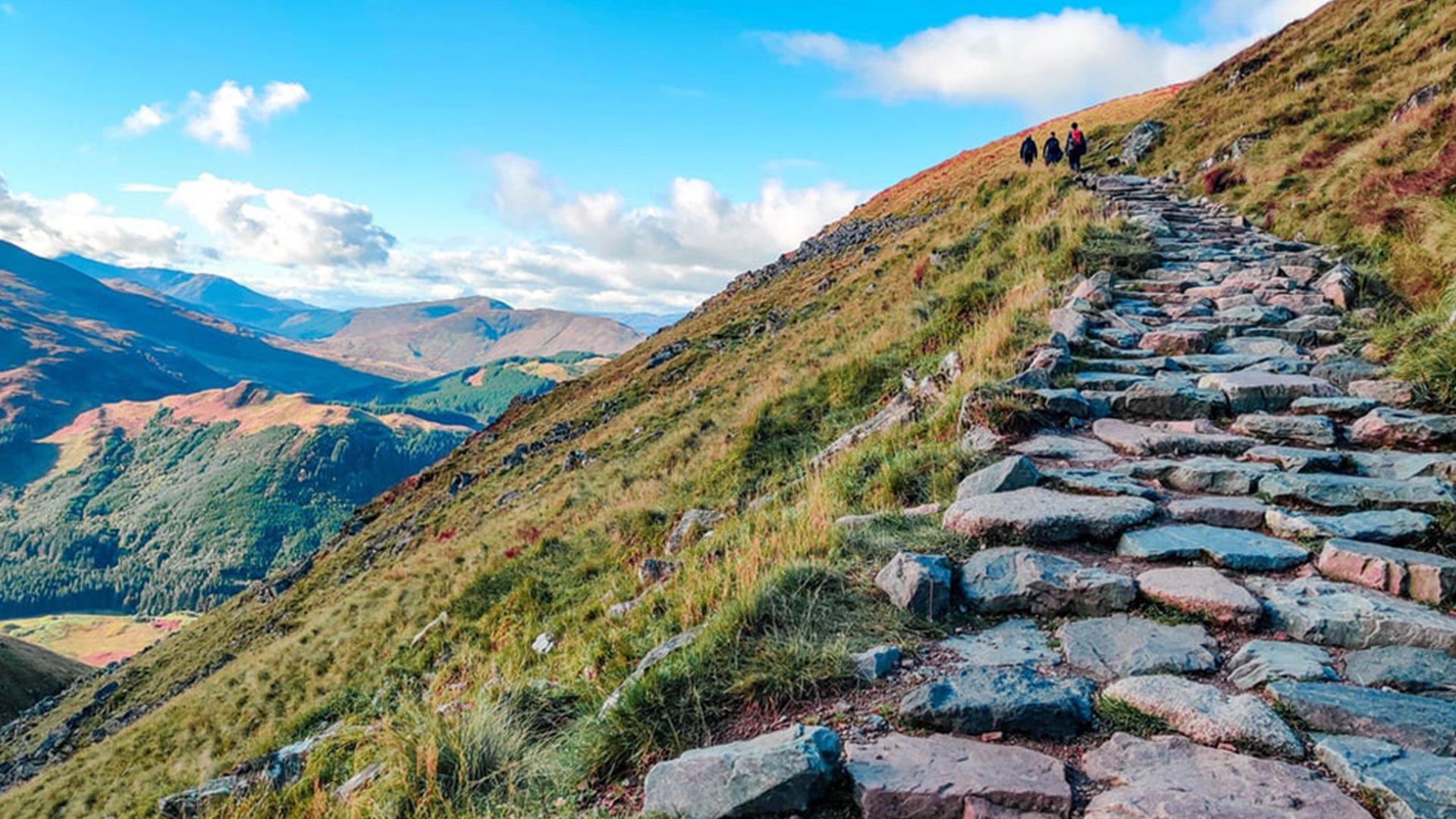 "When it comes to gear, you don't need to spend a fortune. But you do need a good pair of walking boots, a waterproof (for when it undoubtedly rains), a pack to carry your gear and a map. Plus, snacks - Dark Chocolate is my go-to snack."
Kiera Baxter - Marketing Exec & Adventurer
Navigating the Three Peaks
Click the navigation below to learn about the history and most accessible routes of Snowdon in Wales, Scafell Pike in England and Ben Nevis in Scotland.
Exploring Britain's Mighty Peaks
For many, climbing one or all of Britain's three highest mountains is on their bucket list. Come with us as we walk you through the most accessible routes up each mountain, and explore the real stories behind the rock. Remember that climbing any mountain is a great physical and mental challenge so we highly recommend working your way up to these great peaks.
"Preparation is all part of the adventure. Before attempting any peak, plan ahead. And remember, there is no shame in turning back. The best adventurers know when it's time to call it a day."
Jack Kelly - Content Editor & Adventurer
Wales
Snowdon - The Highest Mountain in Wales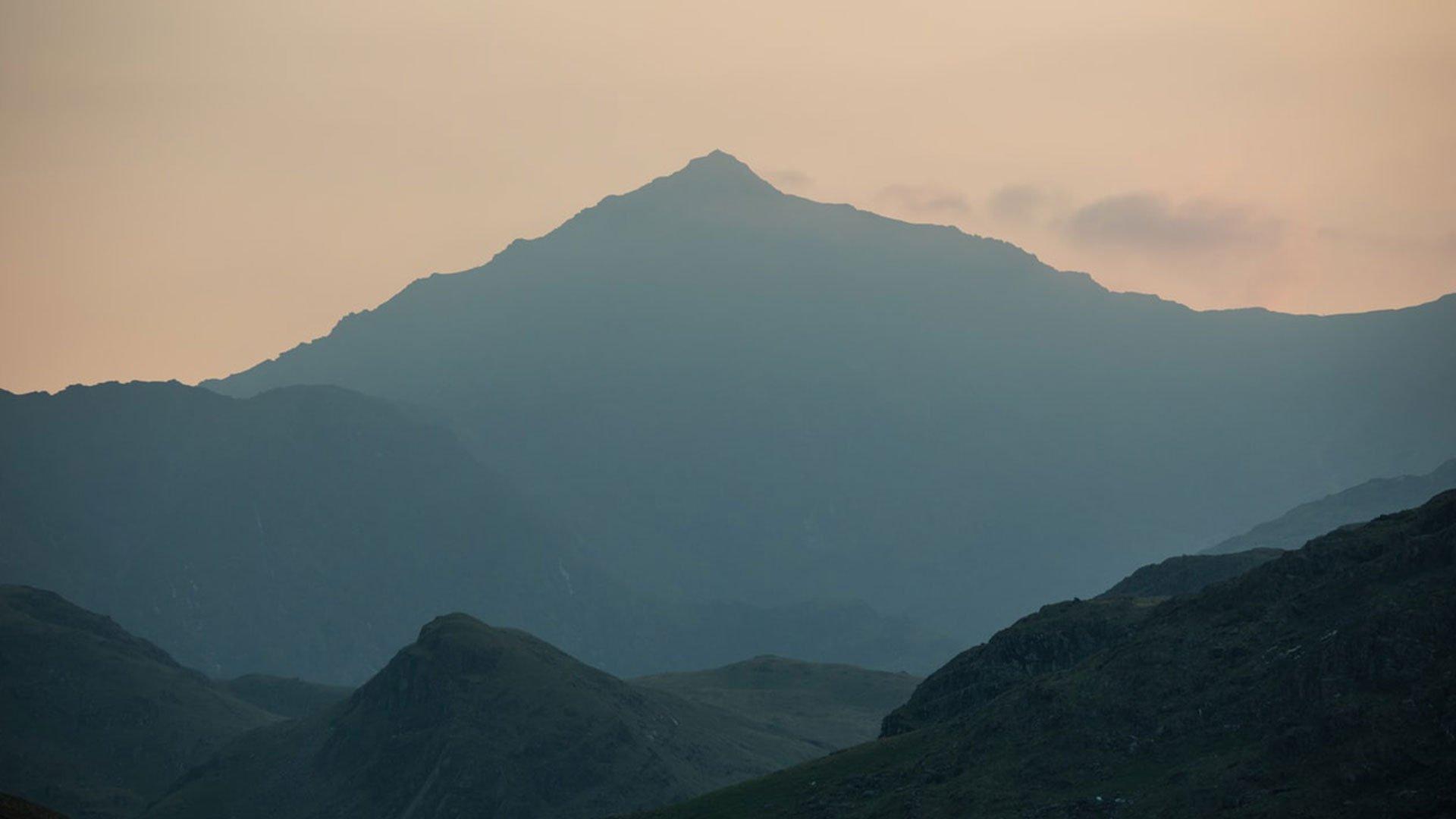 This towering peak in the Snowdonia National Park in Gwynedd draws millions of visitors to the area each year. This natural monument dominates the skyline and uniquely has a mountain railway which makes the peak accessible to all.
Elevation: 1,085 metres (3,560ft)
Location: Snowdonia National Park, Gwynedd
Our Recommended Route: Llamberis Path
Distance: 7.13km | Approx. Time: 4 hours
Ordnance Survey Map: Explorer OL17
Out of the six main paths, Llamberis is one of Snowdon's easier routes. This gradual incline is great for beginner and intermediate walkers looking to set their sights higher. On a fine day, you'll enjoy fantastic views of Cwm Brwynog, Llanberis and even out over the Menai straights towards Anglesey. The path mainly follows the Snowdon Mountain Railway track which is a good reference point and a great option if you don't fancy walking the return journey.
The History of Snowdon
The landscape of Snowdonia and the monumental mass of Snowdon was carved and created over approx. 500 million years, with its geology transformed by volcanic and glacial activity. Interestingly, the name Snowdon in Welsh is Yr Wyddfa, which means tomb or monument.
It is not clear who first conquered the mountain, but its popularity followed the first written record of an ascent when Thomas Pennant published 'Tours' in 1781 and included his visit to the summit. There are remnants across the region of Iron Age settlements and prehistoric sites, Roman forts and ancient fossilised shell fragments. The area has been mined since the Bronze Age, and evidence of copper mining can still be seen all over the area.
Before Snowdon Mountain Railway, ponies were used to take tourists to the summit. The fully functional 800mm gauge railway was imported from Switzerland and is the only rack and pinion railway in the UK. In 1820, the first stone shelter was built at the summit to serve refreshments. Fast forward to today and the architectural wonder known as Hafod Eryi now stands proudly at the summit. This café and rest stop is a welcome sight to walkers who have struggled to the top (or peckish train passengers).
Those into their mountaineering history will enjoy staying at the Pen-Y-Gwryd Hotel at the foot of the mountain, from where Sir Edmund Hillary and Tenzing Norgay trained on Snowdon for the first successful ascent of Mount Everest in 1953.
England
Scafell Pike - The Highest Mountain in England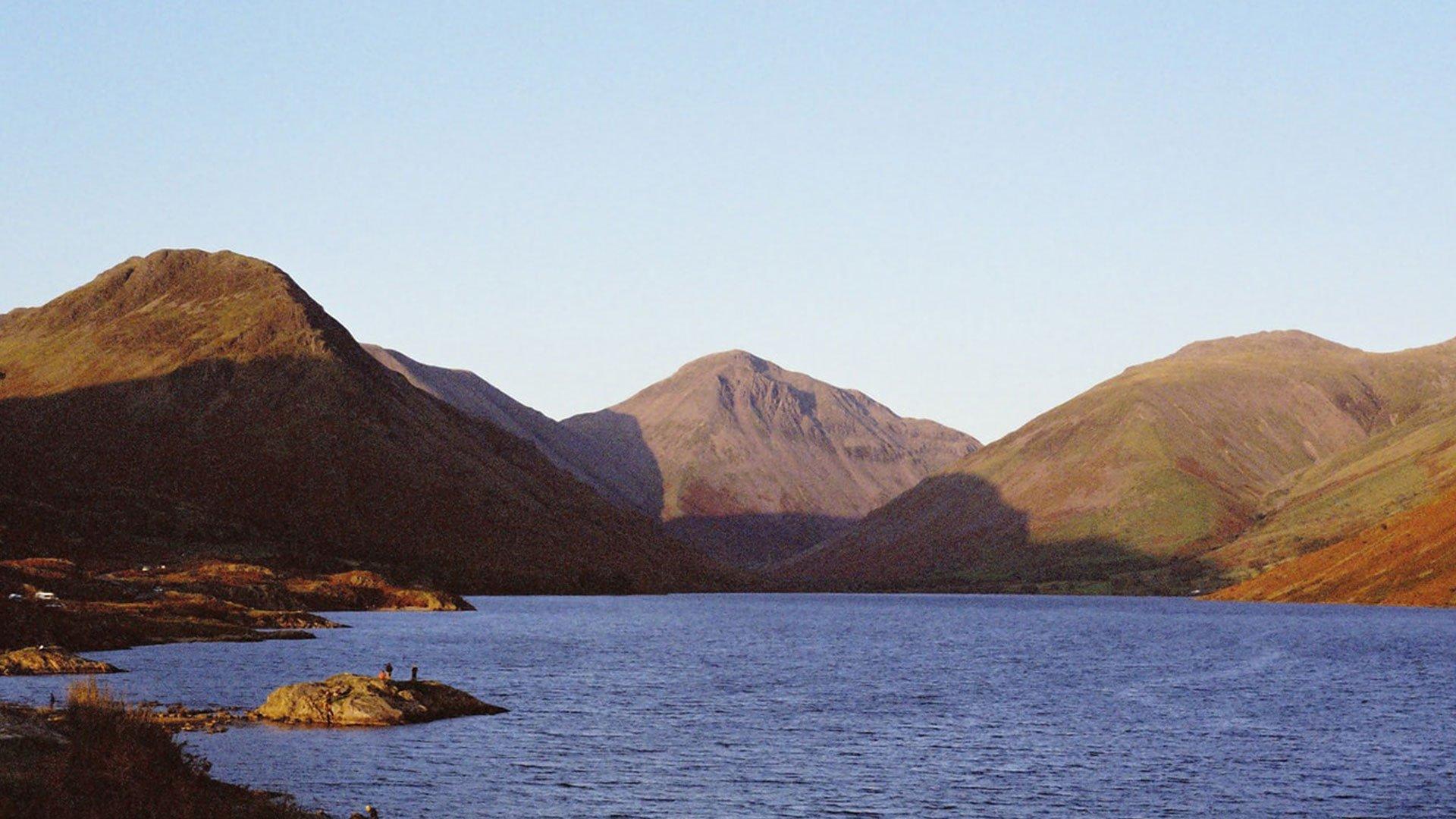 Scafell Pike is England's highest mountain is located in the Lake District National Park, in Cumbria and dominates the landscape. Part of the Southern Fells (a group of Lake District hills), even Scafell Pike's simplest route to the summit is harder to follow than the main routes up Snowdon and Ben Nevis - so don't forget your map and compass.
Elevation: 978 meters (3,209ft)
Location: Lake District National Park, Cumbria
Our Recommended Route: Wasdale via Brown Tongue
Distance: 12.8km | Approx. Time: 6.5 hours
Ordnance Survey Map: Explorer OL6
There are four main routes to the summit of Scafell Pike. The most accessible route to the summit is the most direct line via Brown Tongue from Wasdale. Starting from The National Trust car park near Wastwater (the deepest lake in England), the route has several steep sections which in places is less defined. As you near the summit plateau, extraordinary views of the surrounding Lakeland Fells appear. The Wasdale Head Inn at the base of the mountain is a popular local watering hole, and famously seen as the birth place of British Climbing to many. Make no mistake, Scafell Pike is certainly a challenge not to be underestimated, but the rewards are worth it.
"Scafell Pike may be ascended most easily from Wasdale Head… The Path is good, well-cairned, and practicable in mist."
Alfred Wainwright - Guide to the Lakeland Fells
The History of Scafell Pike
Britain's mightiest peak has delighted and captivated walkers for centuries. Alfred Wainwright said of Scafell Pike, "The ascent of Scafell Pike is the toughest proposition the 'collector' of summits is called upon to attempt, and it is the one above all others that, as a patriot, he cannot omit." It is estimated that the peak was formed more than 450 million years ago.
The name comes from Old Norse (the language of the Vikings), who settled in the area and called it skalli fjall. Fjall means 'fell' from (another name for mountain), and skalli refers to a bald summit - lacking plants/vegetation. Interestingly Scafell Pike's claim to fame is questioned as its neighbouring peak, Sca Fell, which looks higher from many angles, but is actually 10 feet lower.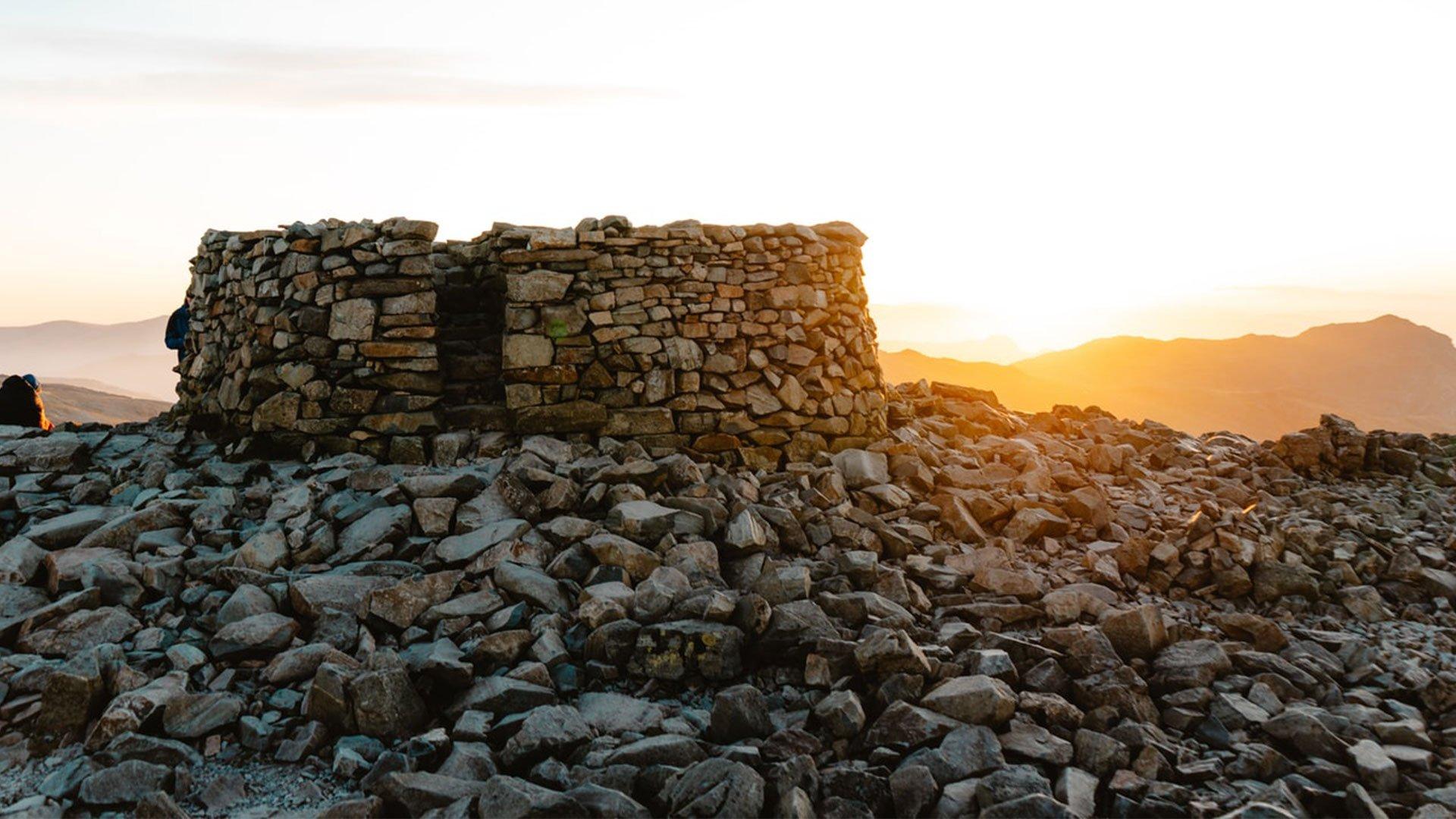 Like many of Britain's peaks, knowing the names of those who first ascended is hard to decipher. Not many accounts were made of the climb early on, and unlike Snowdon or Ben Nevis, Scafell Pike is not clearly seen from a distance. However, summiting became popular in the early 18th Century with famous writers attempting including Samuel Coleridge. It is unknown whether William Wordsworth climbed the peak, but we know his sister Dorothy did, and William published her notes as his own four years later.
"[The summit was] gained after much toil, though without difficulty."
Dorothy Wordsworth
Centuries later, the beloved British fell walker and author Alfred Wainwright would illustrate and examine Scafell Pike and its surrounding peaks in his 'A Pictorial Guide to the Lakeland Fells'. In 1919, the mountain summit was donated to The National Trust by Lord Leconfield to commemorate the men of the Lake District who fell during the Great War. Stand at the top of Scafell Pike and you'll be at the highest point for over 90 miles. Unlike the other famous peaks, there are no buildings (of cafés); just outstanding 360 degree views.
Scotland
Ben Nevis - The Highest Mountain in Scotland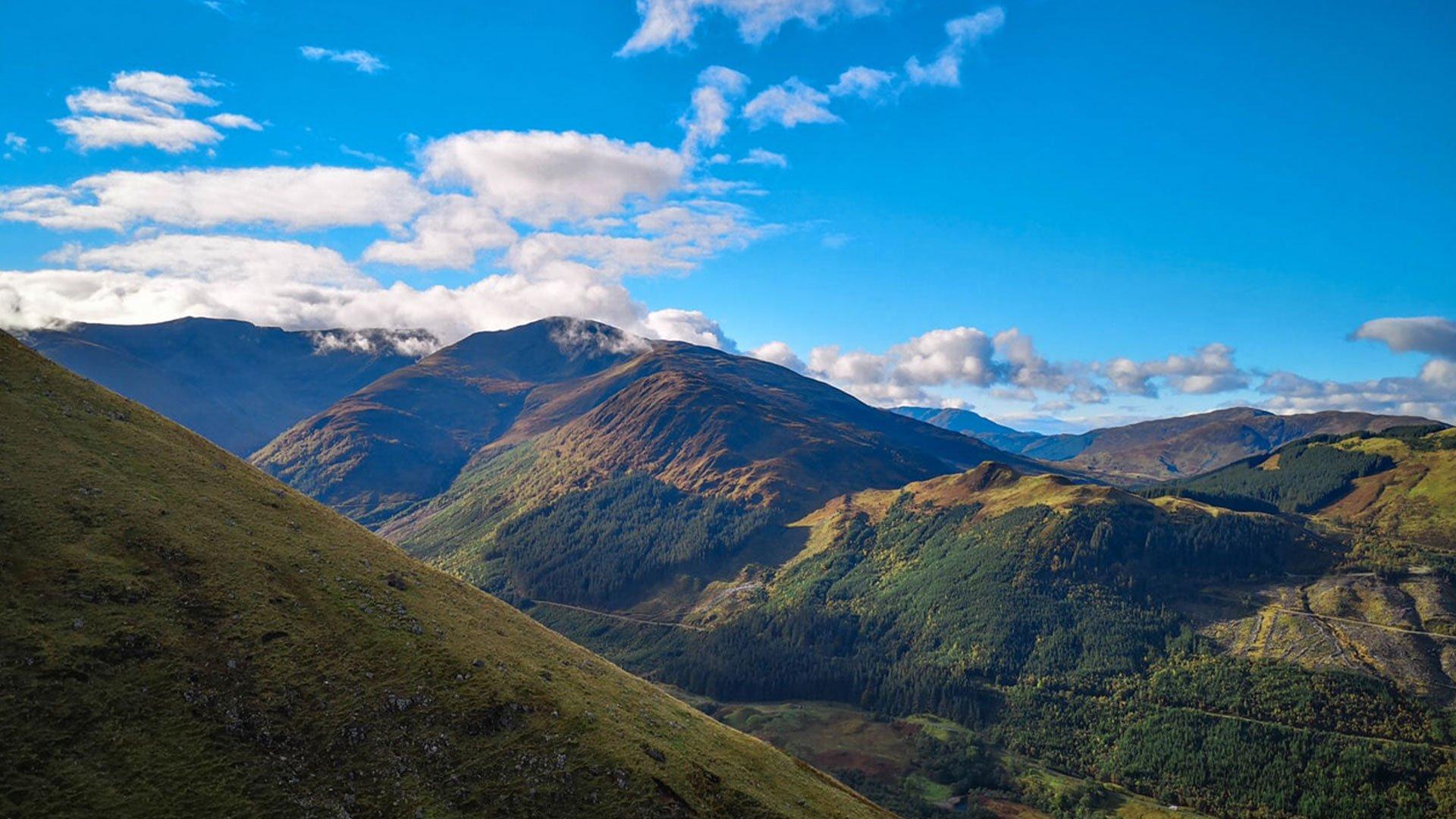 Ben Nevis stands tall as the highest mountain the British Isles, a whopping 1,345 metres (4,413ft) above sea level. The mountain stands at the western end of the Grampian Mountains in the region of Lochaber, near the town of Fort William.
Elevation: 1,345 metres (4,413ft)
Location: Western Highlands of Scotland
Our Recommended Route: Pony Track from Glen Nevis
Distance: 12.8km | Approx. Time: 6.5 hours
Ordnance Survey Map: Explorer 392
The Pony Track from Glen Nevis is the easiest route up Ben Nevis. The way begins in Achintee on the east side of Glen Nevis and climbs steeply to the saddle by Lochan Meall an t-Suidhe, before ascending up the stony west flank of Ben Nevis in a series of accessible zig-zags. The path is well-maintained and is not unusually steep because of the zig-zags, but beware that the descent can be arduous on the knees and back so walking poles are worth considering.
The History of Ben Nevis
Scotland's landscape is scattered with Munros and mystical hills, but none reach greater heights and fame than Ben Nevis. This once ancient volcano exploded and collapsed in on itself millions of years ago, evidence of which can still be seen in the light-coloured granite at the summit.
The name (Beinn Nibheis in Gaelic) has two translations from the ancient Gaelic language which can mean 'mountain with its head in the clouds', or 'venomous mountain'.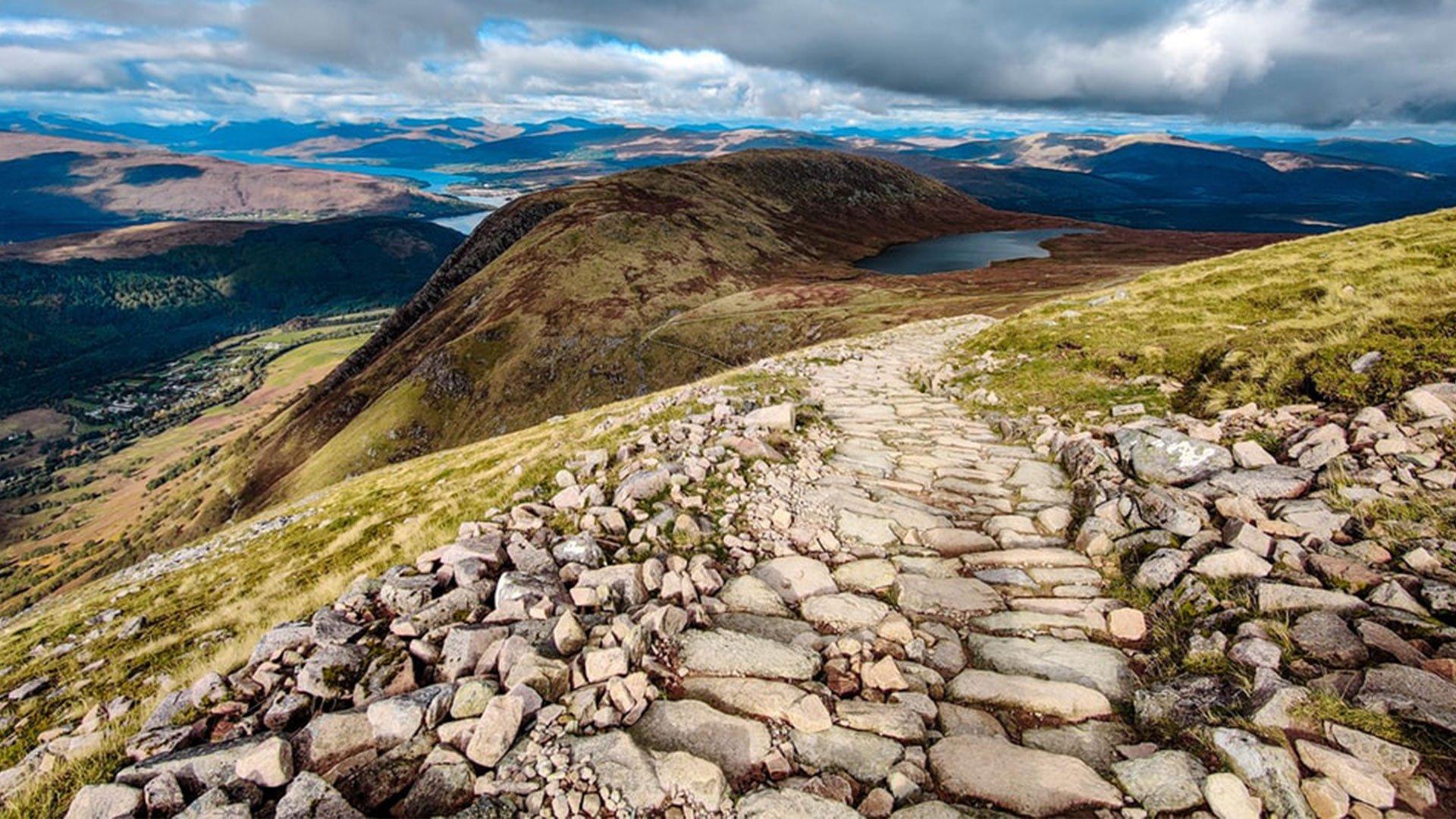 "Having summited Ben Nevis myself, I'd say there's nothing 'venomous' about it. However, the mountain does have its head in the clouds so don't always expect clear views from the top."
Jack Kelly - Content Editor & Adventurer
Botanist James Robertson completed the first ascent on record in 1771 and in 1883 an observatory was built, the remains of which can still be seen at the summit, alongside an emergency shelter. Incredibly, because the shelter's roof is higher than the trig point by several feet, this makes the emergency shelter the highest man-made structure in the British Isles.
Several strange sightings have been played out on the slopes of Ben Nevis. In 1911 a Ford Model T car was driven to the summit in a stunt designed to show the brilliance of mass-produced cars. In 2006, a piano was discovered buried under one of the cairns on the peak, which was believed to have been carried up for charity 20 years previous. From the summit of Ben Nevis, in clear conditions the view can extend to over 120 miles and provides breath-taking views (if the mist lifts).
A Quick Guide to Visiting a National Park (or anywhere outdoors)
Add the paper map detailed in the route to your collection with 40% off all Ordnance Survey maps.
Britain's Peaks are made for adventure. So which peak will you scale first? Share your summit snaps and tag us in your adventures using #mymillets.
Please follow government guidance on Covid-19 travel restrictions & only travel once the guidelines confirm we are able to.