When it comes to choosing the ultimate cuddle in a jumper, do you go for a thicker fleece to keep you warm whatever the weather, then take a layer off when the ascent gets steeper? Or do you opt for a lightweight and more breathable fleece that will keep you warm when you're putting some welly into powering uphill, canoeing downstream, or putting up that tent?
See our Craghoppers fleeces here
Fleece your eyes on our Fleece Buying Guide to help you make a decision on which fleece would suit your lifestyle, as well as how to fashion a fleece and when to wear it.
Why should I choose a fleece?
When the leaves start to turn a rusty brown, or the trees are sprinkled with light snow, you'll be onto a winner with the 'fleece' in your wardrobe. Due to its fuzzy and soft-to-touch feel, it takes its name from woollen sheep's coat. Fleece originated in the 1970s, when Malden Mills decided to replicate faux fur and wool garment without the issues that come with natural wool. Unlike natural wool, a synthetic fleece is smooth and non-itchy against the skin, and it doesn't take a Border Collie, field of sheep and round-up pen to make one!
The main benefit of fleece material is its effectiveness at trapping tiny pockets of warm air and not letting body heat escape. As the seasons change and when we all fall victim to the indecisive British weather, you can always rely on the super insulating fleece that can be worn by itself, or as midlayer over a t-shirt or under a waterproof jacket. On the other hand, an ultra-lightweight or lightweight fleece can also be worn to stop overheating during high-aerobic activities in colder temperatures.
Another advantage to fleece material is that it is more rain-resistant than natural wool. Okay, it's synthetic, so can't be completely waterproof, but an edge it does have over woolly jumpers is that it doesn't tend to get heavy when exposed to light showers. Made from Polyethylene terephthalate (PET), these common fleece fabrics are also hydrophobic, which means they actively repel water and hold less than 1% of their weight in water.
The fleece is often also eco-friendly, as a lot of brands are now using a blend of earth-conscious recycled materials, such as plastic bottles, to make this versatile garment.
How warm is each type of fleece?
Fleece weight refers to the level of thickness and loft the material used in the fleece construction. As a general rule of thumb, the higher the weight, the warmer the fleece will be, but this isn't always the case. For example, some lighter weight, close-fitting fleeces feature in-built thermal properties which means that they can be worn as a baselayer for cold-weather activities like skiing. Some thicker midweight and heavyweight fleeces can be extremely well-ventilated, making them great for those days in the great outdoors when the weather can't make up its mind.
There are some measures to make a quick note of that will let you know how light or heavy the fleece in question is: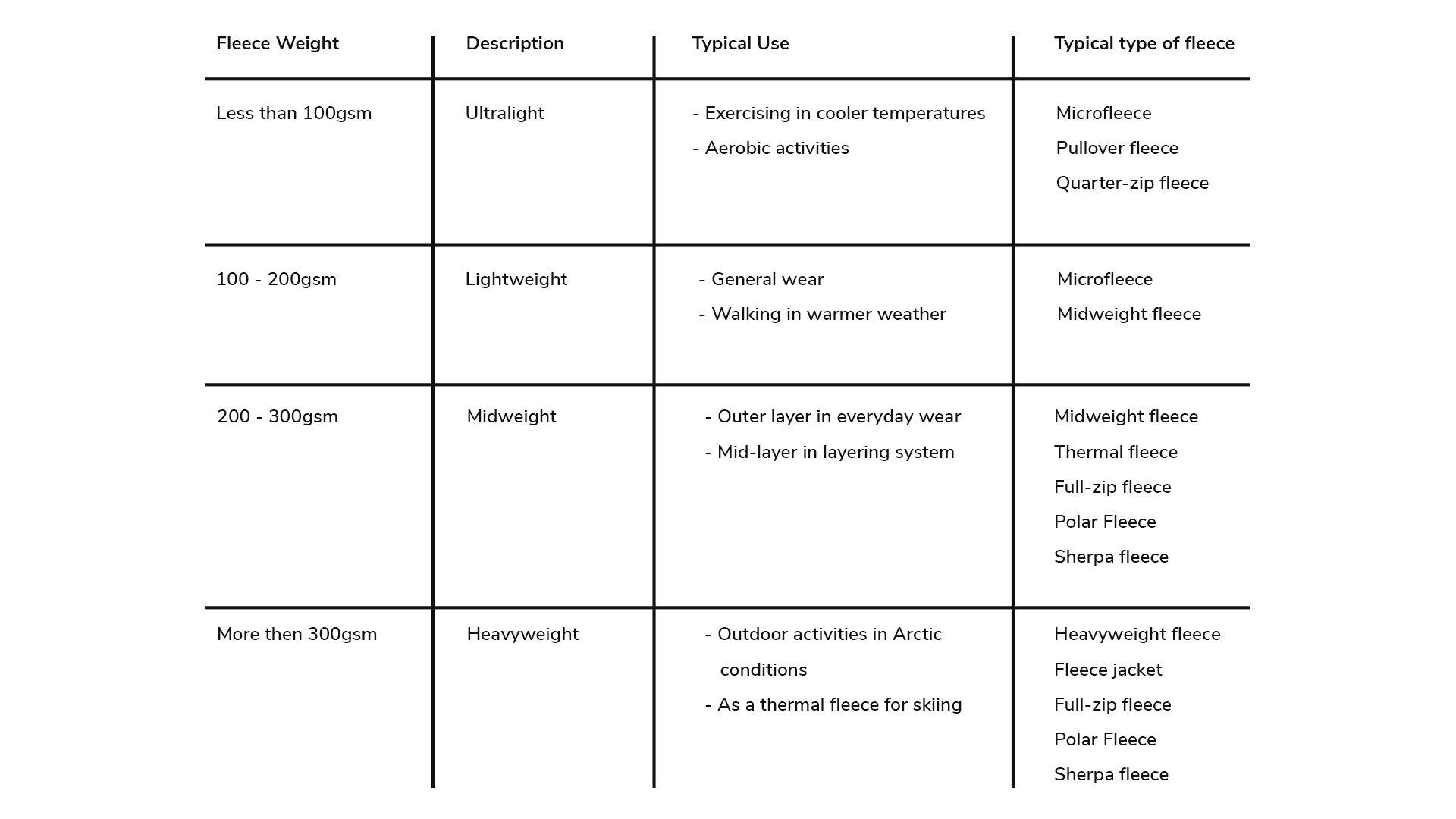 When to wear my fleece
Active lifestyle? Tons of hobbies? Well, you may just need a few different styles of fleece to pad out your wardrobe!
Here's why:
1. Ultra-Lightweight: Less than 100g/m2
For: Running or exercising
Weather: Mild and cold temperatures
Ultralight fleeces are best for outdoor exercise in warm weather, or some are even thin and lightweight enough to be worn as a baselayer under a thicker down jacket, insulated parka or waterproof coat.
If you are looking to beat your cycling or running PB, an ultralight microfleece is your best bet. Polyester, the most common type of fleece material, is also extremely moisture-resistant, quick-drying and breathable, so taking it out for daily exercise just keeps getting better!
2. Lightweight: 100 - 200gsm
For: Walking
Weather: Warm spring and summer weather
Habitual hermit in the colder months, but can't wait to get outside in the warmer months? You may find yourself reaching for your lightweight microfleece most often. Lightweight fleeces aren't as aerodynamic as ultralight fleeces, but offer protection from the cold in mild to warm weather.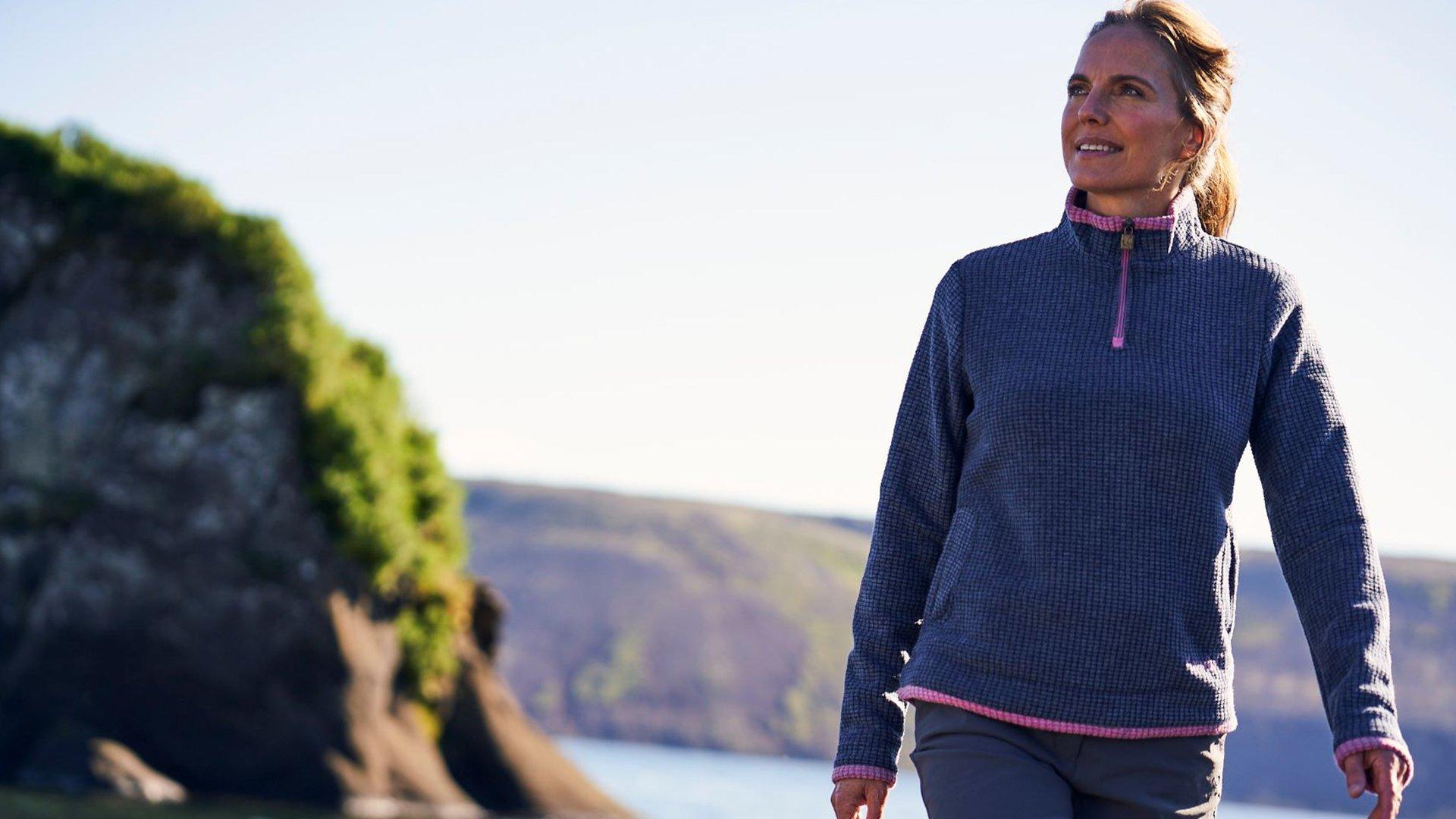 If you're the type of person who doesn't like to make too many pitstops on your hike or dog walk, then a lightweight fleece comes out on top, because it will ventilate heat when moving. Once you have stopped, the fleece will only be windproof for so long, so just don't hang around too long!
The nature of this fleece makes it great for working outdoors since you won't cool down too much when wearing it.
3. Midweight: 200g/m2
For: Hiking
Weather: Cold temperatures and breezy conditions
A midweight fleece is a good middle ground between a lightweight and heavyweight fleece, so that you will still benefit from snug warmth and comfort, without being weighed or slowed down.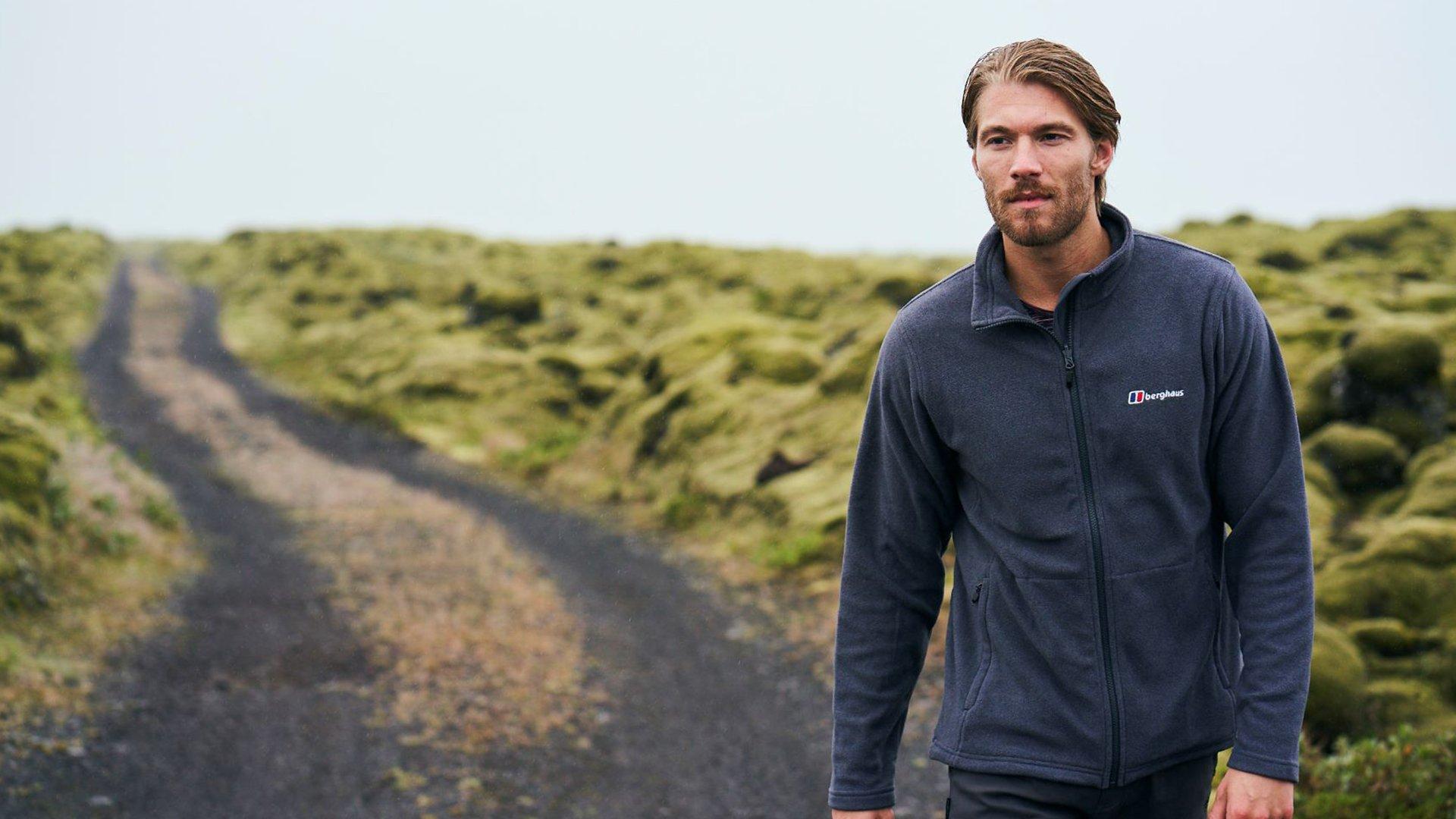 Fan of this Berghaus fleece? Browse for one just like it here
The midweight fleece is the most common type of fleece due to its versatility. It can be worn by itself to keep off the chill and it can still fit under a jacket as an outer layer. This fleece type is the one that you will come across most often when integrated with interactive 3-in-1 jackets.
4. Heavyweight: 300g/m2
For: Winter Walking
Weather: Cold temperature
If nothing beats the feeling of wrapping up warm for a winter hike when the weather is beginning to get nippy, nip that shivering sensation in the bud by wearing a thicker heavyweight fleece to keep your core warm and toasty at high altitudes.
Besides, it will be worth the mug of hot chocolate when you get home!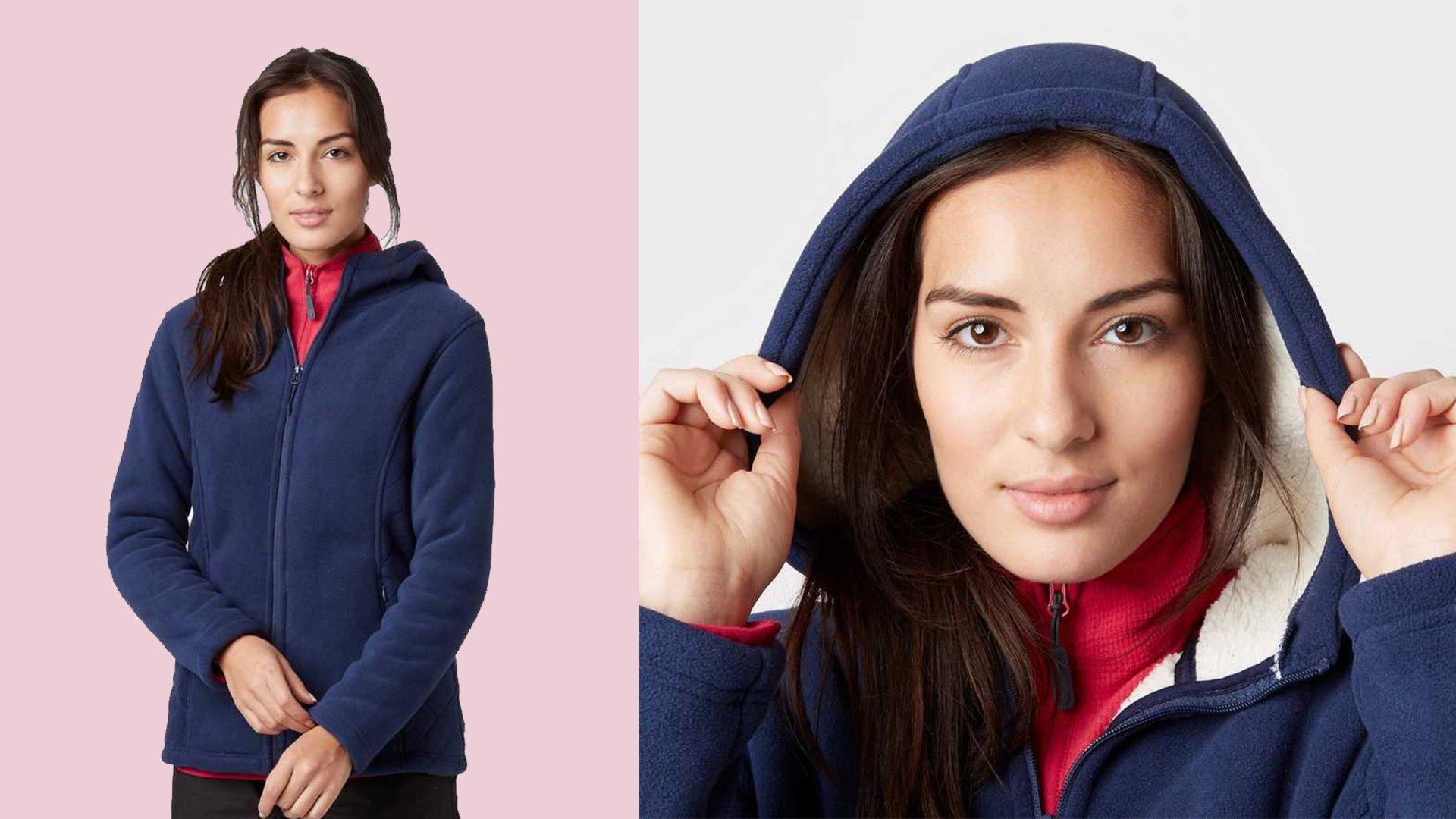 What's my style of fleece?
Pad out your wardrobe with different styles for differents hobbies!
Sherpa Fleece
Did you know… the material was named after the famous Sherpa guides in Nepal who led many foreigners up the Himalayan mountains?
Due to its floccose texture that imitates sheep's wool, you will most likely find Sherpa on the inside of a fleece, especially near the collar or around the neckline. This lets you snuggle your face into it in order to prepare for the long hike ahead.
Microfleece
Microfleece is a very soft and comfortable material that is not that heavy. Living up to its name, the weight of the fleece is minute, weighing only 200gsm or less.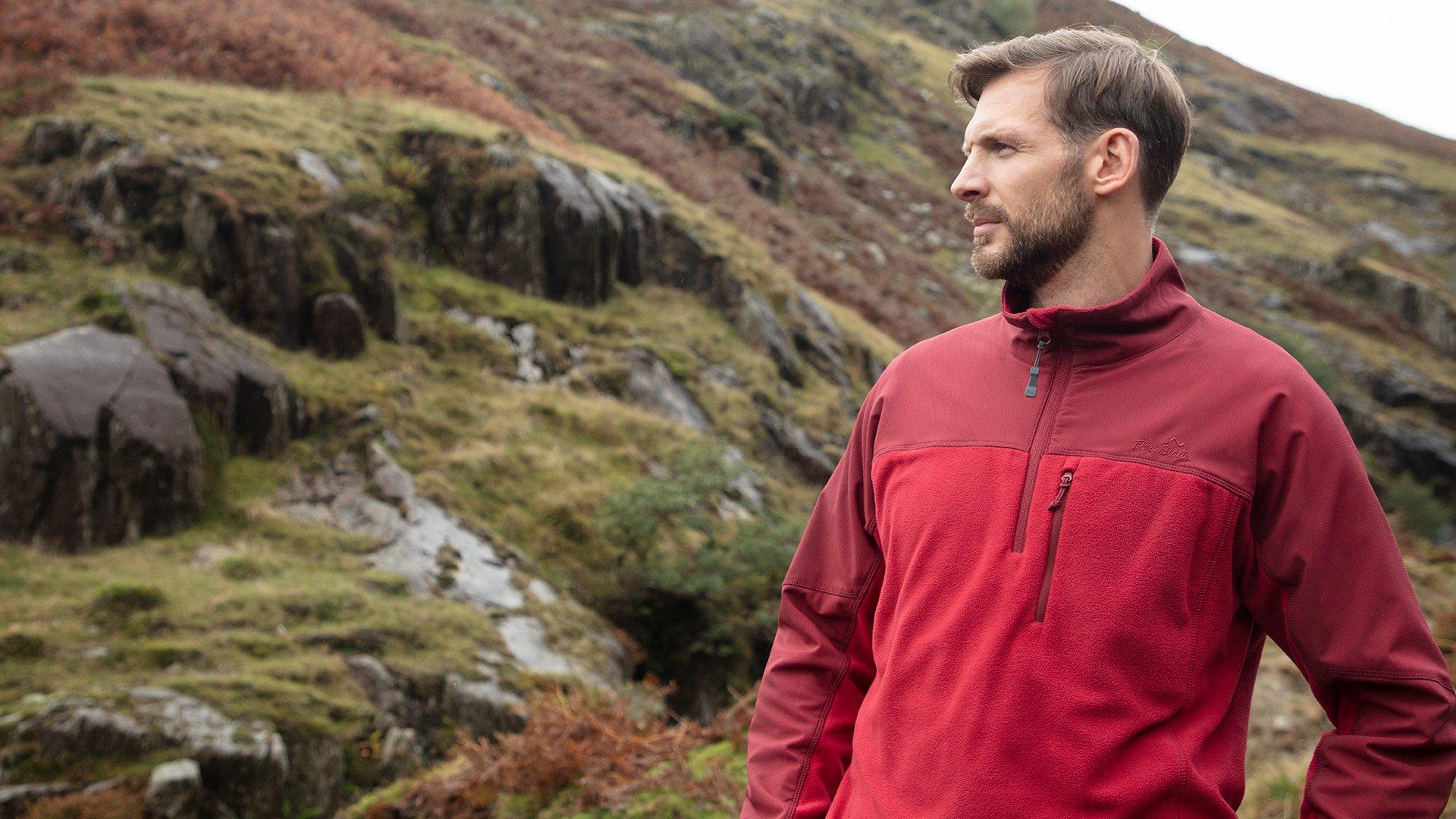 Best for training for a bike race or marathon, the microfleece is a step up for warmth factor from a long-sleeved gym top, and it's the one to turn to for boosting aerodynamic performance.
Borg Fleece
Borg material is essentially a full-on blanket for your core - again, you will probably find it on the inside of a fleece rather than on the outside because it's renowned for its sheepskin-like feel and appeal.
Velour Fleece
J'adore velour! - the fabric on this fleece mimics the touch of velvet, feeling luxuriously soft next to the skin which is great for long walking adventures when you're making multiple rest stops.
The lightweight velvety velour fabric gives it a sweatshirt-like appeal which means it's easy enough to tie round your waist when its sunny.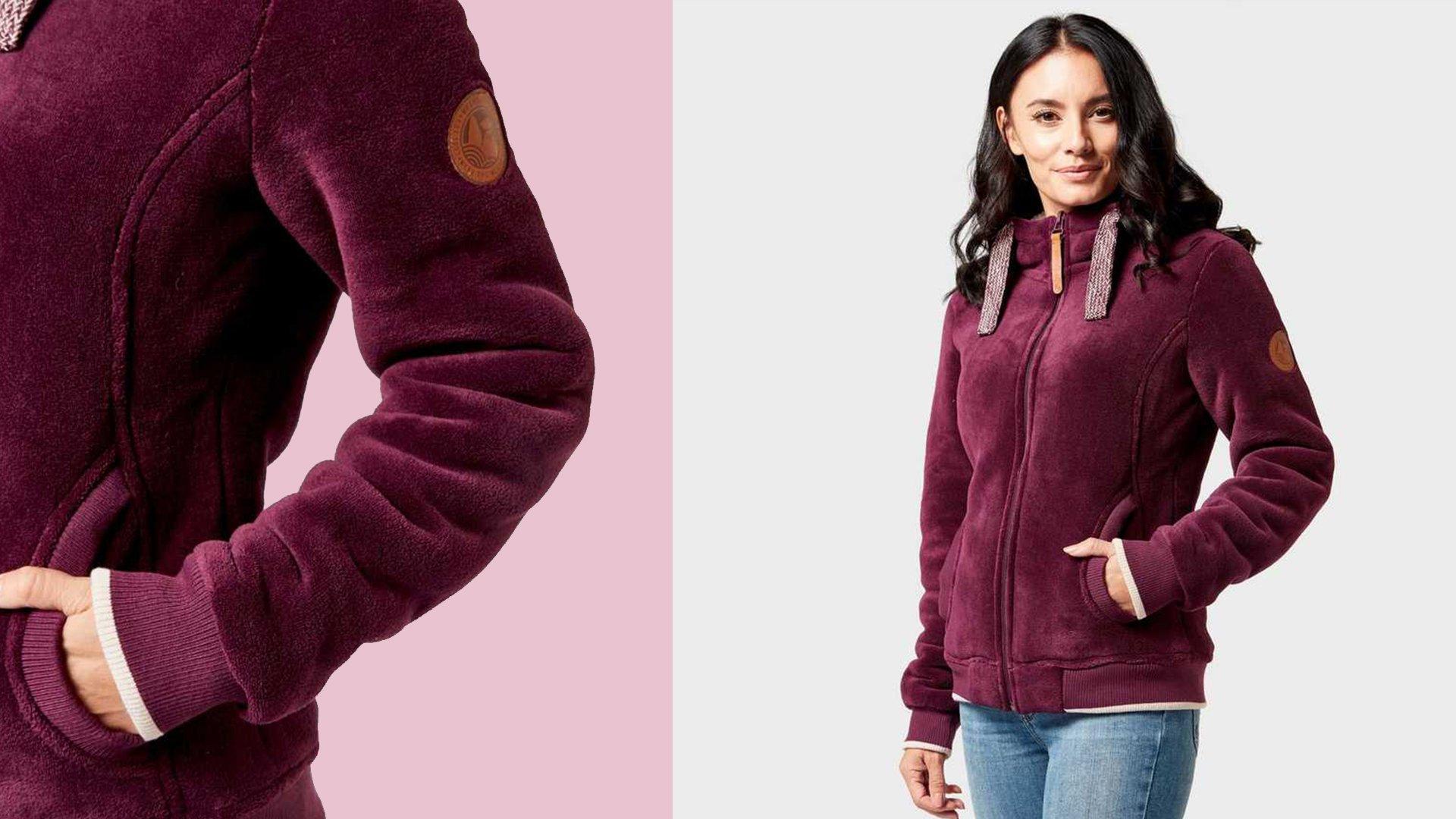 Common features of a fleece
Grid texture
The grid textured fleece seals in heat and channels it across the core for enhanced warmth retention during camping trips. Worn as part of an effective layering system, the soft construction retains heat and functions like your own personal body radiator!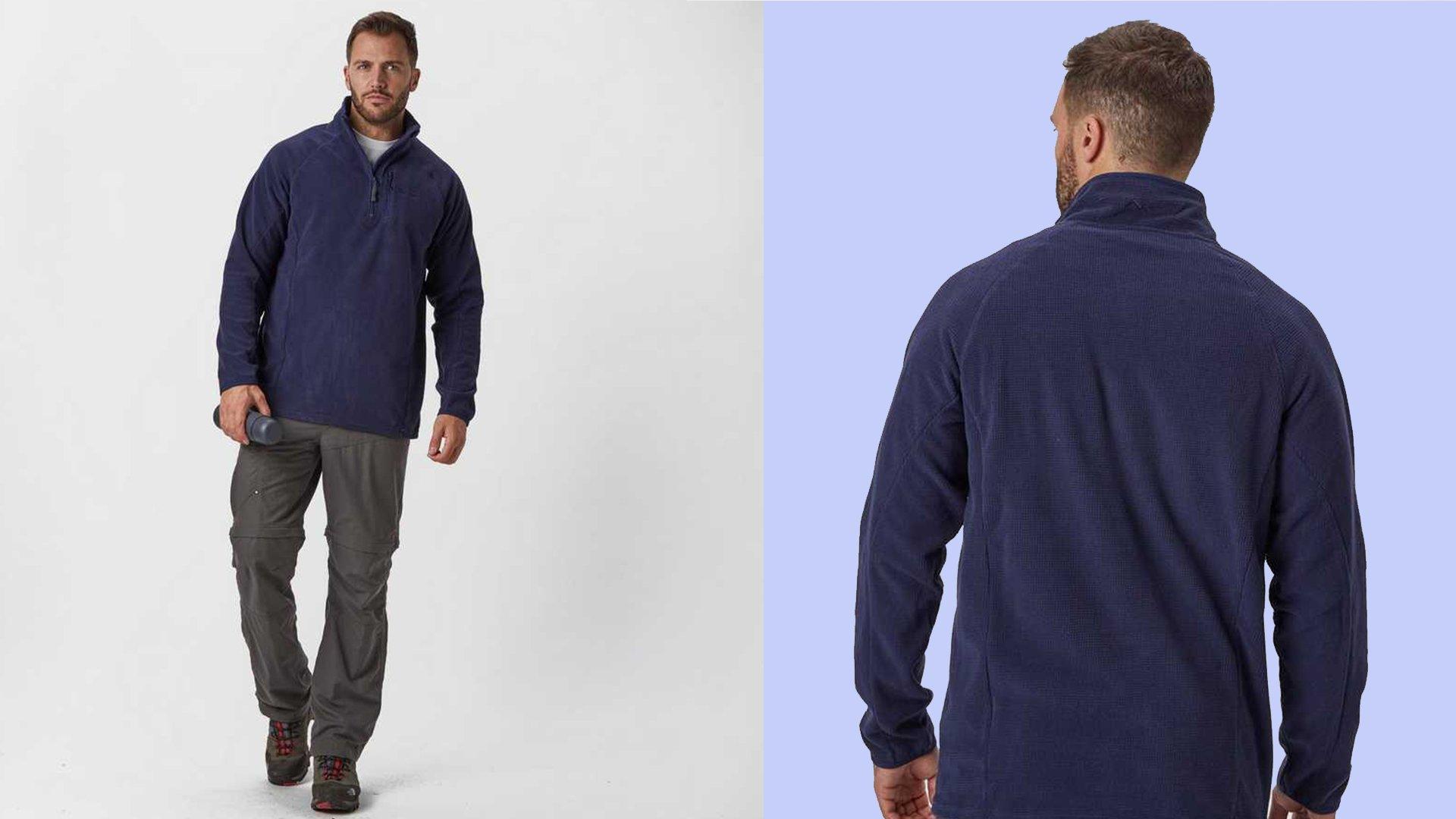 View more Grid Fleeces like this here
High-neck
Scarves - you can get one in every possible colour, pattern and size to brighten up your winter accessories cupboard. The downside to scarves is that they can feel and look bulky when tucked into your jumper, which means that they can get in the way when exercising or training outdoors.
The good news is that you can buy a funnel-neck or turtle-neck style fleece that basically does the same job as a scarf by keeping your neck as toasty as marshmallows around a campfire, without the extra weight or annoying padding.
Hood
Tog up and tuck yourself in for your bike ride or climb by letting your face, ears and head take cover from the wind with a hooded fleece. A generous-sized, deep hood will let you put safety first by managing to get a helmet on underneath, whereas an extremely close-fitting hood will stop any sneaky parts of wind worming their way past your jacket and through to your neck.
An interactive drawstring or toggle cord hem system on the hood will let you adjust the hood to suit your preferences, so that the hood functions and feels more like a hat than a hood.
Quarter-zip, half-zip, full-zip
There are different benefits to each style of zip on a fleece. If you opt for a quarter zip or half zip, this lets you ventilate your body as you please. On the other hand, if you choose a full-zip fleece, you will be able to wear it open or closed, maximising airflow to the body when it's worn open, or tucking yourself in when it's zipped up to the top.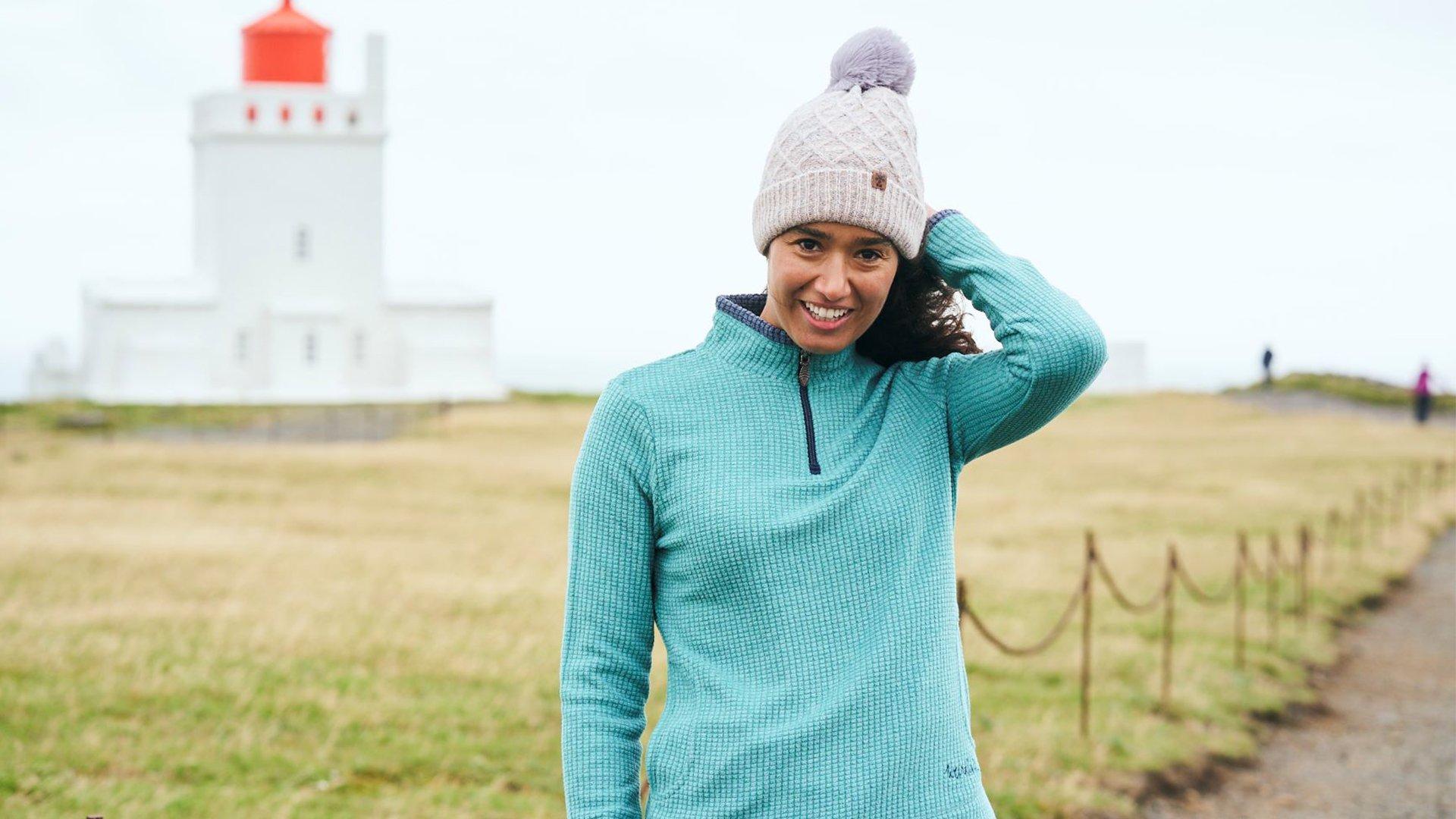 Pockets
Did you forget your gloves? Fleece pockets are commonly lined with another warming fabric to help heat up your hands in chilly temperatures.
Pockets can include inner pockets, a secure chest pocket or two lower zipped pockets for storing easy-access essentials such as a phone.
Elastic binding
Windproof elastic binding at areas of the fleece, such as at the cuffs, hem and hood, where draughts may attack, will wash your worries about gusty and extreme weather away.
Toggle adjustment at the hem lets you shield your waist area from the bitter cold when there's a chill in the air during long walks.
Anti-pill
If you are an avid walker and can't get enough of the wind in your hair weekend upon weekend, chances are that fleece of yours is going to need freshening up!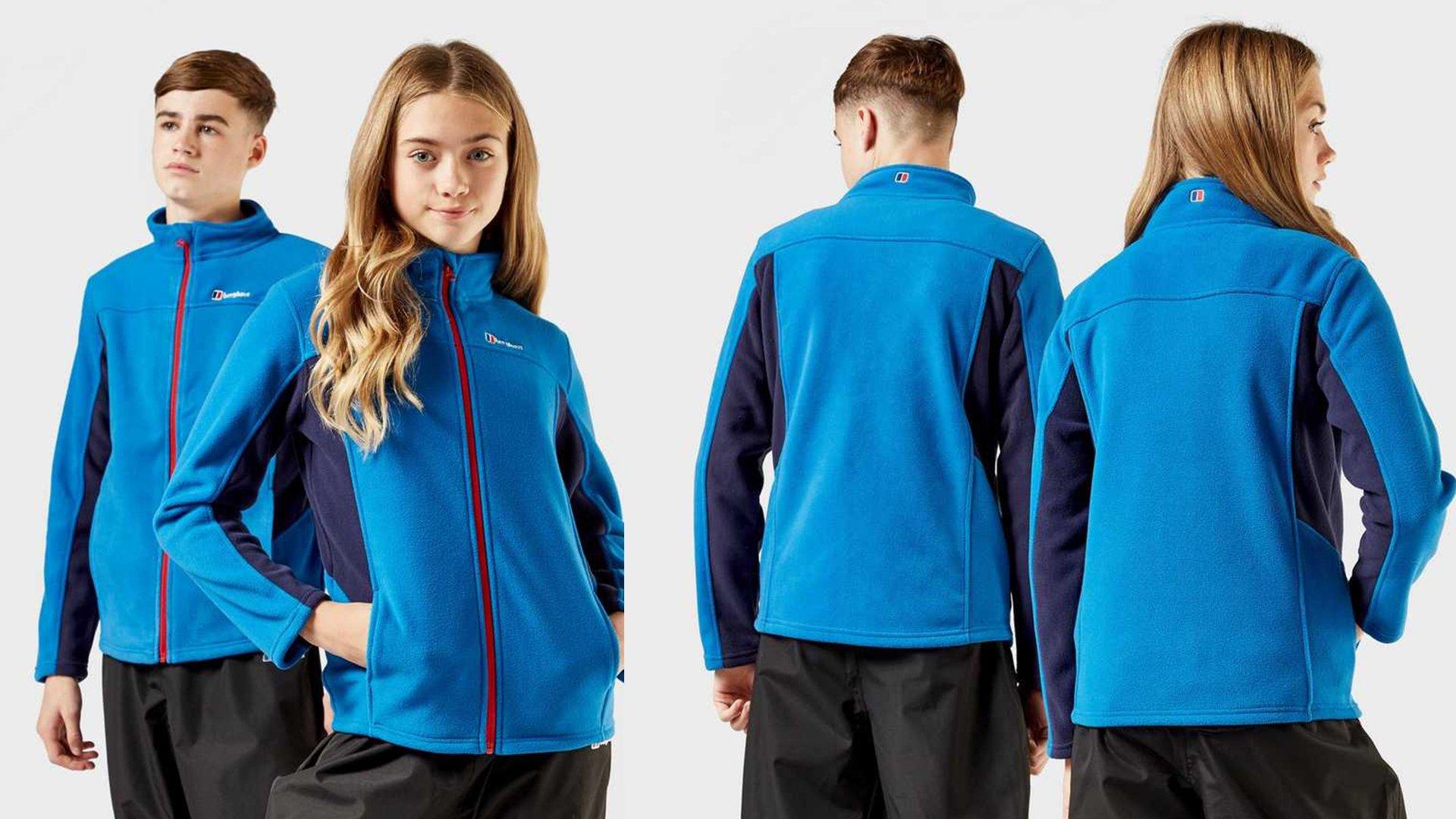 Find the Kids' Tyndrum Anti-pill Fleece from Berghaus here
When a fleece is described as anti-pill this means the fabric has been treated to prevent little balls (or pills) of thread appearing on the surface of the fabric. These balls of thread are mostly a result of abrasion when washing.
Thumb loops
If a snug fit with less distractions is what you're after, you might want to look for a fleece with thumb loops. This one gets a thumbs up from us for if you're moving fast on your hike and want to prevent bunching, or if you need a thermal fleece for slaloming down a mountain on your skis.
Interactive zips and chin guards
Another interactive feature that some fleeces and jackets get is an interactive zip that lets you bind these two layers together. Interactive zips are most commonly found on 3-in-1 jackets, which are a great little investment that allow you to wear a fleece by itself, a jacket on its own, or the two together. The fleece zips seamlessly into a waterproof jacket, making it perfect for the winter when it's raining and cold.
DWR fabric
When the finishing touch on a fleece is a durable-water-repellent coating, it can handle the first stages of rainfall, so you should make it home or back to the car from your hike before the downpour does its worst.
Now you've reached the end of our Fleece Buying Guide, you should be an expert on all things fleece!
View our full range of:
Returning orders to us is easy. Whatever your reason, we offer a refund or exchange within 28 days of delivery or collection.