What makes Britain's beaches so famous? Could it be the irresistible smell of fish and chips that you catch a whiff on the seafront? Could it be the long and meandering sunset walks down promenades and piers built on wooden-raked legs? Every beach in the UK has something unique to offer, and many have lifeguards protecting them to make your day trip safer.
The RNLI encourage families to visit Lifeguarded Beaches where possible - RNLI lifeguards have rescued over 320,000 people in two decades of patrolling beaches. 
The coastline of the British Isles is a not only incredibly varied but also surprisingly long. It stretches for over 11,000 miles, which is longer than the coasts of France and Spain combined!
Below, we have handpicked a selection of sandy shores just for you. On all these beaches, you will find lifeguards patrolling the beach so you can swim more relaxed. 
1. St Bees Beach, Cumbria
St Bees Beach is a good mix of sandle and pebble, and it's dog-friendly, making it ideal for mindful walks with your four-legged friend. Recognised for its cleanliness, the ENCAMS Seaside Award sits proudly in St Bees Beach cabinet of awards, and this grants you and your family peace of mind when paddling in the water. The beach is gently sloping and generally free from dangerous currents. 
For tiny tots, and those who want to be a pirates when they grow up, there's a wooden ship to take command of. For kids who are a bit older, there's a miniature twin zip wire and six-metre high climbing net. For the grown-ups, there beach back onto St Bees Golf Club.
There is a RSPB nature reserve on Saint Bees Head which is home to a range of seabirds including guillemots, kittiwakes, fulmars and razorbills. You can also spot peregrines and ravens above the red sandstone cliffs.
Best for:
Different play areas for toddlers, kids and early teens
Litter-free beach, clean water - ENCAMS Seaside Award
Strolls with the dog
Bird-spotting
Golf club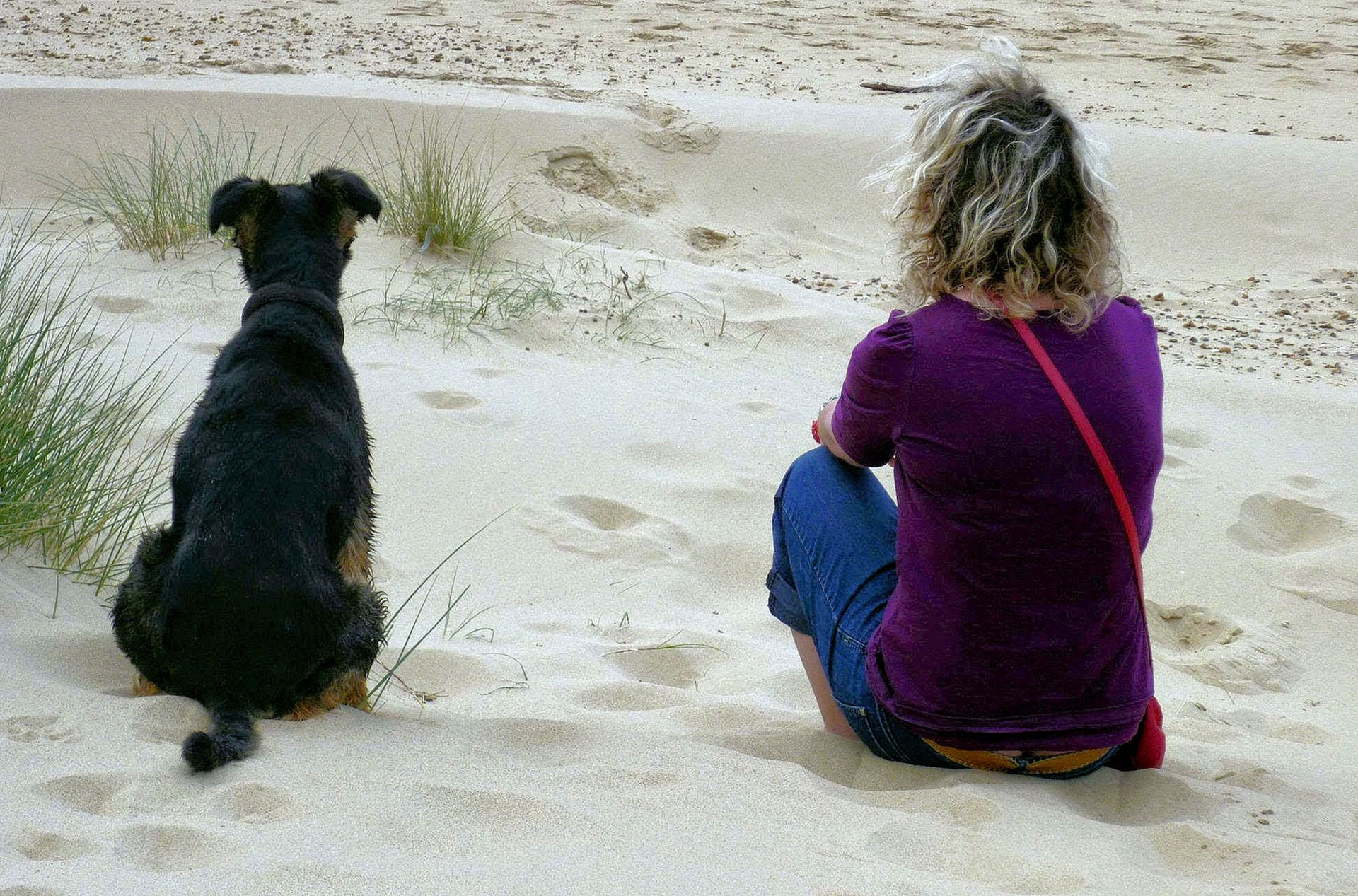 2. Whitesands Beach, Wales
Every weekend at Whitesands Beach is watersports galore.
From making waves for surfers, to calmer areas of the sea for snorkelling, the list of aqua-mazing! options for underwater activities is endless!
Bodyboarders, canoeists and surfers will go to the northern end of this beach for some serious winds from mid through to high tide. You can park right next to the beach to check the surf but you do have to pay for the privilege in summer.
The rhythmic and fluid waves are dolphin approved too, and you can book a dolphin spotter tour near Ma Simes surf shop just down the road.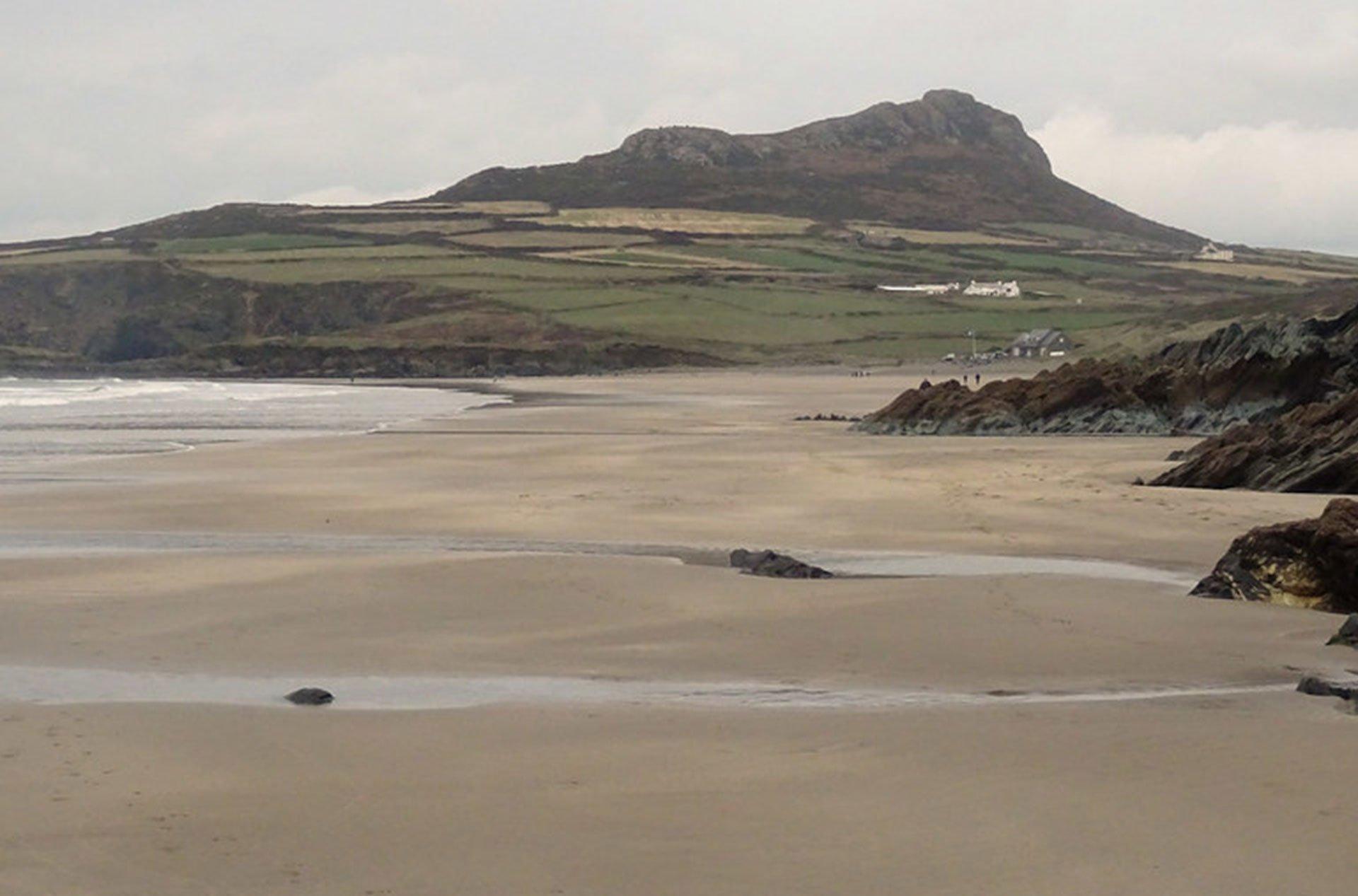 Best for:
Watersports
Dolphin-spotting tours
3. West Kirkby Beach, Liverpool
Home to one of the UK's cluster of small islands known as archipelagos is West Kirkby Beach and Hilbre Island in the Wirral.
Within walking distance to Hilbre Island, which is one of just forty-three unbridged tidal islands in the UK that can be reached on foot, the beach consists of three islands at the mouth of the estuary of the River Dee in total. 
Binoculars are absolutely essential if you are going to visit Hilbre Island. Equip yourself with a pair of these and peer through them to get panoramic views across the River Dee estuary to the North Wales and Wirral coastlines.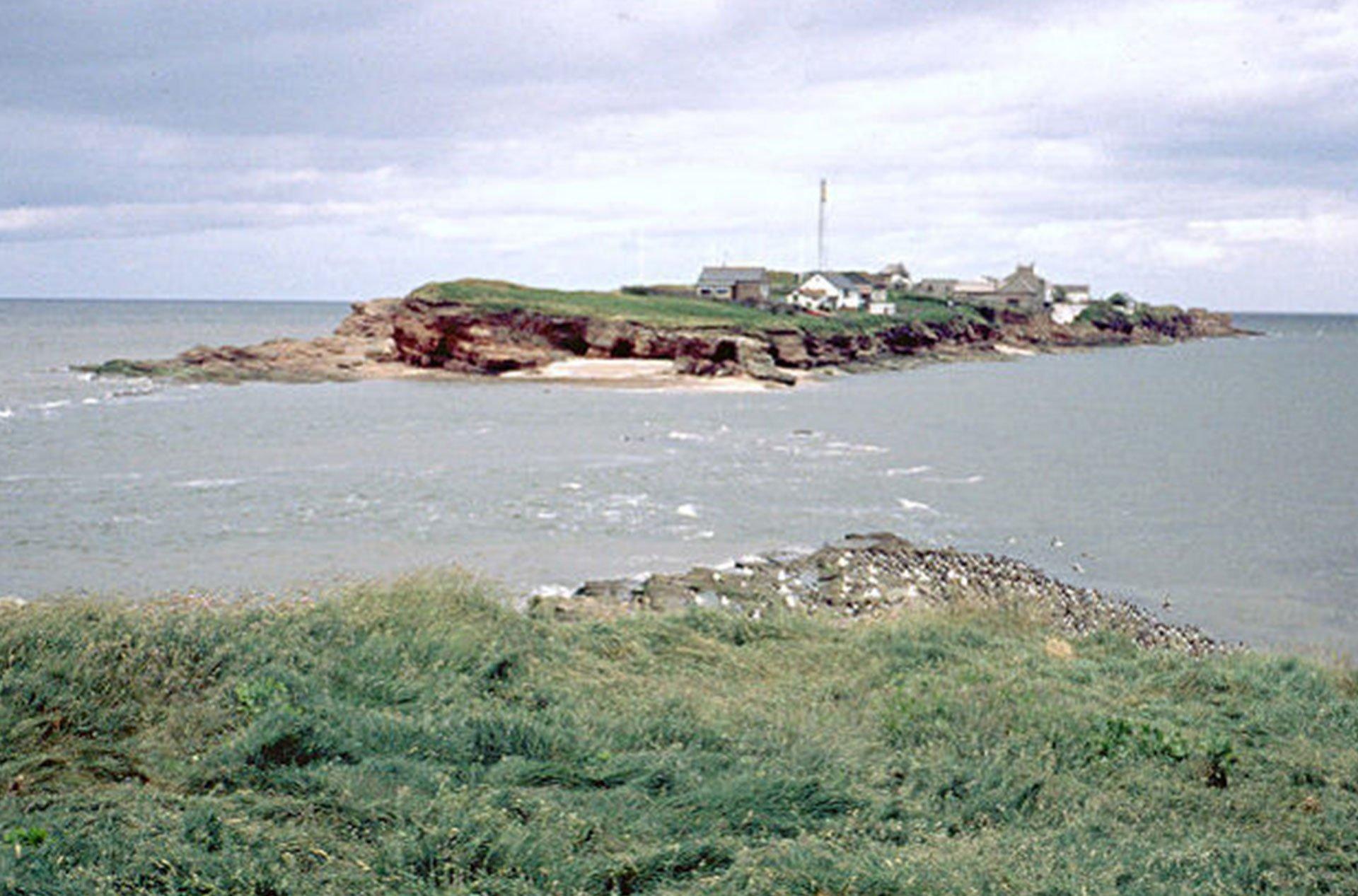 A magnet for migrating land birds like robins, blackbirds, chaffinches and Green Finches, as well as playful grey seals on the shore, this is an internationally important site for wader birds. Also flocking to Hilbre Island are bird watching fanatics, who love nothing more than spending a few hours at The Hilbre Island Bird Observatory. 
Best for:
Panoramic views of North Wales and Wirral coastlines
Walking distance to Hilbre Island for escapists 
Bird watching and seal spotting at Hilbre Island Bird Observatory
4. Summerleaze Beach, Cornwall
Make yourself at home in one of the colourful beach huts that stretch along a wooden decking platform directly on Summerleaze Beach. Hire one for a day and put in your own two deckchairs if your skin is sensitive to the sun and you need to stay in the shade. The views of the beach, sea and harbour are unobstructed and the small huts come with a fold-out table for you to plate up your lunch on. 
The Summerleaze Beach Office stocks a large range of reasonably priced beach goods, games and toys along with windbreaks and beach chairs.
Bathe without the waves in the sea-water bathing pools at one of the far ends of the beach. This means you can enjoy a dip, even when the water gets a tad choppy. Awarded Keep Britain Tidy's Seaside Award, litter along the beach and in the water shouldn't be a problem.
Best for:
Picnics in a beach hut - hire one!
Deck chair hire
Bathing pools
Clean and tidy beach - awarded Keep Britain Tidy's Seaside Award
Beach games
5. Saltburn Beach, Yorkshire
One of only four jet skiing beaches in Yorkshire, don't be fooled by the dinky size of Saltburn-by-the-Sea town - their local beach is a playground for kids and pets!
Kids can play in the sea, hunt for hidden rocks and treasures, but why let the kids have all the fun? You can rent a jet ski, rev it up across the salty waters, twisting and turning around the buoyant floats.
Dogs can travel with you too as the majority of this beach is dog-friendly! Only a few areas of the beach are not pet-friendly, so just keep a lookout for the signs for the 'No Dogs Allowed' signs.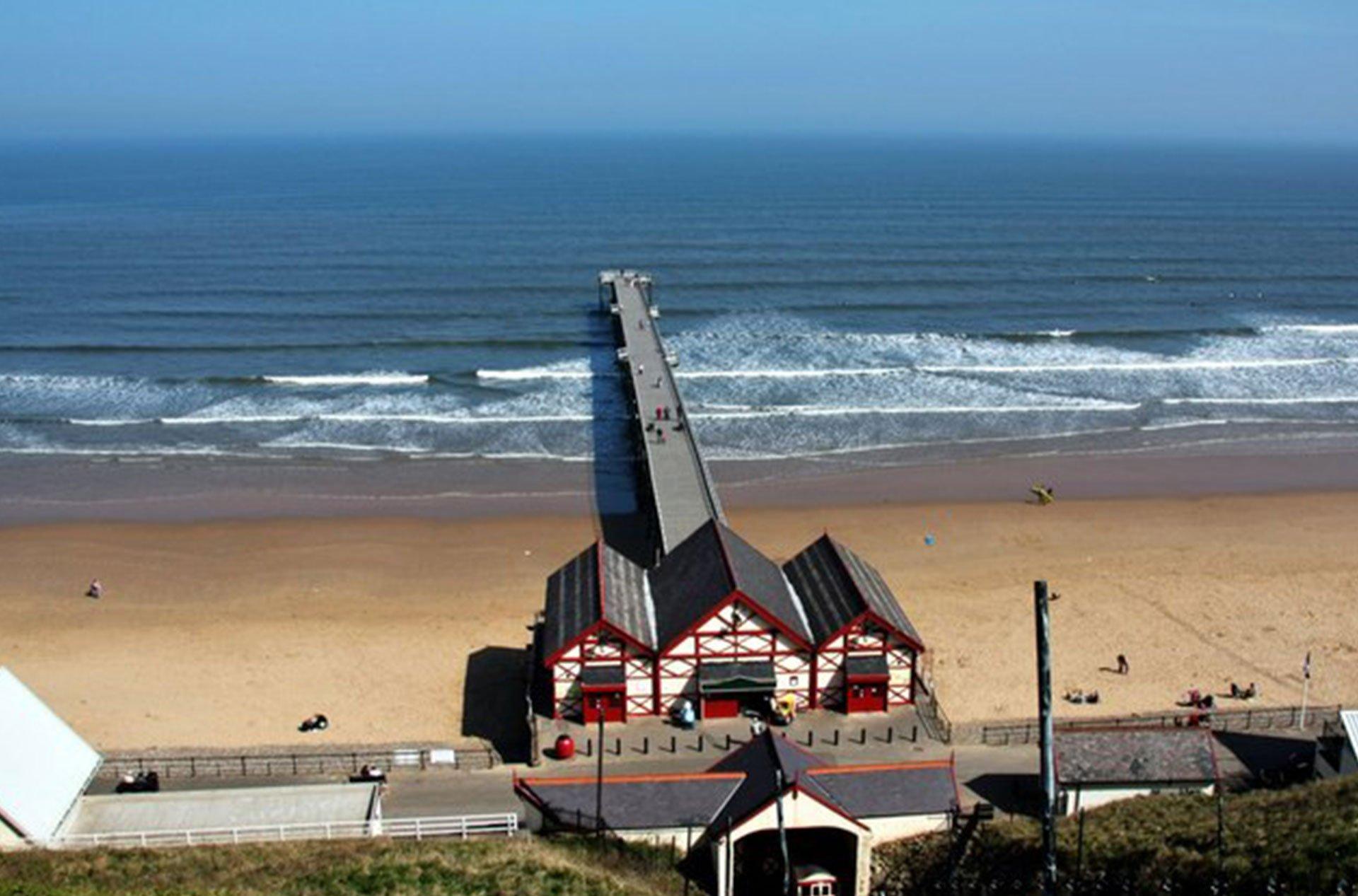 Best for:
Jet skiing
Dog-friendly - most of the beach
Hidden rocks, pebbles and treasures
6. Aberystwyth North Beach, Wales
Located in South Wales, you will find Aberystwyth North Beach, winner of the Blue Flag and Seaside Award. With rows of Victorian and Edwardian style architecture and hotels, you'll be spoilt for choice on where to stay.
Whether you are getting your daily exercise from rollerblading or jogging, or your kids are getting theirs from bouncing on the resident bouncy castle, there's lots of seaside tradition to soak up at this South Wales beach. Donkey rides date back to before the 1800s, and they are still going strong on this beach!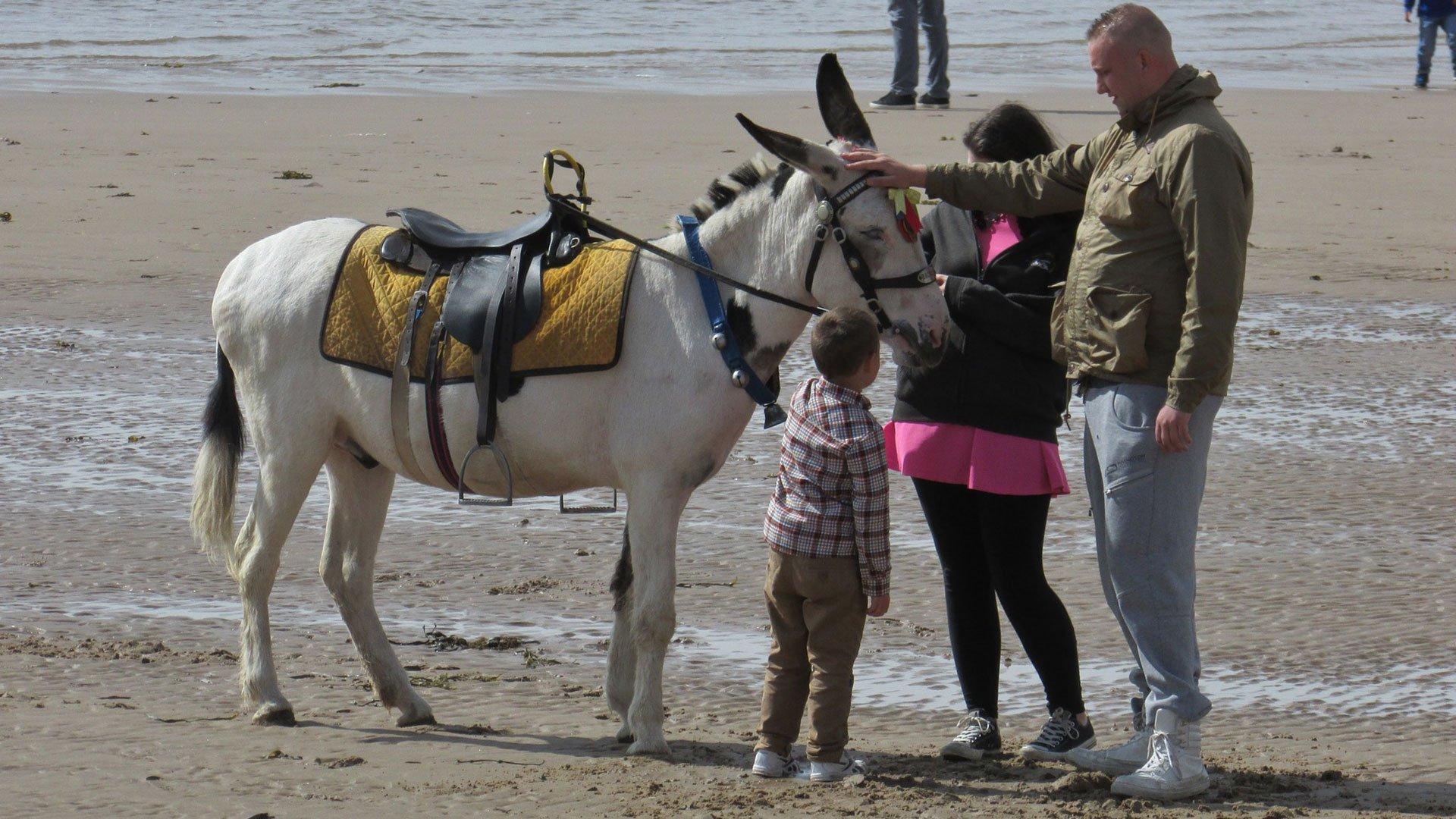 If you are a music lover, catch a choir or performance over at the Victorian bandstand. 
Constitution Hill lies at the quieter northern end of the Promenade and features a cliff railway with the largest camera obscura in the world. During clear skies, the beach offers panoramic views of North Wales, including the popular hiking spots Llyn Peninsular and Snowdonia.
Best for:
Seaside entertainment - bandstand and bouncy castle
Largest camera obscura viewing point in the world
Victorian and Edwardian hotels
7. St Andrews West Sands, Scotland
Famous for the opening scenes of the film Chariots of Fire, St Andrews West Sands extends for almost two miles of uninterrupted sand backed with dunes and the world-renowned golf course.
The beach is about 15 minutes' walk from the town centre, or a 10 minute run because the beach and surrounding area is very popular for running!
There's plenty of car parking, lots of information available and zoning of the beach to keep sand yachts and families apart.
8. Scarborough North Bay Beach, Yorkshire
Scarborough North Bay Beach is a lively hive of activity for kids. Complete with a helter-skelter, vintage slot machines, Derby horse racing games, classic claw grab games, crazy golf and candyfloss, you better have an early night before visiting here! Take home some sticks of aniseed, strawberry or humbug-flavoured rock as a souvenir for a friend.
Open tour bus rides take you from the crazy golf course on one side of the Scarborough coastline, to Luna Park funfair on the other side.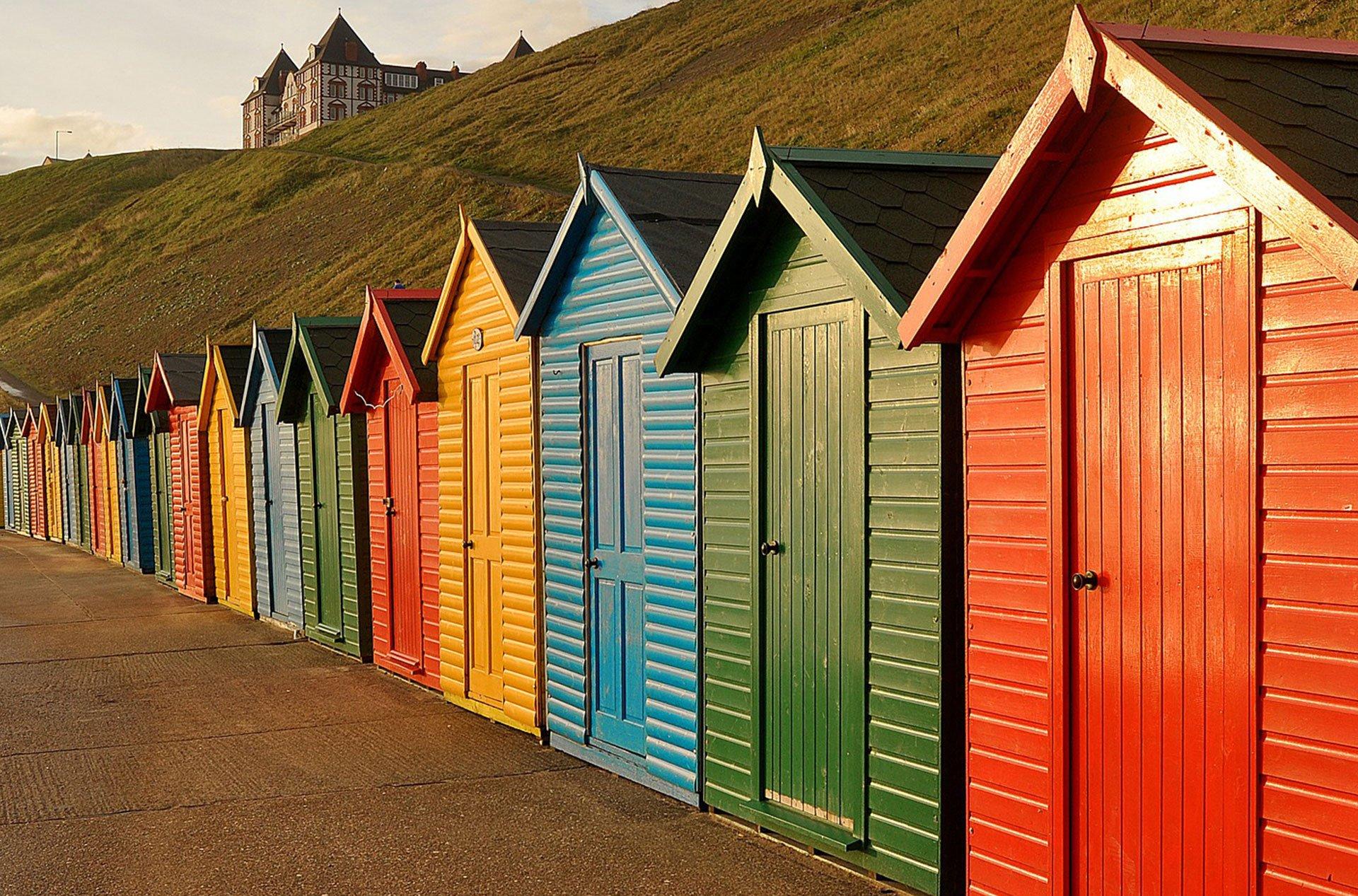 Best for:
Open bus tours
Beach hut hire 
Crazy golf
Fairground rides and traditional arcade games
Looking for summer beach gear? Get prepared at the Millets summer shop. Need some essentials for the journey with the kids? Take a look at our travel essentials.
Is your favourite UK beach on our list? If not let us know where you recommend by commenting below or tagging us in your beach snaps using #mymillets'